Seven Day Spotlight – w/e 07/04/19
Hello, welcome to this week's Seven Day Spotlight post. That's week one of the Easter holidays done. We had a fabulous time at the Yorkshire Wildlife Park. Walked miles but saw some amazing sights – lions and tigers and bears, oh my!

Seriously though, I'm not a fan of zoos really as the animals often look too caged up and miserable and I can't stand to see an animal looking sad and out of their usual habitat. But at the Yorkshire Wildlife Park they have a lot of room to roam and although, obviously, these animals are not native to South Yorkshire, they seem happy and well cared for. We did see lions and tigers and bears (Polar and brown), but also a leopard, giraffes (so close at one point I could almost have reached out and touched one), wallabies, meerkats, warty pigs, lemurs, painted dogs, giant otters, camels and more. We must have walked miles….oh did I already say that? Well, I was exhausted by the end of the day.
We also took our son to the Lego shop to fuel his Lego Movie addiction and we went to see Dumbo which was rather good. It's got a bit of the Tim Burton darkness you might expect but it's a lovely, heartwarming film.
And finally, OH and I went to see Standing at the Sky's Edge, an absolutely incredible play at Sheffield's Crucible theatre, with music by Richard Hawley. It's based around three families in three different time frames, all of whom lived in one of the iconic Park Hill flats. I can honestly say it's one of the best plays I have seen and I sobbed at the ending. It has all the elements that I love – different times, history, families. It was fabulous.
So, enough of my frivolities this week. Here's what I posted on my blog:
I started the week on Monday with my review of Dignity by Alys Conran.
Tuesday – nowt!
Wednesday was a two post day though with my review of Spring Skies Over Bluebell Castle by Sarah Bennett and a fabulous guest post by Helen Steadman about Sunwise and corn dollies.
Another two post day on Thursday with my review of The Strawberry Thief by Joanne Harris and a guest post about editing by Angela Rigley, author of The Peacock Bottle.
On Friday, I shared a guest post about the importance of setting by Darcie Boleyn, author of The House at Greenacres.
And another two post day on Saturday saw me posting my review of The Forgotten Village by Lorna Cook and an extract from God's Acre by Dee Yates.
Finally, this morning I posted a guest post by LP Fergusson, author of A Dangerous Act of Kindness and where the inspiration for the story came from.
---
I have added some, quite frankly, fantabulous books to my reading pile this week. Here they are:
A Little Hotel in Cornwall by Laura Briggs
Struggling American waitress and aspiring novelist Maisie Clark dreams of becoming a full-time writer — even though in real life she's just lost her chance at an exclusive writer's mentorship program that would give her novel its big break. Desperate, she decides to take a chance and ask her favourite writer, a celebrated but reclusive English novelist, to help her find a second chance.

When she receives the author's reply in an envelope with a Cornish postmark, Maisie decides not to take the writer's half-hearted 'no' for an answer. With nothing to lose, she takes off for the author's last known location, a beautiful hotel on Cornwall's western coast. But when the hotel mistakes her for the latest applicant for a maid's position, Maisie finds herself given an opportunity too good to lose … and a chance for a summer adventure far bigger than she ever imagined.

Surrounded by breathtaking Cornwall and working in an elegant hotel, Maisie's world becomes one of secret identities, quirky friends, and unintentional mishaps — and despite reminders of past relationship disasters, a certain handsome, charming local resident Sidney Daniels has her conflicted about her heart's desires, too.

Will Maisie find the chance she's been waiting for — and a possible new romance — in her perfect Cornish summer?
A dark and gripping debut crime novel – the first in a stunning new series – from a huge new talent.

The killer is just getting started…

When three wife beaters are themselves found beaten to death, DC Maggie Jamieson knows she is facing her toughest case yet.

The police suspect that Probation Officer Lucy Sherwood – who is connected to all three victims – is hiding a dark secret. Then a fourth domestic abuser is brutally murdered.

And he is Lucy's husband.

Now the police are running out of time, but can Maggie really believe her friend Lucy is a cold-blooded killer?
The Missing Wife by Sam Carrington
Imagine turning up to your own party, and recognising no one. Your best friend has just created your worst nightmare.

Louisa is an exhausted, sleep-deprived new mother and, approaching her fortieth birthday, the very last thing she wants to do is celebrate.

But when her best friend Tiff organises a surprise party, inviting the entire list of Lou's Facebook friends, she's faced with a new source of anxiety altogether: a room full of old college classmates who she hasn't spoken to in twenty years. And one person in particular she never expected to see again is there – her ex-boyfriend from college, the handsome and charismatic Oliver Dunmore.

When Oliver's wife Melissa goes missing after the party, everyone remembers what happened that night differently. It could be the alcohol, but it seems more than one person has something to hide.

Louisa is determined to find the truth about what happened to Melissa. But just how far does she need to look…?

One simple Facebook invitation unfolds into something both tragic and monstrous; a story of obsessive love, breath-taking deception and masterful manipulation.
The Closer I Get by Paul Burston
Tom is a successful author, but he's struggling to finish his novel. His main distraction is an online admirer, Evie, who simply won't leave him alone.

Evie is smart, well read and unstable; she lives with her father and her social-media friendships are not only her escape, but everything she has.

When she's hit with a restraining order, her world is turned upside down, and Tom is free to live his life again, to concentrate on writing.

But things aren't really adding up. For Tom is distracted but also addicted to his online relationships, and when they take a darker, more menacing turn, he feels powerless to change things. Because maybe he needs Evie more than he's letting on.

A compulsive, disturbingly relevant, twisty and powerful psychological thriller, The Closer I Get is also a searing commentary on the fragility and insincerity of online relationships, and the danger that can lurk just one 'like' away…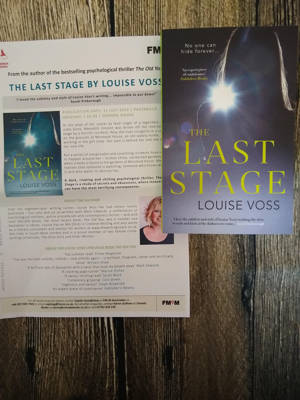 A violent and horrific incident forces a young woman to go into hiding, at the peak of her career as lead singer of an indie pop band. Years later, strange things start to happen and it becomes clear that some know who she is…

At the peak of her career as lead singer of a legendary 1980s indie band, Meredith Vincent was driven off the international stage by a horrific incident. Now living a quiet existence in a cottage on the grounds of an old stately home, she has put her past behind her and come to terms with her new life.

When a body is found in the manicured gardens of her home, and a series of inexplicable and unsettling events begins to occur, it becomes clear that someone is watching, someone who knows who she is … Someone who wants vengeance.

And this is only the beginning…
Wartime Sweethearts by Lola Jaye
A English Girl. An American Soldier. A twin secret…

When Rose meets American GI William there is no denying the attraction between them…And even though she knows her family would not approve of her relationship with a black soldier, they can't help but fall in love.

However Rose has a secret of her own and when war separates the sweethearts before she can confide in William, it is Rose who will have to deal with the consequences…

From the author of Orphan Sisters comes a moving and unique saga which gives a voice to the untold tales of our past.
The Canary Keeper by Clare Carson
In the grey mist of the early morning a body is dumped on the shore of the Thames by a boatman in a metal canoe. The city is soon alive with talk of the savage Esquimaux stalking Victorian London and an eye witness who claims the killer had an accomplice: a tall woman dressed in widow's weeds, with the telltale look of the degenerate Irish.

Branna 'Birdie' Quinn had no good reason to be by the river that morning, but she did not kill the man. She'd seen him first the day before, desperate to give her a message she refused to hear. And now the Filth will see her hang for his murder, just like her father.

To save her life, Birdie must trace the dead man's footsteps. Back onto the ship that carried him to his death, back to cold isles of Orkney that sheltered him, and up to the far north, a harsh and lawless land which holds more answers than she looks to find…

The Canary Keeper is a must-read historical epic, weaving suspense, adventure and romance into an exhilarating thriller.
Welcome to London. Population: 8.7million. And it's your job to keep them safe.

A no-holds-barred account of life on the front line of policing, On the Line follows PC Alice Hearn throughout ten years in the Met, from rookie to constable. As she deals with violent criminals, heart-breaking domestic situations, petty crime, life, death, and everything in between, she builds up a portrait of a living, complex city, and what it means to look after it.
A Dangerous Act of Kindness by LP Fergusson
What would you risk for a complete stranger?

When widow Millie Sanger finds injured enemy pilot Lukas Schiller on her farm, the distant war is suddenly at her doorstep. Compassionate Millie knows he'll be killed if discovered, and makes the dangerous decision to offer him shelter from the storm.

On opposite sides of the inescapable conflict, the two strangers forge an unexpected and passionate bond. But as the snow thaws, the relentless fury of World War Two forces them apart, leaving only the haunting memories of what they shared, and an understanding that their secret must never see light.

As Millie's dangerous act of kindness sets them on paths they never could have expected, those closest to them become their greatest threats, and the consequences of compassion prove deadly.
A Good Enough Mother by Bev Thomas
Dr Ruth Hartland rises to difficult tasks. She is the director of a highly respected trauma therapy unit. She is confident, capable and excellent at her job. Today she is preoccupied by her son Tom's disappearance.

So when a new patient arrives at the unit – a young man who looks shockingly like Tom – she is floored.

As a therapist, Ruth knows exactly what she should do in the best interests of her client, but as a mother she makes a very different choice – a decision that will have profound consequences.
Worst Case Scenario by Helen Fitzgerald
Mary Shields is a moody, acerbic probation offer, dealing with some of Glasgow's worst cases, and her job is on the line. Liam Macdowall was imprisoned for murdering his wife, and he's published a series of letters to the dead woman, in a book that makes him an unlikely hero – and a poster boy for Men's Rights activists.

Liam is released on licence into Mary's care, but things are far from simple. Mary develops a poisonous obsession with Liam and his world, and when her son and Liam's daughter form a relationship, Mary will stop at nothing to impose her own brand of justice … with devastating consequences.

A heart-pounding, relentless and chilling psychological thriller, rich with deliciously dark and unapologetic humour, Worst Case Scenario is also a perceptive, tragic and hugely relevant book by one of the most exciting names in crime fiction.
The Bookshop on the Shore by Jenny Colgan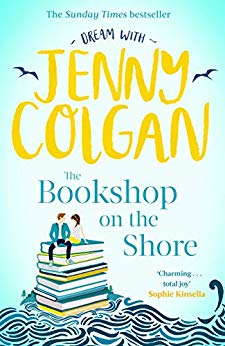 Escape to the Scottish Highlands where a tiny bookshop perches on the edge of a loch

Zoe is a single mother, sinking beneath the waves trying to cope by herself in London. Hari, her gorgeous little boy is perfect in every way – except for the fact that he just doesn't speak, at all. When her landlord raises the rent on her flat, Zoe doesn't know where to turn.

Then Hari's aunt suggests Zoe could move to Scotland to help run a bookshop. Going from the lonely city to a small village in the Highlands could be the change Zoe and Hari desperately need.

Faced with an unwelcoming boss, a moody, distant bookseller named Ramsay Urquart, and a band of unruly children, Zoe wonders if she's made the right decision. But Hari has found his very first real friend, and no one could resist the beauty of the loch glinting in the summer sun. If only Ramsay would just be a little more approachable…

Dreams start here…
What's Left Unsaid by Deborah Stone
Sasha is just about managing to hold her life together. She is raising her teenage son Zac, coping with an absent husband and caring for her ageing, temperamental and alcoholic mother, as well as holding down her own job. But when Zac begins to suspect that he has a secret sibling, Sasha realises that she must relive the events of a devastating night which she has done her best to forget for the past nineteen years.

Sasha's mother, Annie, is old and finds it difficult to distinguish between past and present and between truth and lies. As Annie sinks deeper back into her past, she revisits the key events in her life which have shaped her emotionally. Through it all, she remains convinced that her dead husband Joe is watching and waiting for her. But there's one thing she never told him, and as painful as it is for her to admit the truth, Annie is determined to go to Joe with a guilt-free conscience.

As the plot unfurls, traumas are revealed and lies uncovered, revealing long-buried secrets which are at the root of Annie and Sasha's fractious relationship.
The Wrong Envelope by Liz Treacher
Summer 1920 and two worlds are about to collide.
Evie Brunton loves her job. Twice a day, she spins along the narrow lanes of Devon on her bicycle, delivering letters from a heavy post bag. When the flamboyant London artist, Bernard Cavalier, drops like a meteor into her sleepy village, everything changes. Bernard is supposed to be painting for an important exhibition, but the countryside has its own charms, in particular his young post lady…
Light and witty, and full of twists and turns, 'The Wrong Envelope' is a charming romantic comedy. It captures the spirit of another age – when letters could change lives.
and The Wrong Direction by Liz Treacher
Autumn 1920. When Bernard Cavalier, a flamboyant London artist, marries Evie Brunton, a beautiful Devon post lady, everyone expects a happy ending. But Evie misses cycling down country lanes, delivering the mail, and is finding it hard to adapt to her new life among Mayfair's high society. Meanwhile Bernard, now a well-known artist, is struggling to give up his bachelor ways.
The Wrong Direction is as light and witty as The Wrong Envelope, with racy characters and a fast-paced plot. Wild parties, flirtatious models, jealous friends – Bernard and Evie must negotiate many twists and turns if they are to hold on to each other…
Fallen Angel by Chris Brookmyre – I already had the ebook ready for the blog tour but received a finished copy in the post.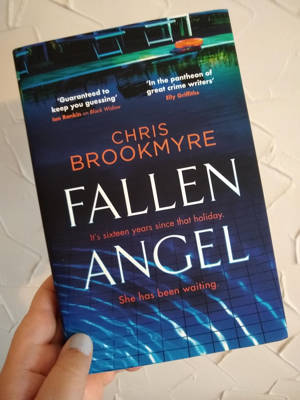 ONE FAMILY, TWO HOLIDAYS, ONE DEVASTATING SECRET

To new nanny Amanda, the Temple family seem to have it all: the former actress; the famous professor; their three successful grown-up children. But like any family, beneath the smiles and hugs there lurks far darker emotions.

Sixteen years earlier, little Niamh Temple died while they were on holiday in Portugal. Now, as Amanda joins the family for a reunion at their seaside villa, she begins to suspect one of them might be hiding something terrible…

And suspicion is a dangerous thing.
And likewise with Tick Tock by Mel Sherratt – I already had the ebook but have received a physical copy with a sweetie watch which was quickly commandeered by our boy!
TICK…

In the city of Stoke, a teenage girl is murdered in the middle of the day, her lifeless body abandoned in a field behind her school.

TOCK…

Two days later, a young mother is abducted. She's discovered strangled and dumped in a local park.

TIME'S UP…

DS Grace Allendale and her team are brought in to investigate, but with a bold killer, no leads and nothing to connect the victims, the case seems hopeless. It's only when a third woman is targeted that a sinister pattern emerges. A dangerous mind is behind these attacks, and Grace realises that the clock is ticking…

Can they catch the killer before another young woman dies?
Harvey and the Moon Bus by Jill Stanton-Huxton
Harvey sees his friends, Chester and Nelly, heading for the corner shop and boarding the Moon Bus, so he decides to join them. Harvey sits next to a grumpy grey rabbit. The Moon Bus takes off and flies through space and lands on the Moon and they all head off to The Moon Rock Sweet Emporium in Moon Crater Alley.

Harvey loses Chester and Nelly – so when he sees the grey rabbit heading for a nearby circus tent he decides to follow him, where he meets a small mouse called Gretel. But they only have 15 minutes to reach the Moon Bus before it leaves for the day!

Gretel tells him the magic mats on the Helter Skelter will take them to the Moon Bus really quickly. The magic mat flies over the cobbled streets towards a huge crater but Gretel falls out of Harvey's pocket and starts plummeting to the ground. Harvey manages to grab her safely. As the Moon Bus is about to take off, Harvey uses the last of his three wishes to catch it and jumps on board.. They look out of the window and see the grey rabbit running along the runway after the Moon Bus… But will he catch it in time?
Is there a murderer across the street?

It's 1964 and twenty-three-year-old Katy Speed is fascinated by Gloria and the goings-on at the house over the road. Who are the mysterious women arriving in a black car most Saturdays?

Then one night, Gloria's house burns to the ground. In the wreckage, bodies are found. And Katy's horror turns to disbelief when her father is arrested and charged with murder.

Determined to prove his innocence, Katy sets out to uncover the truth about the mysterious house across the street. But that means uncovering the real murderer – and risking her own life . . .

The House across the Street is a compelling, page-turning insight into the secrets of domestic life in a suburban avenue in 1960, from one of the world's favourite storytellers.
Phew! Quite a haul, eh? Have you read any of these or do you fancy them?
---
One other lovely thing this week was that I spotted this photo on Twitter. A quote from my review of Call Me Star Girl by Louise Beech has been used at the back of the finished book. Big surprise and I'm so pleased about it! Thanks Karen at Orenda Books!!!