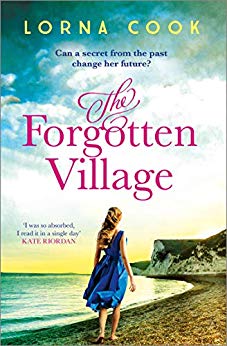 ShortBookandScribes #BookReview – The Forgotten Village by Lorna Cook @LornaCookAuthor @AvonBooksUK #BlogTour
I'm so pleased to be reviewing this lovely book today. My thanks to Sabah Khan from Avon for the place on the tour and for sending a review copy of the book.
---
1943: The world is at war, and the villagers of Tyneham are being asked to make one more sacrifice: to give their homes over to the British army. But on the eve of their departure, a terrible act will cause three of them to disappear forever.

2018: Melissa had hoped a break on the coast of Dorset would rekindle her stagnant relationship, but despite the idyllic scenery, it's pushing her and Liam to the brink. When Melissa discovers a strange photograph of a woman who once lived in the forgotten local village of Tyneham, she becomes determined to find out more about her story. But Tyneham hides a terrible secret, and Melissa's search for the truth will change her life in ways she never imagined possible.
---

The Forgotten Village has the kind of premise that immediately attracts my attention: dual time frame and with a historic point of interest. As I expected, I loved it!
In the modern day story we have Melissa. A pretty young woman, she's holidaying in Dorset with her boyfriend of only a few months, Liam. But Liam is seriously neglecting her, opting to spend his days surfing instead of spending time with Melissa. So she takes herself off to Tyneham for a look around the village which has just been opened up for the first time since the war. It was requisitioned by the Ministry of Defence – yes, that's the whole village including church, school, manor house and every villager's home. Hard to imagine, but everybody had to simply up and leave. They expected to go back after the war but it never happened. It's heartbreaking really.
At Tyneham, Melissa's path crosses with that of Guy Cameron, a TV historian and they end up getting to know each other. Melissa becomes fascinated by a photo of Sir Albert Standish and his wife, Veronica. Something seems a bit off about it and Melissa can't put it out of her head. She and Guy do some investigating and try and find out more about what happened back in 1943.
Both stories are compelling and there's plenty of intrigue and mystery surrounding what happened just before the requisition. Melissa and Guy go on a fact-finding mission and I loved how they uncovered the truth bit by bit.
The Forgotten Village is not a story of war particularly, but of something that happened because of the war and the way it affected so many. There are love stories, there is history, there are secrets. Honestly, what more could you want?
For a debut novel, it's an extremely well-written story, plotted perfectly to keep the reader guessing, and having the backdrop of an abandoned village, both in the past and the modern stories, made it so very interesting. It's not a short book at 400 pages but I can honestly say that it whizzed by and I didn't want to put it down. I'm looking forward to what Lorna Cook writes next.
---

---

Lorna Cook writes dual-timeline stories that blend secrets of the past with the present.
Her first novel, The Forgotten Village, is set in the real village of Tyneham in Dorset, requisitioned in entirety in World War Two and never returned. The story moves between 1943 and present day as secrets about what happened on requisition day are finally revealed.
Lorna lives by the sea with her husband, two small daughters and a demanding dog called Socks.
Keep up with all her news and bookish chat at:
Website (Sign up to her mailing list to be first in line for exclusive chapters and news)
Facebook
Instagram
Twitter
Author bio and photo taken from Amazon