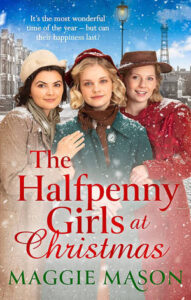 ShortBookandScribes #BookReview – The Halfpenny Girls at Christmas by Maggie Mason #BlogTour
Welcome to my stop on the blog tour for The Halfpenny Girls at Christmas by Maggie Mason. My thanks to Francesca Banks at Sphere for the place on the tour and the review copy of the book. It will be published on 28th October.
---

---
Will their prayers be answered at the most wonderful time of the year?

As Christmas approaches, Alice, Edith and Marg continue to face hardships growing up on one of the poorest streets in Blackpool. Penniless, their friendship has helped them survive this far, but it'll take more than that to see them through the dark days that lie ahead . . .

Newly married Alice receives shocking news about her pregnancy that threatens the future she's always dreamed of, Marg is struggling to care for her ailing mother and ensure her little sister receives the education she deserves, and Edith is grieving the loss of her family while preparing to marry her sweetheart.

The Halfpenny Girls once again are faced with a struggle, but with the festive season upon them will family, friendship and Christmas spirit see them through?
---
---
It's not long since I read the first book in this trilogy, The Halfpenny Girls, so the characters of Marg, Edith and Alice were still fresh in my mind. Had that not been the case I would still have been able to pick up The Halfpenny Girls at Christmas and enjoy it as Maggie Mason always makes sure the reader knows what happened before.
Once again, I was whisked to Blackpool of the late 1930s to smell the sea air and the fish and chips that the girls eat copiously. I love this setting, the seaside being so alive with characters and life. As the book begins Alice is newly married and looking forward to her first baby with her doctor husband, Gerald. Edith is happy with Philip and is eager to start their life together. Marg's life is more unsettled with her poorly ma and gran with dementia. But they are the Halfpenny Girls and no matter what, they have each other and that gets them through.
Reading a Maggie Mason book is like having a warm hug. Even though she puts her characters through it there's always such friendship and love that it makes you feel you could cope with anything with the right people around you. Being set when it is, war is on the horizon and the girls will have a lot to cope with in the years ahead (and book three, The Halfpenny Girls at War, will cover that). I love reading about them and really hope for the best for them. I particularly enjoyed the progression of Alice and Edith in this book and it was interesting to see these strong women starting to take on new roles, particularly as they will be required to do that even more when their men go to war. I was also pleased to see Marg get a rare chance of happiness.
This book covers two Christmases and so is a lovely read for this time of year. I enjoyed being back in Blackpool again with these lovely folk.
---

---
---

---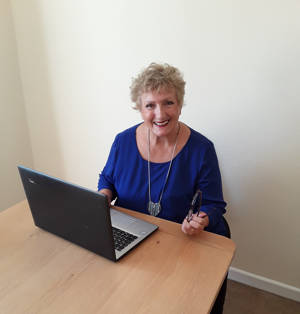 Maggie Mason also writes saga as Mary Wood. Mary was born the thirteenth child of fifteen and throughout her life had various factory, office and home-based jobs, finally becoming a probation service officer before she retired. Mary married in 1963 and with her husband Roy has four children, eight grandchildren, and five step-grandchildren. She got her first book deal in 2013 and has not looked back since.