ShortBookandScribes #BookReview – A Blackpool Christmas by Maggie Mason #BlogTour
I'm always delighted to read and review a Maggie Mason book. Today I'm sharing my thoughts about A Blackpool Christmas. My thanks to Francesca Banks from Sphere for the place on the tour and the copy of the book for review purposes.
---

---
Christmas 1918

The war may be over, but for newly reunited sisters Babs and Beth, peace has yet to find them. Having been taken from their mother at a young age and then separated themselves for twelve years, their family has encountered enough pain to last a lifetime.

As the festive season approaches, they realise their struggles are far from over, but if they want to look forward to a happy future together they must work to put the past behind them. Will the joys of Christmas be enough to unite their family once more?

The third and final book in the Sandgronians trilogy by Maggie Mason. The perfect read for fans of Mary Wood, Kitty Neale and Nadine Dorries
---

---
A Maggie Mason book is always a true pleasure to read, but A Blackpool Christmas is a bit special as it is the third in the Sandgronians trilogy and winds up the stories of Tilly and her twins, Babs and Beth.
As expected from this amazing writer, Mason gives her characters many trials and tribulations to deal with. Tilly isn't exempt but in this book the twins' stories take centre stage as we follow Beth as she struggles to deal with her loyalty to Jasmine and Roman, the gypsy couple who stole her and her sister as small children, and Babs who thinks she can get on with her life after a tragedy but fate (or the author!) has more heartbreak for her to endure.
What is always so prominent in Mason's books is the sense of family love and friendships. The relationships in the story really make me want to jump in and sit around the fire with the characters. Even though nobody is free from their own misfortunes, there's such a strong feeling of pulling together, helping each other out, and genuine comradeship.
It's really lovely to read about Blackpool in the past and what was particularly interesting in this instalment was reading about people going through the flu pandemic of 1918. The wearing of masks, constant washing of hands and taking such care to try and avoid passing the virus on provided obvious parallels with the current pandemic.
This is not a Christmas book as such but some of the most important scenes take place at that time and I really enjoyed the descriptions of Christmas at Tilly and Tommy's farmhouse. I had to wipe a tear away at the end and I'm so sad that I won't be meeting all the lovely characters again. A Blackpool Christmas is a wonderful, moving and ultimately uplifting story and I loved it.
---

---
---
---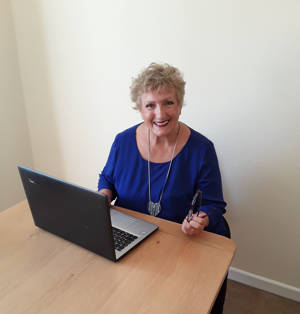 Maggie Mason is a pseudonym of author Mary Wood. Mary began her career by self-publishing on kindle where many of her sagas reached number one in genre. She was spotted by Pan Macmillan and to date has written many books for them under her own name, with more to come.
Mary continues to be proud to write for Pan Macmillan, but is now equally proud and thrilled to take up a second career with Sphere under the name of Maggie Mason. A Blackpool Lass is her first in a planned series of standalone books and trilogies set in her home town of Blackpool.
Born the thirteenth child of fifteen children, Mary describes her childhood as poor, but rich in love.
She was educated at St Peter's RC School in Hinckley and at Hinckley College for Further Education, where she was taught shorthand and typing.
Mary retired from working for the National Probation Service in 2009, when she took up full time writing, something she'd always dreamed of doing. She follows in the footsteps of her great-grandmother, Dora Langlois, who was an acclaimed author, playwright and actress in the late nineteenth – early twentieth century.
It was her work with the Probation Service that gives Mary's writing its grittiness, her need to tell it how it is, which takes her readers on an emotional journey to the heart of issues.