ShortBookandScribes #BookReview – Before the Swallows Come Back by Fiona Curnow #BlogTour
It's my stop on the blog tour for Before the Swallows Come Back by Fiona Curnow. My thanks to the author for the review copy of the book which is available now in paperback and ebook.
Purchase Link: https://mybook.to/4Uuc
---

---
Perfect for fans of Where the Crawdads Sing by Delia Owens, The Great Alone by Kristin Hannah, and Sal by Mick Kitson, with its celebration of the natural world, its misunderstood central characters living on the outside of society's norms, their survival in the wilderness, and the ultimate fight for justice.

Tommy struggles with people, with communicating, preferring solitude, drifting off with nature. He is protected by his Tinker family who keep to the old ways. A life of quiet seclusion under canvas is all he knows.

Charlotte cares for her sickly father. She meets Tommy by the riverside and an unexpected friendship develops. Over the years it becomes something more, something crucial to both of them. But when tragedy strikes each family they are torn apart.

Charlotte is sent far away.

Tommy might have done something very bad
---

---
Before the Swallows Come Back is the story of Tommy and Charlotte, two young people who, for very different reasons, are quite isolated. Tommy is a Tinker and his family roam according to the seasons. One day he meets Charlotte, who cares alone for her sick father, and there's an immediate connection between them. Although each way of life keeps them apart, it's when tragedy occurs for both of them that they're really pulled apart and the question is whether they can ever be reunited after all they have gone through.
There's a simplistic quality to the writing style that fits well with the naivety of the main characters, particularly Tommy whose life has been lived out in nature, learning to listen to the sounds around him and to be at one with the earth and the water. Sometimes I felt a young reader would appreciate reading this book and might empathise with Tommy and Charlotte, but there are some really shocking events that changed my mind on that score.
It's quite a sad story for these two young people who go through such a lot but finding each other keeps them going. They also have others looking out for them, people who become friends to them. Loyal animal friends feature strongly too, tying in with Tommy and Charlotte's love of the natural world. The author writes expressive descriptions of all that they encounter, the changing of the seasons in Scotland, and the lives of those who don't necessarily fit in and who need to find their own place in the world. A thoughtful, moving and hopeful story.
---

---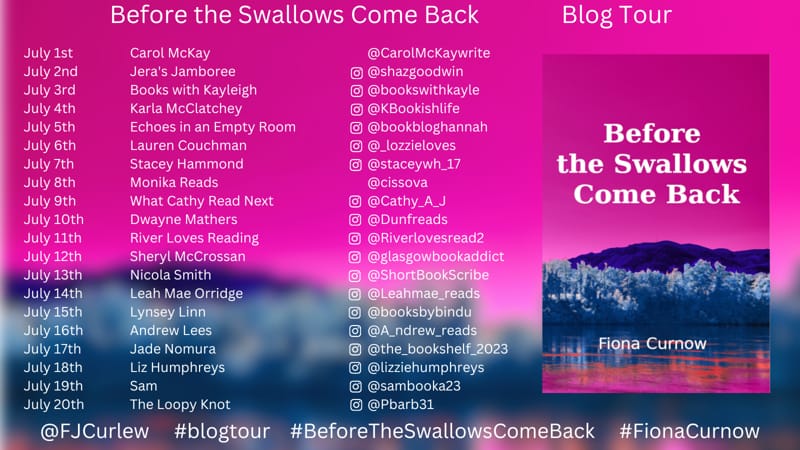 ---
---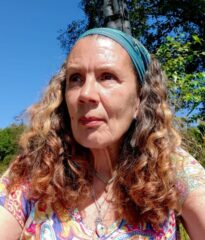 Fiona is a Scottish writer who spent fifteen years teaching in international schools, before becoming ill and having to return home. Not one to remain idle, she turned to the Open University where she studied creative writing, completing both courses with distinction, and discovering a new passion. She has since written five books and finds it difficult to be content without a work in progress. That escape into a world of her own making is something very special! Before the Swallows Come Back was sparked by a meeting she had with a Tinker family many years ago, in rural Perthshire. They invited her to sit by their fire, outside their bender, and listen to stories. It was fascinating, inspirational and never left her.
The conservation of natural habitats and their wildlife is hugely important to her (yes, she is a bit of an eco-warrior!) and the Tinkers and their way of life seemed to lend themselves to carrying this theme.