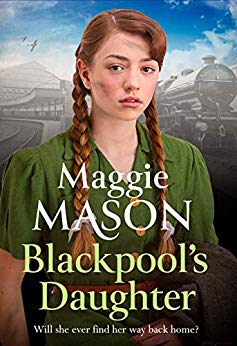 ShortBookandScribes Paperback #PublicationDay #BookReview – Blackpool's Daughter by Maggie Mason @Authormary @LittleBrownUK #BlogTour
I'm over the moon to be sharing my review of Blackpool's Daughter by Maggie Mason today, especially as it's paperback publication day. Congratulations Maggie/Mary! My thanks to Mary Wood for asking me to be a part of her tour – no, I'm not confused, Mary is writing as Maggie Mason on this occasion. Thank you also to Sophia Walker from Little, Brown for sending me a copy of the book for review purposes.
---
Clara is forced to flee her home as the Nazis invade the beautiful island of Guernsey

Separated from her mother, far away from anything familiar, she is at the mercy of a cruel shopkeeper. Clara is worked like a dog, but the warmth of her Blackpool friendships will go far to save her.

Julia just wants to find her beloved daughter – but the trials of war will keep them far apart.

They will meet again – but the war will change everything for mother and daughter…
---

I do love a Mary Wood book. But this is not a Mary Wood book, I hear you cry! Well, it is but under a different name. And that's all that's different. We still have the brilliant, heart-warming storylines, the characters you grow to love (and those that you grow to hate too). She just provides a wonderful read from start to finish.
Blackpool's Daughter is the story of Julia and her daughter, Clara. They're from Guernsey but the island is becoming dangerous. War has broken out and the Nazis are expected to invade so Julia takes the difficult decision to send Clara away to England for safety. What they don't expect is that nobody keeps a record of where the evacuees are sent and so when Julia makes her way to England soon after, she has no idea where to look for Clara. I can't imagine what that must have felt like. The sheer horror of not knowing where your child is, whether they are safe and whether they have found a happy home or not must have been overwhelming, but I understand that it really did happen that way.
Clara ends up in Blackpool, a place relatively untouched by the war. But her time there starts off unhappily and goes from bad to worse really, with the odd glimmer of happiness every so often to remind her that she has to keep going, in the hope of seeing her mother again one day.
The author lives in Blackpool so she knows the area really well and that shows in Blackpool's Daughter. It's really brought to life so vividly, the sea and the seafront, the amusement park, the smell of fish and chips, the shows. Clara ends up thinking of the town as home and makes some fabulous friends.
As I would have expected with this author, I got completely engrossed in the story and didn't want to put it down. Both Clara and Julia go through an incredible amount of pain and anguish, but the author pulls it back so that it's not all doom and gloom and there are moments of real happiness in amongst the difficult times.
Blackpool's Daughter is an emotional, sometimes shocking story of war, family, loss, love, friendship and camaraderie. It's written by, for me, one of the best saga writers around. I know that Mary/Maggie will always deliver a completely absorbing and gripping story with characters I come to care for, just as I cared for Julia and Clara. In case you didn't realise, I loved it!
---

---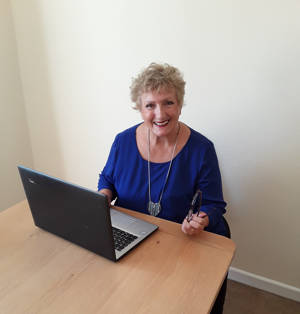 Maggie Mason is a pseudonym of author Mary Wood. Mary began her career by self-publishing on kindle where many of her sagas reached number one in genre. She was spotted by Pan Macmillan and to date has written many books for them under her own name, with more to come. Mary continues to be proud to write for Pan Macmillan, but is now equally proud and thrilled to take up a second career with Sphere under the name of Maggie Mason. A Blackpool Lass is her first in a planned series of standalone books and trilogies set in her home town of Blackpool.
Mary retired from working for the National Probation Service in 2009, when she took up full time writing, something she'd always dreamed of doing. She follows in the footsteps of her great-grandmother, Dora Langlois, who was an acclaimed author, playwright and actress in the late nineteenth – early twentieth century.
It was her work with the Probation Service that gives Mary's writing its grittiness, her need to tell it how it is, which takes her readers on an emotional journey to the heart of issues.