ShortBookandScribes #BookReview – The Forgotten Daughter by Mary Wood @Authormary @panmacmillan #BlogTour #HistoricalFiction
I'm absolutely over the moon to be reviewing The Forgotten Daughter by Mary Wood today. I love this writer's work! My thanks to Mary for asking me to be a part of her tour and to Ellis Keene from Pan Macmillan for the review copy.
From a tender age, Flora felt unloved and unwanted by her parents, but she finds safety in the arms of caring nanny Pru. But when Pru is cast out of the family home, under a shadow of secrets, and with a young baby boy of her own to care for, it shatters little Flora.

But over the years, Flora and Pru meet in secret – unbeknown to Flora's parents. Pru becomes the mother to flora she never had, and Flora grows into a fine young woman. When Flora signs up to become a nurse with the St John's ambulance, she begins to shape her life. But the drum of war beats loudly and Flora's world is turned upside down when she receives a letter asking her to join the Red Cross in Belgium.

With the fate of the country in the balance, it's a time for bravery. Flora's determined to be the strong woman she was destined to be. But with horror, loss and heartache on her horizon – there's a lot for young Flora to learn . . .
---

Mary Wood is fast becoming one of my favourite saga writers and what a saga she writes. She's a consummate storyteller. The Forgotten Daughter is the first in her new trilogy about The Girls Who Went to War.
Flora is one such girl. Having had a start to life that was privileged in many ways did not take away the fact that her parents were either weak or unpleasant and didn't love her as they should. For love she turned to her Nanny Pru, a woman who would become more of a mother to her than her own could ever have been. When war breaks out in 1914 Flora feels compelled to do her bit and ends up nursing for the Red Cross in Belgium. These scenes were real eye-openers for me and Wood does not hold back on the terrible details nor on the brutality amongst the German soldiers.
From there we follow Flora and Pru throughout the war and out the other side. There are many ups and downs for them both throughout this time and the author really puts her characters through the mill. What shines through once again is the strength of the female protagonists.
All the things I that love about Mary Wood's books can be found in The Forgotten Daughter. We have triumph against the odds, we have the northern heroine in Pru, the wronged woman in Flora and we have a tremendous love story (no, I'm not telling you, you'll have to read it for yourself!).
There's such a warmth in the writing and I found myself completely engrossed in Flora's story. There were characters that I wished I knew personally as they were such genuine and kind people, and then there were those that I intensely disliked for their nastiness and desire to hurt others. I really cared about what happened to Flora and could only hope that by the end of the book things would work out ok for her.
The Forgotten Daughter is a wonderful and gripping story, one that I loved reading. I knew this was book one in a trilogy but not what the other books would be about. Imagine my delight when I read at the end that the next book would be about Ella and book three about Mags. Both of these girls nursed with Flora in Belgium and it will be so good to read about what happened to them next. Bring it on!
---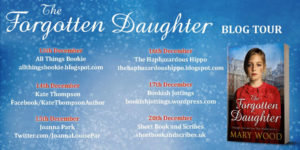 ---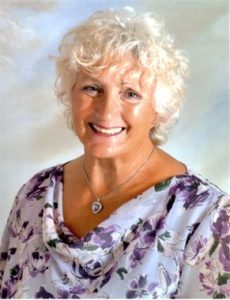 Born in Maidstone, Kent, in 1945, the thirteenth child of fifteen children, Mary's family settled in Leicestershire after the war ended.
Mary married young and now, after 54 years of happy marriage, four children, 12 grandchildren and many great-grandchildren, Mary and her husband live in Blackpool during the summer and Spain during the winter – a place that Mary calls, 'her writing retreat'.
After many jobs from cleaning to catering, all chosen to fit in with bringing up her family, and boost the family money-pot, Mary ended her 9 – 5 working days as a Probation Service Officer, a job that showed her another side to life, and which influences her writing, bringing a realism and grittiness to her novels
Mary first put pen to paper, in 1989, but it wasn't until 2010 that she finally found some success by self-publishing on kindle.
Being spotted by an editor at Pan Macmillan in 2013, finally saw Mary reach her publishing dream.
When not writing, Mary enjoys family time, reading, eating out, and gardening. One of her favourite pastimes is interacting with her readers on her Facebook page.
And on her web page.
She is also on Twitter.
Mary welcomes all contact with her readers and feedback on her work.