ShortBookandScribes #PublicationDay #BookReview – The Strawberry Thief by Joanne Harris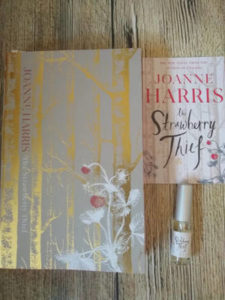 Can you imagine my delight when the beautiful proof of The Strawberry Thief dropped through my door? I took a moment to admire the gorgeous cover and the vivid red edges to the pages. Looking inside, I saw I was lucky enough to have not only a signed copy, but one actually signed to me! And not only that, it came with a specially commissioned fragrance inspired by a passage in the book. I was instructed to spray it when I got to that passage, not on myself as it's too strong for that, but onto one of those little cardboard sticks. I did so and stuck it inside the book for me to sniff whilst reading and to evoke the scent of the beans that Vianne Rocher was grinding in the passage. It's fair to say this is one of the most amazing book experiences I have had and I'd like to send my thanks to Rebecca Gray, previously of Orion, who, before she skipped off to pastures new at Glyndebourne, sent me this most wonderful parting gift. I am truly honoured! Thank you also to Joanne Harris for signing my proof. Happy Publication day!
---

Return to the world of the multi-million-copy bestselling Chocolat….

Vianne Rocher has settled down. Lansquenet-sous-Tannes, the place that once rejected her, has finally become her home. With Rosette, her 'special' child, she runs her chocolate shop in the square, talks to her friends on the river, is part of the community. Even Reynaud, the priest, has become a friend.

But when old Narcisse, the florist, dies, leaving a parcel of land to Rosette and a written confession to Reynaud, the life of the sleepy village is once more thrown into disarray.

The arrival of Narcisse's relatives, the departure of an old friend and the opening of a mysterious new shop in the place of the florist's across the square – one that mirrors the chocolaterie, and has a strange appeal of its own – all seem to herald some kind of change: a confrontation, a turbulence – even, perhaps, a murder…
---
Chocolat by Joanne Harris is an incredibly well known story now. I've read it, many years ago, and I've also seen the film starring Juliette Binoche and Johnny Depp (I loved it, even if it wasn't exactly true to the book). The Strawberry Thief is book four in the Lansquenet-sous-Tannes books. I haven't read The Lollipop Shoes or Peaches for Monsieur Le Curé and it doesn't matter at all as, with my knowledge of the characters from Chocolat and the explanations in The Strawberry Thief, I managed perfectly well, although I'm now kicking myself for not reading the filling in the sandwich, so to speak.
Anyway, on to The Strawberry Thief. Vianne Rocher is still running her chocolate shop and Reynaud is still the priest. But a couple of new characters take centre stage. Rosette is Vianne's younger daughter, now aged 16. She's considered a 'special child' as she can't really speak properly and is a bit of a free spirit. Vianne only wants to protect her and so keeps her close. The other new character is a shopkeeper who is almost blown in on the wind and this character brings about massive changes in Lansquenet-sous-Tannes whilst incurring Vianne's suspicions as to what her motives are.
The thrust of the story is the death of Narcisse, the florist, and his reasons for leaving his woodland to Rosette along with what seems to be a kind of confession which he leaves for Reynaud. Narcisse's death is the catalyst for so much change and I thought the strands of the story were intricately and expertly weaved together by Harris .
The Strawberry Thief is absolutely beautifully written. It has an ethereal quality, a magical feeling to it that is thoroughly captivating. It's not a book I could rush, in fact I kept having to put it down between chapters. It's quite intense and complex and I wanted to take every detail in, but that meant that I couldn't simply race through it, and nor did I want to.
But for the mention of modern day items such as mobile phones and Playstations, the writing and the setting have an old-fashioned quality to them. In fact, I'd say timeless. And what's so lovely about this story is the redemption to be found within, the way that some of the characters undergo a transformation and the way it comes about. I'm being a bit vague as the last thing I would want to do is spoil it for other readers but it really is so uplifting,
This book really is a complete and utter delight from start to finish. I loved my time in Lansquenet-sous-Tannes and the descriptions of the chocolates that Vianne creates in her shop. There is something so enchanting about the whole thing. The narrative ignites the senses, with the smells, the visual conjured up by the writing and the setting of the French village. You have to use your imagination, of course, but it's not difficult when the writing is so evocative.
The Strawberry Thief is a stunner of a read in every way possible and I loved every minute I spent reading it.
---

Joanne Harris is an Anglo-French author, whose books include fourteen novels, two cookbooks and many short stories. Her work is extremely diverse, covering aspects of magic realism, suspense, historical fiction, mythology and fantasy. She has also written a DR WHO novella for the BBC, has scripted guest episodes for the game ZOMBIES, RUN!, and is currently engaged in a number of musical theatre projects as well as developing an original drama for television.
In 2000, her 1999 novel CHOCOLAT was adapted to the screen, starring Juliette Binoche and Johnny Depp. She is an honorary Fellow of St Catharine's College, Cambridge, and in 2013 was awarded an MBE by the Queen.
Her hobbies are listed in Who's Who as 'mooching, lounging, strutting, strumming, priest-baiting and quiet subversion'. She also spends too much time on Twitter; plays flute and bass guitar in a band first formed when she was 16; and works from a shed in her garden at her home in Yorkshire.