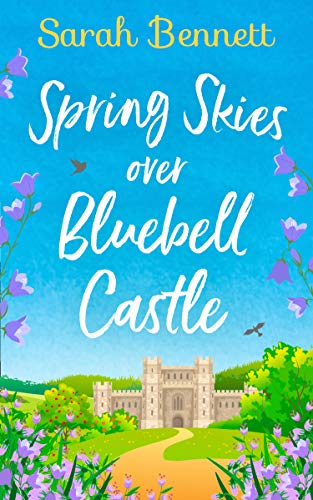 ShortBookandScribes #BookReview – Spring Skies Over Bluebell Castle by Sarah Bennett @Sarahlou_writes @rararesources #BlogTour
I'm so pleased to be sharing my review of Spring Skies Over Bluebell Castle by Sarah Bennett today. My thanks to Rachel Gilbey from Rachel's Random Resources for the place on the tour and to the publishers, HQ Digital, for the review copy via Netgalley.
---
She wasn't looking for love…

When Lucie Kennington flees the bright lights of London for the quiet Derbyshire countryside, she's shocked to discover that the heir to the Bluebell Castle estate is far from the wizened employer she expected.

In fact, Arthur Ludworth might just be the most handsome man Lucie's ever laid eyes on – and a terrible distraction! So when she stumbles across a legendary painting feared lost for centuries, she can't believe her luck – perhaps this is the hidden treasure to save Arthur and his family from ruin?

But it's only a matter of time before Lucie's past catches up with her and by then it's too late, she's falling for him…

Perfect for fans of Trisha Ashley, Rachael Lucas and Hilary Boyd.

Book 1: Spring Skies Over Bluebell Castle
Book 2: Sunshine Over Bluebell Castle
Book 3: Starlight Over Bluebell Castle
Purchase Links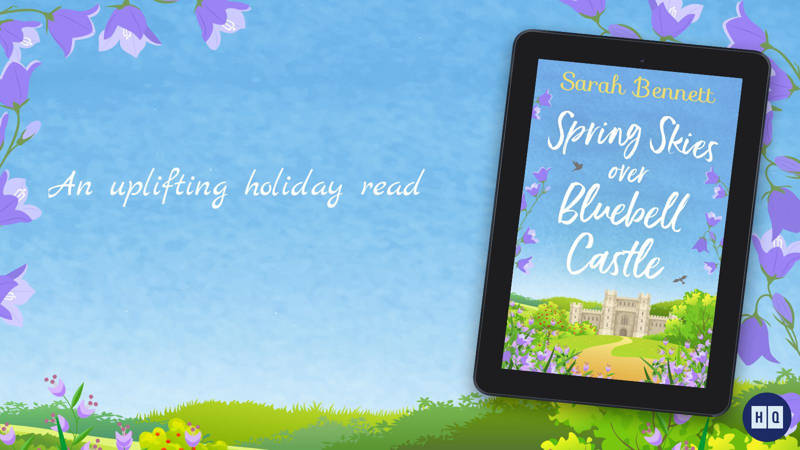 ---

This is the second Sarah Bennett book that I have read and she does write such lovely and engaging stories.
Lucie Kennington is an art expert, working for a prestigious auction house. But a mix up with a painting means that she finds herself under suspicion of fraud and she is suspended from her job. To make ends meet, she takes a position at Camland Castle, aka Bluebell Castle because of the beautiful flowers that come out aplenty every year.
The new baronet of the castle is Sir Arthur Ludworth and Lucie finds out that everything connected with the place has an Arthurian connection. I thought this was a really lovely idea and where, in the wrong hands, it could have been a bit naff, in fact, being in the right hands, it worked really well. This is a romance and so you can perhaps get an idea of what might happen between the lovely Lucie and the gorgeous Arthur.
Lucie has other demons in her past and so she finds it hard to give her all to Arthur and the castle but rest assured there are some delicious scenes between the two of them which made me smile and caused my heart to melt.
The writing is light-hearted (just as you would expect with this genre) but still meaty enough to give depth to the story. I loved Arthur in particular and thought he was the perfect hero. He is one of triplets and I thought Tristan and Igraine were really well-drawn too. As this is the first of a trilogy I'm guessing the other two parts will focus on each of them as the main character. And here's the tiny downside for me. I felt Lucie and Arthur's story needed more of an ending. The ebook finished very unexpectedly at 94% when I was waiting for more of a conclusion. I presume though that their story will be followed up in the next two books, even if they are not the main focus, so I don't feel too bad. I know what I'm hoping for for Lucie and Arthur – let's just hope the author feels the same way!
All in all, Spring Skies Over Bluebell Castle is a delightful romance, set in a beautiful and fascinating setting. It's a really easy and enjoyable read.
---

---

Sarah Bennett has been reading for as long as she can remember. Raised in a family of bookworms, her love affair with books of all genres has culminated in the ultimate Happy Ever After – getting to write her own stories to share with others.
Born and raised in a military family, she is happily married to her own Officer (who is sometimes even A Gentleman). Home is wherever he lays his hat, and life has taught them both that the best family is the one you create from friends as well as relatives.
When not reading or writing, Sarah is a devotee of afternoon naps and sailing the high seas, but only on vessels large enough to accommodate a casino and a choice of restaurants.
Sarah is the author of the Butterfly Cove, Lavender Bay and the forthcoming Bluebell Castle trilogies, published by HQ Digital UK.