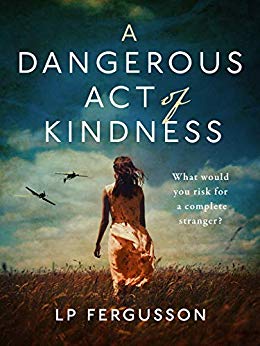 ShortBookandScribes #BlogTour #GuestPost by LP Fergusson, Author of A Dangerous Act of Kindness @Canelo_co
I'm so pleased to be taking part in the blog tour for a Dangerous Act of Kindness by LP Fergusson today. This is a book that sounds right up my street and I wish I could have had time to read it. Instead I have a guest post by the author to share with you about the inspirations behind the story.
---

What would you risk for a complete stranger?

When widow Millie Sanger finds injured enemy pilot Lukas Schiller on her farm, the distant war is suddenly at her doorstep. Compassionate Millie knows he'll be killed if discovered, and makes the dangerous decision to offer him shelter from the storm.

On opposite sides of the inescapable conflict, the two strangers forge an unexpected and passionate bond. But as the snow thaws, the relentless fury of World War Two forces them apart, leaving only the haunting memories of what they shared, and an understanding that their secret must never see light.

As Millie's dangerous act of kindness sets them on paths they never could have expected, those closest to them become their greatest threats, and the consequences of compassion prove deadly…

A Dangerous Act of Kindness is a beautiful, harrowing love story, perfect for fans of Rachel Hore and Santa Montefiore
Links to Book:
---

Could it be true?
Inspirations behind A Dangerous Act of Kindness by LP Fergusson
My favourite literary quote is Mark Twain's observation that 'Truth is stranger than fiction, but it is because Fiction is obliged to stick to possibilities; Truth ain't.' Yet, how thrilling it is for a writer of fiction to discover true stories behind a narrative she has imagined. I came across several as I was writing A Dangerous Act of Kindness.
My novel tells the story of a young English widow who finds an injured German pilot on her remote farm at the beginning of the Second World War and makes the fateful decision to help him.
The inspiration for the novel started years ago when I was captivated by the true story of Franz von Werra, a Luftwaffe officer and the only German prisoner of war to escape from the British.  During one of his many earlier attempts, he was on the run in the remote countryside of the Lake District for three days, hiding in barns and foraging for food before he was eventually captured.
The story came back to me when I discovered that a German plane had crashed on the Downs above our village. The landscape up there is extraordinary. It's a vast plateau – the Ridgeway runs along part of it and even now, winter weather cuts off the small number of inhabitants who live up there. It's like a lost world and very isolated.
This is where I wanted to set my domestic story of the war. I wanted to investigate what it was like to live during those years when your only experience of the hostilities came from the news on the radio and in the papers. Would it change a person's attitude to an enemy soldier?
The answer of course is yes and it was this person-to-person contact that eventually began the slow building of a lasting peace between the nations when the war ended. As I continued my research, I realised that many more men and woman in Britain worked side by side captured German soldiers than I had ever imagined. In fact, by the end of the war, a third of the men working on the land in this country were German prisoners of war, yet very little has been written about the experience of these defeated young men.
My book was finished. My publication date set. In a delightful piece of serendipity, a metal detectorist, working in a potato field ten minutes from my front door, discovered a German wound medal buried in the earth. It must have been dropped by a prisoner of war working on the land.
I know the field well because I frequently walked up there with my dogs when I needed a break from writing. I used the time to imagine how Millie must have felt, working in the mud and cold on her lonely farm. When I pass the field now, I can imagine Lukas there too, working on the land and dreaming of peace.
What a lovely post, thank you so much LP.
---

---

LP Fergusson grew up on the borders of Wales in a Tudor house on the banks of  the River Wye. As a child she longed to go back in history. Now she does, through her writing. She has an MA in Creative Writing from Oxford Brookes University and won the Blackwell's Prize for MA Creative Writing. Her stories have made a number of shortlists for competitions run by the Orwell Society, Oxfordshire Libraries and Flash500. Her psychological thriller reached the final three of a Quercus/Psychologies Thriller competition and her wartime novel A Dangerous Act of Kindness was Highly Commended in the Caledonia Novel Award 2018. She edits the historical blog With Love from Graz which was featured on BBC Radio Wales, Radio 2 and BBC4's A Very British Romance with Lucy Worsley. She now lives in an Oxfordshire village beneath the chalk downs where her debut novel is set.