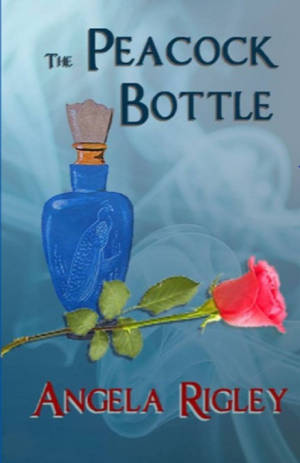 ShortBookandScribes #BlogTour #GuestPost by Angela Rigley, Author of The Peacock Bottle @angierigley @rararesources #giveaway
Welcome to my stop on the blog tour for The Peacock Bottle by Angela Rigley. I have a fab guest post by Angela all about editing to share with you today along with a chance to win yourself a copy of the book. My thanks to Rachel Gilbey from Rachel's Random Resources for the place on the tour.
---
In this Victorian dual timeline novel, Amelia Wise feels a jolt when she finds a blue perfume bottle in the overgrown garden of the house she has inherited. Several events in her life mirrors those from the past and, with the help of her newfound cousin, Olivia, the bottle's secret is uncovered.
---
Editing by Angela Rigley
I love editing. In fact, you could almost call it an obsession.
In The Peacock Bottle there are two stories, set over fifty years apart, and I had to make sure I used the correct characters for each timeline. Even though I kept lists of each family's names, it was not until my fifth edit that I realised one of the servants had crossed over to the other story. I'm sure she would have felt out of place in the wrong time, and with people she would not know, but she did not say a word, did not let me know. Luckily I found her and moved her back to her own era before the final edit.
When I am editing, my red pen quivers when I see any of my pet hates, especially the word 'was'. Instead of telling the reader, 'He was tall', why not show it with 'He bent his head to enter the room'? Another one is 'get' or 'got'.  Even something simple, like 'stand', instead of 'get up', is more interesting. Then repetition, not only of words, but events, is deleted, and don't start me off on viewpoint. More than one viewpoint per scene can confuse the reader. I read various blogs about editing and writing and many tell us to restrict the use of the words, 'that' and 'start to…' for they are rarely needed.
I find the more I write, the more I waffle and repeat myself, but I do not realise it at the time of writing. I am so eager to 'get' the story written, hehe, I do not notice. During the first edit of The Peacock Bottle I deleted over five thousand unnecessary words which meant I had to invent another scene to match the original word count.
We authors don't always see our own mistakes, so it is important to have our work checked by several other people who can give constructive criticism, and there is no point being too proud or precious (as they say in my part of the country) to accept what they suggest. Occasionally, they might misunderstand what you intended but, in that case, your reader would also, so the passage needs changing.
My 'editor head' won't switch off when I'm reading other authors' books, so sometimes it is a bane, and spoils my enjoyment. The 'Look inside the Book' feature on Amazon is a great help if I am wondering whether to buy a book or not. I can gauge from the first page if I am going to enjoy it and, will not buy it if I do not like the style or see any typos.
In my first book, as well as me going through it over twenty times, and being edited by two professionals, Jamie looks at a photograph, puts it on the settee and leaves the room. Someone else comes in and picks it up off the mantelpiece. None of us noticed the inaccuracy, and it only came to light when a friend pointed it out. Too late, though. It had already gone to print. I don't know if it was a coincidence or whether it was not her genre, but she has never bought another of my books.
Thank you, Angela. I love the idea of one of your characters crossing the time frames!
---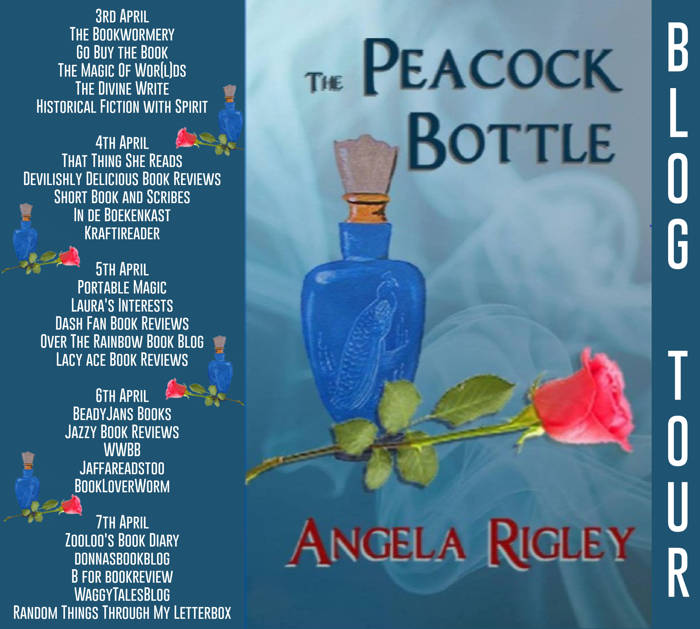 ---

 Giveaway to Win 2 x Paperback copes of The Peacock Bottle (UK Only)
*Terms and Conditions –UK entries welcome. Please enter using the Rafflecopter box below. The winner will be selected at random via Rafflecopter from all valid entries and will be notified by Twitter and/or email. If no response is received within 7 days then Rachel's Random Resources reserves the right to select an alternative winner. Open to all entrants aged 18 or over. Any personal data given as part of the competition entry is used for this purpose only and will not be shared with third parties, with the exception of the winners' information. This will be passed to the giveaway organiser and used only for fulfilment of the prize, after which time Rachel's Random Resources will delete the data. I am not responsible for dispatch or delivery of the prize.
---

Married to Don, I have 5 children and 9 grandchildren, I live in Derbyshire, England, and enjoy researching my family tree (having found ancestors as far back as 1465), reading, gardening, playing Scrabble, meals out and family gatherings. I am the treasurer of my writing club, Eastwood Writers' Group, and I also write and record Thoughts for the Day for Radio Nottingham. At church I sing in the choir and am an Extraordinary Minister of Holy Communion, a reader, a flower arranger and a member of the fundraising team for Cafod, my favourite charity. I have written hymns, although I cannot read music.