ShortBookandScribes Seven Day Spotlight – w/e 06/10/19
Hi! Welcome to this week's round up post. This weekend my OH and I went to see We Will Rock You at the theatre. I had no idea what it was about beforehand, I just love the music of Queen, and so it was a surprise that it's set in a futuristic world in which rock music no longer exists. We both thought it was absolutely fantastic and of course I had to come home and put my Queen music on and sing along loudly.
Aside from that the Off the Shelf festival has started in Sheffield. I couldn't go to the Two Roads proof party as I was at the theatre so I sent my ever willing mum in my place. She came away with three proofs for me so I'll show you those next time.
Here's what I posted this week on my blog:
On Monday I shared an extract from The Five Shilling Children by Lindsay Hutchinson and also my review of The Men by Fanny Calder.
Tuesday's post was my review of A House of Ghosts by W.C. Ryan.
Wednesday's post was my review of Three Little Truths by Eithne Shortall.
Thursday's post was my review of Ask Me No Questions by Louisa de Lange.
On Friday I shared an extract from Secrets of the Mist by Kate Ryder and also my review of The Flatshare by Beth O'Leary.
And on Saturday I shared a guest post by Jane Holland, author of The Hive and my review of The Family by Louise Jensen.
---
Here's what bookish delights came my way this week:
Through the Wall by Caroline Corcoran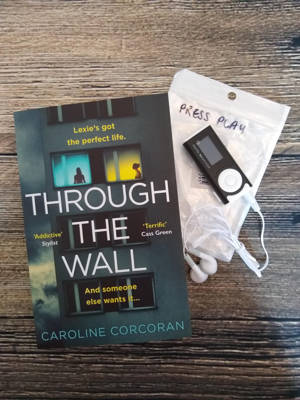 Lexie's got the perfect life. And someone else wants it…

Lexie loves her home. She feels safe and secure in it – and loved, thanks to her boyfriend Tom.

But recently, something's not been quite right. A book out of place. A wardrobe door left open. A set of keys going missing…

Tom thinks Lexie's going mad – but then, he's away more often than he's at home nowadays, so he wouldn't understand.

Because Lexie isn't losing it. She knows there's someone out there watching her. And, deep down, she knows there's nothing she can do to make them stop…

A compelling, heart-racing thriller that will have you looking over your shoulder long after you turn the last page. The perfect read for fans of Louise Candlish and Adele Parks.
Home Alone Harry by Jerry Rhodes and Rachel Messiter, illustrated by Nicky Hill
Harry is a mischievous young dog, adored by his family, Dad and Mum, Maisie (8) and Max (5). When the family leave him on his own he creates chaos. Dad demands, "That bad dog must go!" Alone and sad in bed that evening, Max asks, "Can anyone help?" How will the Thunkies respond to his call?
The Light in the Hallway by Amanda Prowse
From the bestselling author of The Girl in the Corner comes the moving story of a man whose life is changed in an instant. How do you start again when you lose the only love you've ever known?

When Nick's wife Kerry falls ill and dies, he realises for the first time how fragile his happiness has always been, and how much he's been taking his good life and wonderful family for granted. Now, he suddenly finds himself navigating parenthood alone, unsure how to deal with his own grief, let alone that of his teenage son, Olly.

In the depths of his heartbreak, Nick must find a way to navigate life that pleases his son, his in-laws, his family and his friends—while honouring what Kerry meant to them all. But when it comes to his own emotions, Nick doesn't know where to begin. Kerry was his childhood sweetheart—but was she really the only one who could ever make him happy?

And in the aftermath of tragedy, can Nick and his son find themselves again?
Three Hours by Rosamund Lupton
Three hours is 180 minutes or 10,800 seconds.

It is a morning's lessons, a dress rehearsal of Macbeth, a snowy trek through the woods.

It is an eternity waiting for news. Or a countdown to something terrible.

It is 180 minutes to discover who you will die for and what men will kill for.

In rural Somerset in the middle of a blizzard, the unthinkable happens: a school is under siege. Told from the point of view of the people at the heart of it, from the wounded headmaster in the library, unable to help his trapped pupils and staff, to teenage Hannah in love for the first time, to the parents gathering desperate for news, to the 16 year old Syrian refugee trying to rescue his little brother, to the police psychologist who must identify the gunmen, to the students taking refuge in the school theatre, all experience the most intense hours of their lives, where evil and terror are met by courage, love and redemption.
The 24 Hour Cafe by Libby Page with a lovely handwritten note from Libby and a tea bag so I can make a cup of my favourite tea
Welcome to the café that never sleeps. Day and night Stella's Café opens its doors for the lonely and the lost, the morning people and the night owls. It is many things to many people but most of all it is a place where life can wait at the door. A place of small kindnesses. A place where anyone can be whoever they want, where everyone is always welcome.

Meet Hannah and Mona: best friends, waitresses, dreamers. They work at Stella's but they dream of more, of leaving the café behind and making their own way in life.

Come inside and spend twenty-four hours at Stella's Café; a day when Hannah and Mona's futures will be changed and their friendship tested. Today is just the start, but it is also marks a conclusion. Because all beginnings are also endings. And all endings can also be beginnings…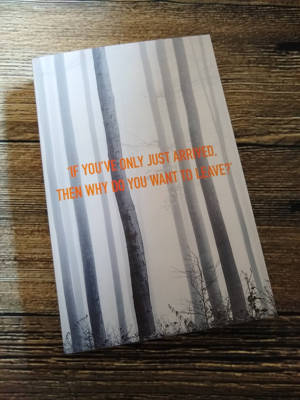 Elijah has lived in the Memory Wood for as long as he can remember. It's the only home he's ever known.

Elissa has only just arrived. And she'll do everything she can to escape.

When Elijah stumbles across thirteen-year-old Elissa, in the woods where her abductor is hiding her, he refuses to alert the police. Because in his twelve years, Elijah has never had a proper friend. And he doesn't want Elissa to leave.

Not only that, Elijah knows how this can end. After all, Elissa isn't the first girl he's found inside the Memory Wood.

As her abductor's behaviour grows more erratic, Elissa realises that outwitting strange, lonely Elijah is her only hope of survival. Their cat-and-mouse game of deception and betrayal will determine both their fates, and whether either of them will ever leave the Memory Wood . . .
I also received my wonderful competition win from Quarto Knows – some amazing Downton Abbey goodies.