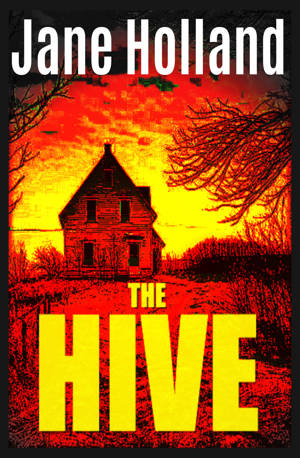 ShortBookandScribes #BlogTour #GuestPost by Jane Holland, Author of The Hive @janeholland1 @rararesources #giveaway
Welcome to my stop on the blog tour for The Hive by Jane Holland. I have a fabulous guest post by Jane to share with you today along with a chance to win a paperback copy of the book. My thanks to Rachel Gilbey from Rachel's Random Resources for the place on the tour.

---

The Hive: a brand-new thriller for 2019 from Kindle #1 bestseller Jane Holland

"Addictive, horrifying and brilliant!" – 5 stars, Rachel Gilbey from Rachel's Random Reads

Scarred by fire from infancy, with a persistent stammer, Charlotte has always been in the shadow of her glamorous theatrical parents. So it's a shock when her mother commits suicide.

Left to care for her sick father in the dark maze of her childhood home, Charlotte begins to unravel. First, there's the mysterious arrival of a box of dead bees. Then buzzing noises in the attic. People are watching her. Listening to her.

Everyone thinks she's losing her mind. But an old photo suggests another, more sinister possibility …
Purchase Links
EBOOK (99p):
PAPERBACK (£7.99):
---

Why 'The Hive'? by Jane Holland
I've always been fascinated by bees. Not merely the ones you find buzzing about the flowers in summer but the bees that have been immortalised in print, or created by artists as paintings, sketches, or delicate items of jewellery.
My obsession probably started in primary school, when I still lived in the East End where I was born. We lived near several large recreational parks, and I used to bicycle round there on my own during the summer months, stopping to wander among the formal gardens, full of civic flowers alive with bright bees and butterflies. (I love butterflies too, and put one on the cover of my first self-published thriller, Girl Number One, which rewarded my unpolished design efforts by hitting the number one spot in the UK Kindle chart with that homely cover!)
As a child, I adored butterflies not just for their gorgeous, brightly patterned wings, but their dark hidden nature. For I discovered that they love to feast on dead flesh! Beauty and the beast: the perfect combination for a budding thriller writer.
What drew me to bees too, was not simply how beautiful they are, nor how staggeringly productive, but the fact that honey bees die if they sting. It seemed like a karmic life lesson we could all learn from. You attack, you die. And yet honey bees still use their sting, to defend a hive or (in extremis) themselves, knowing this tiny act of defiance will kill them.
As someone who has spent their life lurching from one act of defiance to another, and getting royally 'stung' along the way for taking a stand, this bee-fact has always fascinated me. (I just wish I could learn from it.)
What really cemented my love affair with bees, however, was a book.
By rights, I should call it a poem. Because that's what it is. A brilliant book-length poem, in four volumes, about the world of nature, with the fourth book about bees. The writer, of course, is the Roman poet Virgil, and the book is Georgics IV. I was lucky enough to go to a secondary school where they taught Latin, and was 'stung' by the language bug early on, becoming a lifelong Latin fan and going on to teach it to all my five children, regardless of their groans!
In Virgil's fourth Georgic, he cleverly describes the world of bees in an anthropomorphic way, i.e. as though they were miniature humans. It's a little like the great Arthurian children's book by T.E. White, The Once and Future King, where Merlin shrinks Arthur to ant-size and puts him into an ant colony where he learns about communities and how the ant's particular 'hive-mind' works. I've always found that idea both attractive and terrifying, to become part of a collective that gives you strength in sheer numbers and yet destroys your individuality at the same time.
However, in Virgil's bee-world, his bees are permitted to rise above the collective mind and react as individuals. They may sally forth in a vast swarm, to protect the hive or – more importantly – the queen, as she ensures their future. But Virgil, almost certainly inspired by Homer's Trojan war epic The Iliad, makes his bees into tiny golden warriors, fighting for the honour of their hive, with flashing helms and spears, and each with their own personality and motives. But to say more about what else inspired me in Virgil's epic bee poem would be to post a massive spoiler, so I'll stop there ….
Setting a thriller in London's busy, anonymous metropolis was an obvious choice for my own 'hive-mind' novel. Everyone rising at the same time, wearing the same kind of suits, commuting together to work, working in large open-plan offices, staring through walls of glass at other office workers in high-rise offices across the street, etc.
There's something deeply sinister in this loss of individuality, plus a creeping sensation of being observed, and observing in our turn.
But home – the individual 'hub' within the hive-metropolis – is also a place where the sinister can happen without us noticing, where we lose ourselves as carers and homemakers in the repetition of dreary and unpleasant daily tasks. Or where we return from work each evening to stumble around the same narrow territory in the dark, too tired to challenge what we are becoming, or who may be watching us …
Thank you, Jane, for such a fascinating post. Your book sounds fabulous!
---

 Giveaway to Win 1 x Paperback copy of The Hive by Jane Holland (UK Only)
*Terms and Conditions –UK entries welcome. Please enter using the Rafflecopter box below. The winner will be selected at random via Rafflecopter from all valid entries and will be notified by Twitter and/or email. If no response is received within 7 days then Rachel's Random Resources reserves the right to select an alternative winner. Open to all entrants aged 18 or over. Any personal data given as part of the competition entry is used for this purpose only and will not be shared with third parties, with the exception of the winners' information. This will passed to the giveaway organiser and used only for fulfilment of the prize, after which time Rachel's Random Resources will delete the data. I am not responsible for despatch or delivery of the prize.
---

---

Jane Holland is a Gregory Award-winning poet and novelist. Her thriller GIRL NUMBER ONE hit #1 in the UK Kindle store in 2015, and again in 2018, catapulting her into a life of crime. She's published dozens of novels with major publishing houses under various pseudonyms, including: Beth Good, Victoria Lamb, Elizabeth Moss, Hannah Coates, and JJ Holland, and also self-publishes.