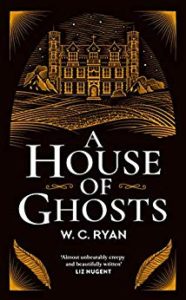 ShortBookandScribes #BookReview – A House of Ghosts by W.C. Ryan @ZaffreBooks #CompulsiveReaders #BlogTour
I'm so pleased to be taking part in the blog tour for A House of Ghosts by W.C. Ryan today, not least because this is one of my own books off my own toppling TBR pile! My thanks to Tracy Fenton from Compulsive Readers for the place on the tour.
---
A gripping mystery with a classic feel: And Then There Were None meets The Silent Companions

Winter 1917. As the First World War enters its most brutal phase, back home in England, everyone is seeking answers to the darkness that has seeped into their lives.

At Blackwater Abbey, on an island off the Devon coast, Lord Highmount has arranged a spiritualist gathering to contact his two sons who were lost in the conflict. But as his guests begin to arrive, it gradually becomes clear that each has something they would rather keep hidden. Then, when a storm descends on the island, the guests will find themselves trapped. Soon one of their number will die.

For Blackwater Abbey is haunted in more ways than one . . .

An unrelentingly gripping mystery packed with twists and turns, A House of Ghosts is the perfect chilling read this winter.
---

What a fabulous and engaging story A House of Ghosts is. I found myself thoroughly engrossed in it.
It's set in 1917, the First World war is raging on and it's taking its toll on almost every family. The story begins with Kate Cartwright and a mysterious man named Donovan being sent by the Secret Intelligence Service to Blackwater Abbey on Blackwater Island just off the coast of Devon. It's no coincidence that Kate knows something of Blackwater Abbey and its occupants, Lord and Lady Highmount.
This is rather a tangled web of a story, featuring (lots of) ghosts, séances and spiritualists. The Highmounts have lost two sons and Kate has lost a brother and the reason for the gathering is to try and contact them in the spiritual world. I found this side of the story absolutely fascinating, especially Kate's own abilities which she tries to keep hidden.
I love island stories. There's something about the remote feel of them that really grabs me and that was definitely the case here. Couple that with stormy weather that cuts the guests off from the mainland and you have a sinister tale indeed. The Abbey is portrayed brilliantly as a place with so many hidden passages and recesses. It's the perfect place for ghostly and real life goings on.
The story flits mostly between Kate and Donovan's viewpoints and I really liked both characters and how their stories intertwined as they worked together to solve more than one puzzle. I can't help hoping they might reappear in another book because there is so much potential there.
I sometimes find ghost stories too implausible but I didn't find that here. I thought the ghostly element was done so well. However, despite being a story of ghosts this is not a scary book. It's more of a spy thriller/country house mystery with ghosts thrown in which is perhaps why I liked it so much. It's an incredibly well-plotted story and it really kept me guessing. It's alive with tension (a smidgen of which might be sexual!) and full of atmosphere. It's really such a great read and I loved the time I spent reading it.
---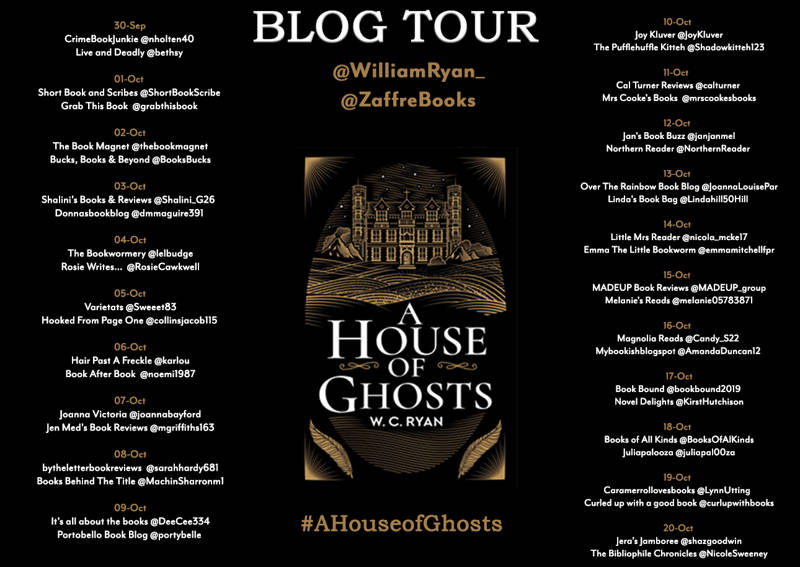 ---

William Ryan's first novel in the Captain Korolev series, The Holy Thief, was shortlisted for a Crime Writer's Association's New Blood Dagger, a Barry Award, The Kerry Group Irish Fiction Award and The Theakstons Old Peculier Crime Novel of the Year. The second in the series, The Bloody Meadow, was shortlisted for the Ireland AM Crime Novel of the Year and the third, The Twelfth Department, was also shortlisted for the Ireland AM Crime Novel of the Year as well as the CWA's Historical Fiction Dagger and was a Guardian Crime Novel of the Year.
The Constant Soldier, William's fourth novel was described as "subtle, suspenseful and superb" by The Daily Mail and shortlisted for the HWA's Gold Crown and the CWA's Steel Dagger.
William's latest novel (as W.C. Ryan), A House of Ghosts, was published in October 2018.
William lectures on creative writing at City University and helps run the First Monday crime evenings. Visit www.william-ryan.com for more information.