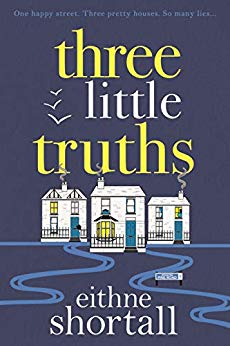 ShortBookandScribes #BookReview – Three Little Truths by Eithne Shortall @eithneshortall @CorvusBooks #RandomThingsTours #BlogTour #ThreeLittleTruths
I'm so pleased to be reviewing Three Little Truths by Eithne Shortall today as part of the blog tour. My thanks to Anne Cater of Random Things Tours for the place on the tour and to Corvus Books for sending me a gorgeous proof copy of the book for review purposes.
---
One happy street. Three pretty houses. So many lies…

Martha used to be a force of nature: calm, collected, and in charge. But since moving her husband and two daughters to Dublin under sudden and mysterious circumstances, she can't seem to find her footing.

Robin was the "it" girl in school, destined for success. Now she's back at her parents' with her four-year-old son, vowing that her ne'er-do-well ex is out of the picture for good.

Edie has everything she could want, apart from a baby, and the acceptance of her new neighbours. She longs to be one of the girls, and to figure out why her perfect husband seems to be avoiding their perfect future.

Three women looking for a fresh start on idyllic Pine Road. Their friendship will change their lives, and reveal secrets they never imagined. Liane Moriarty meets Lisa Jewell in this story of the love affairs, rivalries and scandals that hide behind every door…
---

I loved Grace After Henry, Eithne Shortall's last book. I think Three Little Truths feels quite different in style. It's described as Maeve Binchy meets Liane Moriarty which is fairly accurate, although I'd probably compare with Emma Hannigan for a more contemporary feel.
Anyway, three women are at the heart of the story. We have Martha, Edie and Robin. Martha has just moved from Limerick to Pine Road, Dublin. She's the focus of all the residents of Pine Road as they vie for the first chance to catch sight of her. But there's a very unfortunate reason why Martha and her family have moved house.
Edie is full of life, a bit hyper actually and very eager to please. She's desperate for a baby but why is her husband, Daniel, suddenly not so sure?
And then there's Robin, back living with her parents for the first time in years. She's trying to escape her dodgy ex and might just have met somebody who makes her heart sing again.
I really liked all three women, and their stories make for quite a complex web, especially as the story progresses. I think Robin was my particular favourite though, with her prickly nature and her underlying vulnerability. I have to be honest and say I was highly irritated by the other women on the road and their WhatsApp group all about their petty little concerns, but I'm pretty sure that was the author's intention.
The friendships are lovely when they work and I enjoyed the dynamics between the various women, particularly the three main characters. There were some unexpected developments that I didn't see coming as the end approached and I thought the author did a great job with the plotting, especially when bringing it all to a satisfying conclusion.
I didn't love this book quite as much as I loved Grace After Henry but I did think it was a great read. It has a easy to read style to it and will appeal to readers who enjoy an engaging story of family and friendship.
---

---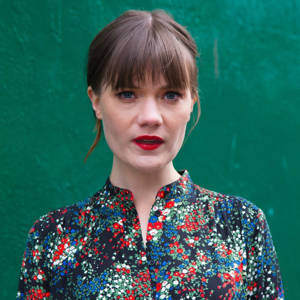 EITHNE SHORTALL studied journalism at Dublin City University and has lived in London, France and America. Now based in Dublin, she is chief arts writer for the Sunday Times Ireland. She enjoys sea swimming, cycling and eating scones.
Grace After Henry is her second novel. Shortall's bestselling debut novel, Love in Row 27, has been optioned for a TV series by NBC Universal Studios International, the production company behind Downton Abbey.