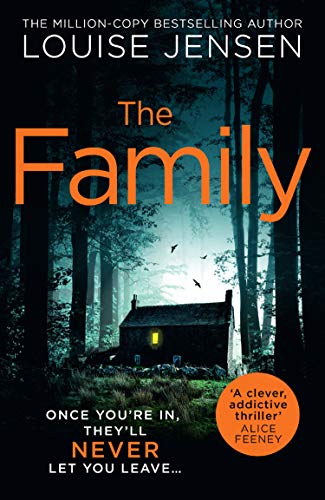 ShortBookandScribes #BookReview – The Family by Louise Jensen @Fab_fiction @hqstories #BlogTour
I'm delighted to be reviewing my very first Louise Jensen today! I'm only sorry it's taken me so long. My thanks to HQ Stories for the place on the tour and for sending me a lovely finished copy of the book for review purposes.
---
ONCE YOU'RE IN, THEY'LL NEVER LET YOU LEAVE.

Laura is grieving after the sudden death of her husband. Struggling to cope emotionally and financially, Laura is grateful when a local community, Oak Leaf Organics, offer her and her 17-year-old daughter Tilly a home.

But as Laura and Tilly settle into life with their new 'family', sinister things begin to happen. When one of the community dies in suspicious circumstances Laura wants to leave but Tilly, enthralled by the charismatic leader, Alex, refuses to go.

Desperately searching for a way to save her daughter, Laura uncovers a horrifying secret but Alex and his family aren't the only ones with something to hide. Just as Laura has been digging into their past, they've been digging into hers and she discovers the terrifying reason they invited her and Tilly in, and why they'll never let them leave…
---

What a dark and gripping premise The Family has. That tagline "Once you're in, they'll never let you leave" really grabbed my attention.
Laura has just lost her husband, Gavan, in tragic circumstances, leaving her alone with their 17 year old daughter, Tilly. Uncertainty about the nature of his death means that any money that may be due to them is delayed and may not be forthcoming at all. They always say you are only three wage packets away from losing everything and Laura is facing this herself so when a local woman comes up with a solution it seems like the answer to her prayers.
That solution is a local community (some may say cult) led by Alex, a charming and attractive man to whom both Laura and Tilly are drawn. But it isn't long before Laura begins to question her decision to put her faith in Alex and his community.
This is a book that is chock full of secrets. I think every single character had at least one thing they were trying to keep hidden. It's brilliantly plotted though so that each secret is revealed at just the right moment for maximum impact. It really made me think about how easy it is to fall into bad situations and find yourself unable to climb out again. I felt for Laura, responsible for her daughter, dealing with their grief and loss, but it also demonstrated the lengths we will go to to protect our children.
This is a fantastic psychological thriller. I wanted to know how it would all turn out and whether Laura and Tilly would recover anything of their old lives or not. Towards the end, as revelation after revelation was thrown at me I was whipping through the pages as fast as I could.
I thought it was really clever how the story was told mostly from the points of view of Laura and Tilly and how the teenage mind saw things so differently to the mother's mind. For instance, several times Laura thought she was behaving in a calm and understanding way only for Tilly to see it as her mother being annoyed or angry. Seeing it from both sides provided a real sense of the mother/daughter dynamic.
The whole 'community' storyline is a fascinating one. What makes a person drop out of mainstream life, giving up many of the modern luxuries we are used to? In Laura's case it was desperation and I suspect that's the case for many people who join such communities. I thought the author did a great job at portraying the claustrophobic feel of the one in this novel.
All in all I found The Family to be a thrilling and at times creepy read. I definitely don't want to be part of this Family!
---

---

Louise Jensen has sold over a million English language copies of her International No. 1 psychological thrillers The Sister, The Gift, The Surrogate and The Date. Her novels have also been translated into twenty-five languages, as well as featuring on the USA Today and Wall Street Journal Bestseller's List. Louise's fifth thriller, The Family, will be published in Autumn 2019 by Harper Collins.
The Sister was nominated for the Goodreads Debut Author of 2016 Award. The Date was nominated for The Guardian's 'Not The Booker' Prize 2018. The Surrogate has been nominated for the best Polish thriller of 2018. The Gift has been optioned for a TV film.
Louise lives with her husband, children, madcap dog and a rather naughty cat in Northamptonshire. She loves to hear from readers and writers.