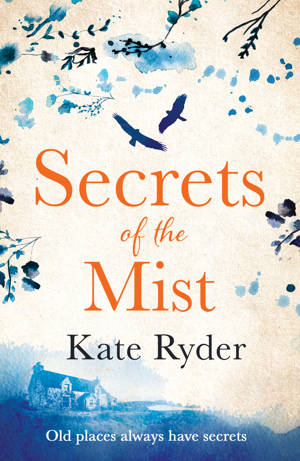 ShortBookandScribes #BlogTour #Extract from Secrets of the Mist by Kate Ryder @KateRyder_Books @aria_fiction
Welcome to my stop on the blog tour for Secrets of the Mist by Kate Ryder. My thanks to Vicky Joss from Aria for the place on the tour.
---

A gorgeous timeslip romance for fans of Kate Mosse, Diana Gabaldon and Barbara Erskine.

Maddie is restless in London. She has friends, a job and a sort-of boyfriend, but something in her life is missing. Then she visits the ancient village of Walditch, deep in the Dorset countryside. Something stirs in her, and on a whim she buys a centuries-old cottage and moves there three months later. Her friends think she's crazy, but for Maddie it feels like coming home.

Late at night in the cottage, Maddie hears strange noises and sees mist gathering indoors and out. When she starts investigating the cottage's history, she becomes drawn into the tragic story of a family who lived here 400 years ago. Meanwhile, Maddie starts to fall in love with a local carpenter – but he has a relationship already…

Can Maddie solve the riddle of the past? What is her connection with the family that lived there so many years ago? And can she and her true love ever be together?

Previously published as The Forgotten Promise.
Buy links:
---

It took a further three months to finish filming and by the time I arrived back in London I had purchased the cottage. My colleagues were incredulous and kept reminding me of my city-girl lifestyle, my cosmopolitan attitude and my need of the Underground to ferry me between watering holes. And when I handed in my notice they actually pleaded with me to see sense.

'But what are you going to do there stuck out in the country all by yourself?' Dan asked. 'You said it yourself: the bright lights, the latest wine bar, the hippest party. If you're fed up with your job, join a different production company. If you want change in your life, get a dog! But don't burn your bridges, Mads. Please…'

We'd been to the cinema to see the latest Bond movie with his sister, Caro, and her husband, John, and were now eating at our favourite Soho bistro. Dan and I were good companions. There was no great passion between us, but life was easy. We made no demands on each other, being free to date other people, and no questions were ever asked. Nothing ever rocked our boat.

I smiled and touched his face. He meant well.

'Dan, it's OK. I know what I'm doing. I'm going home.'

He stared at me in surprise.

'What do you mean, Maddie?' asked Caro curiously.

'I can't explain it but when I first saw the cottage it just spoke to me.' I looked at their anxious faces. 'I knew I had to have it…'

'But, Maddie, Daniel Craig speaks to me and I know I have to have him,' Caro exclaimed. 'I also know it's just not going to happen,' she added forlornly.

I laughed but quickly grew serious again. 'When I approached the estate agents they said that despite the cottage being on the market for some time there were only two interested parties. Both pulled out at the last minute. It hasn't been occupied since the previous owner moved three years ago, apart from a few months when it was tenanted. Basically, it's been standing empty all that time.' Their worried faces made me defiantly state, 'It needs to be lived in and brought back to life!'

'Sounds odd to me,' Caro commented. 'Well, you know if it doesn't work out you can always come and live with us, can't she, John?'

She smiled at me. Like her brother, Caro was a generous soul.

'Yes, there's always room for you in Clapham, Maddie,' John echoed his wife's offer. 'No loss of face there.'

'Thanks, you two. That's comforting.'

'And if you ever get bored stuck out in the sticks, I'll always come down at the click of your fingers to entertain you with stories of the latest ego I have not had the pleasure of working with,' teased Dan. He squeezed my knee meaningfully under the table.

I smiled at them all. Such good friends amidst the bustle of what could sometimes be a lonely city and, for a split second, I wondered if I was doing the right thing. I gazed at Dan, my dearest friend in whose arms I'd unexpectedly found pleasure, but we were going nowhere fast and, try as I might, I couldn't imagine a future with him. I was on a roller coaster and nothing could halt me now.
---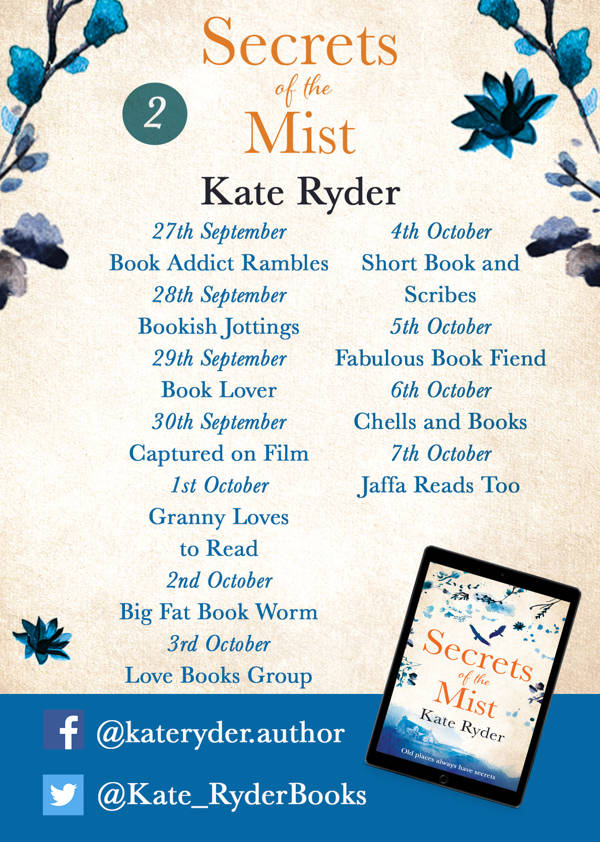 ---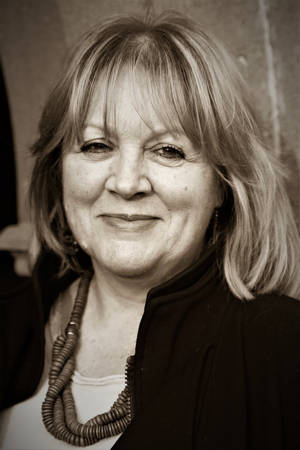 Kate Ryder writes romantic suspense with a true-to-life narrative. Her passion is writing (a period during which she studied acting only confirmed her preference for writing rather than performing!). Since then she has worked in the publishing, tour operating and property industries, and has travelled widely. She is a member of the Romantic Novelists' Association and the Society of Authors. Kate lives in Cornwall with her husband and a newly acquired rescue cat.
In 2017 Kate signed a 4-book publishing contract with Aria (digital imprint of award-winning independent publisher, Head of Zeus). Her first novel, 'Summer in a Cornish Cove', saw her nominated for the RNA's 2018 Joan Hessayon award. Under its original self-published title, 'The Forgotten Promise', 'Secrets of the Mist', was shortlisted for Choc Lit's "Search for a Star" and awarded a Chill with a Book "Book of the Month".
Follow Aria