ShortBookandScribes Seven Day Spotlight – w/e 01/09/19
Wow, September is here. When the school holidays started it seemed like September was ages away. Now it's here and my son goes back to school this week. I'm going to miss my little man but he's ready to go back, even if he won't admit to it.
I've started watching Downton Abbey right from the beginning. Mega binge watch ahead! It's something I've never watched so I'm enjoying catching up with it all.
Here's what I posted this week:
On Monday I posted my review of The Lost Daughter by Sylvia Broady.
Tuesday's post was my review of Dead Inside by Noelle Holten.
On Wednesday I posted my reviews of Nobody's Wife by Laura Pearson and Gaspard: Best in Show by Zeb Soanes and James Mayhew.
Thursday's post was my review of Here to Stay by Mark Edwards.
On Friday I shared an extract from The Beach at Doonshean by Penny Feeny and my review of The Woman in the Photograph by Stephanie Butland.
Saturday's post was my review of Shelf Life by Livia Franchini.
---
What a quiet week for book post. This won't take long.
Twenty-nine year old Roberta has spent her whole life hungry – until the day she invents Supper Club.

Supper Club is a secret society for hungry women. Women who are sick of bad men and bad sex, of hinted expectations to talk less, take less, be less. So they gather after dark and feast until they are sick. They drink and dance and roar. And, month by month, their bodies expand.

At the centre of the Supper Club stands Roberta – cynical yet anxious, precocious and lost. She is seeking the answer to a simple question: if you feed a starving woman, what will she grow into?

This is a story about the hunger that never goes away. And it is a story about the people who make us what we are – who lead us astray and ultimately save us. You look hungry. Join the club.
An Echo of Scandal by Laura Madeleine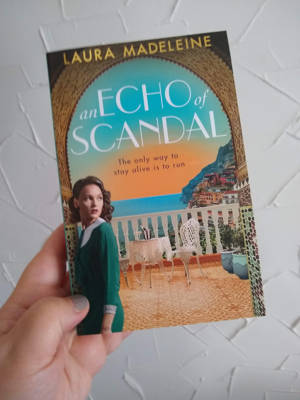 In the dead of night, with blood on her hands, she made her escape.

Accused of murder, Alejandra flees her home, escaping to the southern edge of Spain, where she faces a life of poverty and destitution.

Seduced by the power of the rich and the anonymity that waits across the water in Tangier, Ale makes a bid for a new start. But it will come at a cost: a life of deception. Because Ale's new friends want to know what she is running from, they want to know who she is and whether they can trust her.

Fifty years later, a young American writer wanders the streets of Tangier, searching for inspiration. When he stumbles across a trace of Ale's life, he finds himself tangled in a story of scandal, love and danger that has not yet reached its end.
Yes, that's it!