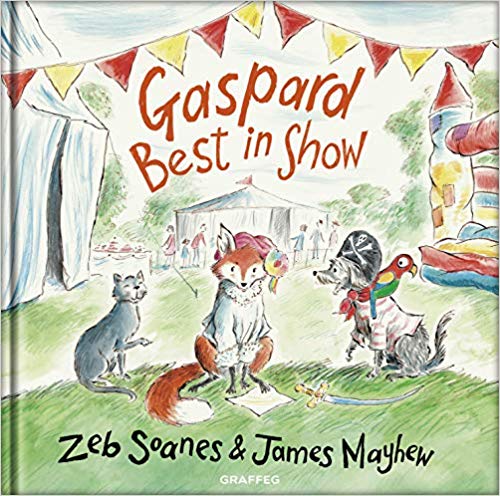 ShortBookandScribes #BookReview – Gaspard: Best in Show by Zeb Soanes and Illustrated by James Mayhew
I'm mad about foxes and I absolutely love Gaspard the Fox. I reviewed his first adventure here and now there's a second book featuring the gorgeous little fox, Gaspard: Best in Show.
I bought my copy direct from the publishers, Graffeg.
---
Gaspard and Peter set out on a new adventure and find Finty at the local summer fete. When Gaspard unwittingly gets entered into the fancy-dress dog show, chaos and hilarity ensue in this fun-packed sequel to Gaspard the Fox.

A charming and humorous picture book celebrating urban foxes and their relationship with the humans and animals they share the city with. Second in a series of picture books following the adventures of Gaspard and his friends.
---

I loved the first Gaspard story in which we were introduced to the lovely little fox and where he made friends with Peter, a posh cat, and Finty, a little black dog.
Now they all return in Best in Show. Gaspard would love to introduce his two good friends to each other and so he and Peter set off to try and find Finty. It turns out she is taking part in a Fancy Dress Dog Show and they spot Finty dressed as a musketeer. Gaspard is a comical fox who ends up in a few scrapes and here he ends up dressed up himself and taking part in the dog show!
The animal characters in this book are so loveable and sweet and the absolutely gorgeous illustrations by James Mayhew enhance the fun tale by Zeb Soanes. As a combination they are the perfect pairing. I can't wait to see what the endearing little fox gets up to next. I find his adventures a real pleasure to read.
---

Zeb Soanes is a well known voice on BBC Radio Four's Today Programme, Shipping Forecast and The News Quiz. He hosts live events and performs with orchestras around the UK and was voted Sunday Times readers' 'favourite male voice' on radio.
James Mayhew is an acclaimed illustrator, author, concert presenter and storyteller. He is the creator of the much loved Ella Bella Ballerina and Boy. He published The Knight Who Took All Day with Graffeg in September 2017.
www.gaspardthefox.com
Zeb Soanes Website
Zeb Soanes Twitter
James Mayhew Website
James Mayhew Twitter