ShortBookandScribes #BookReview – The Lost Daughter by Sylvia Broady @SylviaBroady @AllisonandBusby @rararesources #BlogTour #Giveaway
I do love a good saga and The Lost Daughter by Sylvia Broady fits that description. I'm delighted to be sharing my review of this fabulous read today and there's also a giveaway to win two signed books, one The Lost Daughter and the other The Yearning Heart. If you'd rather have an ebook then you're in luck because it's only 98p at the moment. Yes, it's a whole penny cheaper than it was supposed to be, on Amazon at least!
My thanks to Rachel Gilbey from Rachel's Random Resources for the place on the tour and to Allison & Busby for sending me a copy of the book for review purposes.
---

Hull, 1930. A terrified woman runs through the dark, rain-lashed streets pursued by a man, desperate to reach the sanctuary of the local police station. Alice Goddard runs with one thing in her mind: her daughter. In her panic she is hit by a car at speed and rushed to hospital. When she awakes, she has no memory of who she is, but at night she dreams of being hunted by a man, and of a little girl.

As the weeks pass and her memories gradually resurface, Alice anxiously searches for her daughter, but no one is forthcoming about the girl's whereabouts – even her own mother is evasive. Penniless and homeless, Alice must begin again and rebuild her life, never giving up hope that one day she will be reunited with her lost daughter.
Purchase Links
From 22nd – 29th August, The Lost Daughter will be at the bargain price of 99p (or maybe 98p!).
---
I was really intrigued by the blurb for this book, of the woman running through the streets, injured in a road accident and then searching for her daughter. However, that is the tip of the iceberg where this book is concerned.
Alice Goddard is the woman desperately looking for help when she is knocked over and left badly injured and with memory loss. When her memory does return she remembers her daughter, Daisy, and yet has no idea what happened to her. Try as she might, she cannot get answers from anyone. Having no choice but to get on with her life, she enters rehabilitation and gets herself well again, going on to find a rewarding job. Her lost daughter is never far from her thoughts though.
This is such a wonderful story! I love a good saga and a good saga is what this is. It begins in 1930 when the First World War is still very much in people's minds and yet it was the war to end all wars so nobody thinks there will be another one. The story continues right through the 1930s and covers the whole of the Second World War. Much of the book covers Alice's training and eventual qualification as a nurse and she is very much involved with nursing wounded men during the war
I really felt for Alice. What an awful thing to have no idea what happened to her daughter. It completely haunted her. Some good things happen to her too though, including her love for a truly lovely man, good friendships and family around her.
The author's fondness for her home city of Hull shines through and she highlights the devastation which it suffered during the war. I enjoyed it very much as a setting.
I was completely drawn into Alice's story. I so wanted her to be reunited with Daisy and to have a happy outcome, especially after so much sadness and hardship. I found her war years fascinating too as she undertook some dangerous missions. It's just such a warm and gorgeous read and I was gripped all the way through. This is a must-read for saga fans. I certainly loved it.
---

Giveaway – Win 2 x paperback signed books of The Lost Daughter and The Yearning Heart (Open Internationally)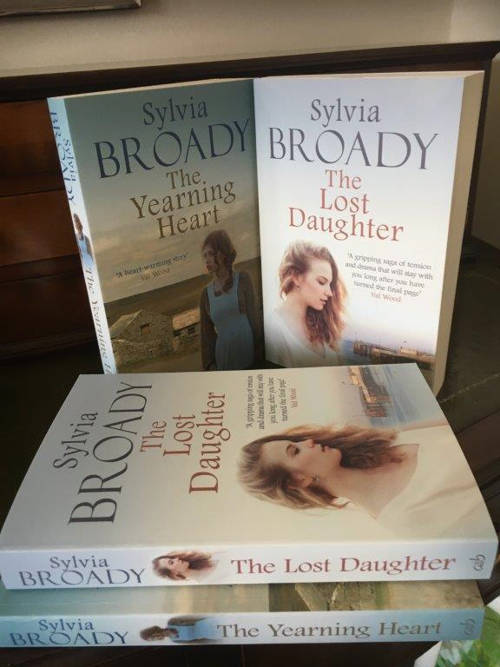 *Terms and Conditions –Worldwide entries welcome. Please enter using the Rafflecopter box below. The winner will be selected at random via Rafflecopter from all valid entries and will be notified by Twitter and/or email. If no response is received within 7 days then Rachel's Random Resources reserves the right to select an alternative winner. Open to all entrants aged 18 or over. Any personal data given as part of the competition entry is used for this purpose only and will not be shared with third parties, with the exception of the winners' information. This will passed to the giveaway organiser and used only for fulfilment of the prize, after which time Rachel's Random Resources will delete the data. I am not responsible for despatch or delivery of the prize.
a Rafflecopter giveaway

---

---

Sylvia Broady was born in Kingston upon Hull and has lived in the area all her life, though she loves to travel the world. It wasn't until she started to frequent her local library , after World War 2, that her relationship with literature truly began and her memories of war influence her writing, as does her home town.  A member of the: RNA, HNS, S of A and Beverley Writers. She has had a varied career in childcare, the NHS and East Yorkshire Council Library Services, but is now a full-time writer. Plus volunteering as a Welcomer at Beverley Minster to visitors from around the world, and raising money for local charities by singing in the choir of the Beverley Singers, both bringing colour and enrichment to her imagination and to her passion for writing.