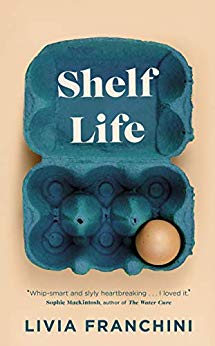 ShortBookandScribes #BookReview – Shelf Life by Livia Franchini @livfranchini @DoubledayUK #ShelfLife #RandomThingsTours #BlogTour
I'm very pleased to be able to share my thoughts about Shelf Life by Livia Franchini today. My thanks to Anne Cater for the place on the tour and to Antonia Whitton from Doubleday/Penguin Random House for the gorgeous finished copy of the book for review purposes.
---
Launching an intelligent, perceptive new voice in fiction, Shelf Life is the exquisite, heart-wrenching story of a woman rebuilding herself on her own terms.

Ruth is thirty years old. She works as a nurse in a care home and her fiancé has just broken up with her. The only thing she has left of him is their shopping list for the upcoming week.

And so she uses that list to tell her story. Starting with six eggs, and working through spaghetti and strawberries, and apples and tea bags, Ruth discovers that her identity has been crafted from the people she serves; her patients, her friends, and, most of all, her partner of ten years. Without him, she needs to find out – with conditioner and single cream and a lot of sugar – who she is when she stands alone.

'A Bridget Jones for cynical souls' Natasha Bell, author of The Perfect Wife
---

I have a serious case of cover love with this book. Isn't it gorgeous? And significant to the storyline too.
This is the story of Ruth, a 30 year old woman. As the book begins her partner of 10 years, Neil, has left her. It's clear that she relied on him hugely and she's cast adrift without him. All that is left is a shopping list for the upcoming week and this list forms the chapter titles for the entire book, e.g. six eggs, sandwich bread, diet coke and so on. There is a link between the food and what happens in the chapter too, but it's often more of an obscure link rather than a direct one.
Ruth is quite clearly a woman who has no confidence, she barely eats, she doesn't really know who she is. Neil was a crutch on which she leaned for support. However, some of the chapters from Neil's point of view, letters in fact, make it clear that he was not a particularly good person. Then there's her 'friend' and work colleague, Alanna, who I wasn't at all sure about.
The sections simply from Ruth's point of view were my favourites and I must admit I found some of her behaviour quite amusing once or twice. I did struggle a little with the more unusual styles of writing such as her rather strange dreams, the phone/internet conversations between Alanna and her friends, and text messages, although I think that was more to do with trying to follow the layout of them as much as anything else.
Shelf Life is an unusual book and I suspect one that may divide readers. I've seen it described as experimental in style and yes, I think this is very accurate. This reader found it to be a rather sad story of a woman with no self-worth, probably depressed and lonely, and the whole thing has a sort of mournful air to it. Not the easiest of reads and yet I did have a soft spot for Ruth and I really felt she was a victim of life itself. I thought her story was very honest. I'm glad I read Shelf Life, it has a very interesting feel to the way it's set up and I think there are aspects that will stay with me.
---

---

Livia Franchini is a writer and translator from Tuscany, Italy, whose work has been published in numerous publications and anthologies. She has translated Michael Donaghy, Sam Riviere and James Tiptree Jr. among many others. In 2018, she was one of the inaugural writers-in-residence for the Connecting Emerging Literary Artist project, funded by Creative Europe. She lives in London, where she is completing a PhD in experimental women's writing at Goldsmiths.