ShortBookandScribes #BookReview – Here To Stay by Mark Edwards @mredwards @AmazonPub @midaspr #BlogTour #HereToStay
This book is absolutely brilliant and I'm so pleased to be sharing my review with you today as part of the blog tour. My thanks to Amber Choudhary from Midas PR and Thomas & Mercer/Amazon Publishing for the place on the tour and for sending me a proof copy of the book for review purposes.
---
A beautiful home. A loving wife. And in-laws to die for.

Gemma Robinson comes into Elliot's life like a whirlwind, and they marry and settle into his home. When she asks him if her parents can come to stay for a couple of weeks, he is keen to oblige – he just doesn't quite know what he's signing up for.

The Robinsons arrive with Gemma's sister, Chloe, a mysterious young woman who refuses to speak or leave her room. Elliot starts to suspect that the Robinsons are hiding a dark secret. And then there are the scars on his wife's body that she won't talk about . . .

As Elliot's in-laws become more comfortable in his home, encroaching on all aspects of his life, it becomes clear that they have no intention of moving out. To protect Gemma, and their marriage, Elliot delves into the Robinsons' past. But is he prepared for the truth?

From the two million copy bestselling author comes a tale about the chilling consequences of welcoming strangers into your home.
---

This is my first Mark Edwards book and now I'm wondering what on earth I've been missing out on. Here To Stay is a brilliant read in every way.
Elliot Foster is a quiet man, a scientist and teacher of underprivileged children. He owns a beautiful home that he has renovated to the highest standard and he lives alone with his cat, Charlie. Until, that is, he has a whirlwind romance with Gemma Robinson and they marry after only a couple of months together. All is good on the home front until Gemma's parents, Jeff and Lizzy, and her younger sister, Chloe, return home from France and need somewhere to stay. Elliot, being the nice man that he is, is happy to welcome them into his home. He soon discovers he has made a huge mistake; these are the house guests from hell.
I don't think I have ever experienced such a visceral reaction to a story. I wanted to howl in anger, I was completely enraged by it. To be clear, this is the author's intended reaction and he's done an amazing job at making the Robinson family characters that it is impossible do anything but hate. These are people who made Elliot wish the world was ending just so he wouldn't have to put up with them any longer. God, I was off the scale annoyed by them.
It's all so very plausible too. It's so easy for people to get their feet under the table but so difficult to get them out again. I really felt for Elliot, somebody who had worked hard to build a life for himself only to have these leeches come and ruin it for him
I just loved this book. It's such a compelling read. I didn't want to put it down at all. There are characters I loved and characters I couldn't stand, and a plot that is ingenious and yet not overly convoluted or trying to be clever.
The ending is unexpected and chilling and I closed the book with a real sense of satisfaction. I loved every minute of it, it's a skilful tale of domestic horror!
---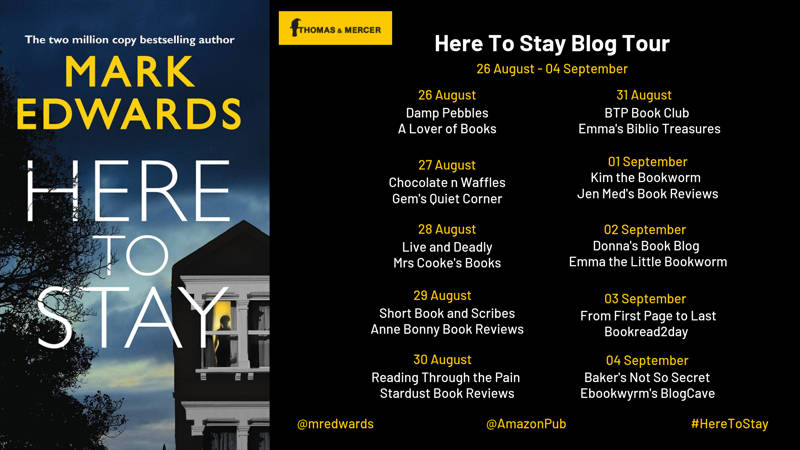 ---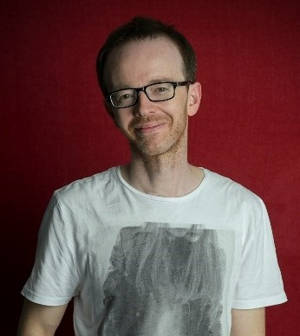 Mark Edwards writes psychological thrillers in which scary things happen to ordinary people.
He loves love hearing from readers and always responds. Mark can be contacted in the following ways:
Email: mark@markedwardsauthor.com
Twitter
Facebook
You can download a free box set of 'Short Sharp Shockers' by visiting www.markedwardsauthor.com/free
Mark has sold over 2 million books since his first solo novel, The Magpies, was published in 2013 and has topped the bestseller lists eight times. His other novels are Because She Loves Me, Follow You Home, What You Wish For, The Devil's Work, The Lucky Ones, The Retreat and In Her Shadow. He has also published A Murder of Magpies (a short sequel to The Magpies) and six books co-authored with Louise Voss.
He will release two books in 2019: Last of the Magpies (the thrilling conclusion to the Magpies trilogy) and Here To Stay, a novel about in-laws from hell.
Mark lives in the West Midlands, England, with his wife, their three children, two cats and a golden retriever.