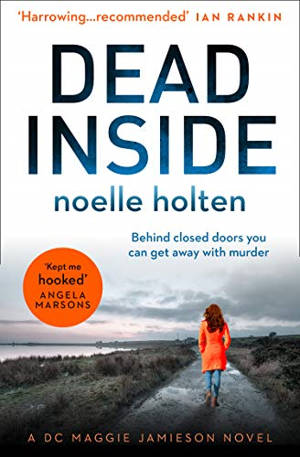 ShortBookandScribes #BookReview – Dead Inside by Noelle Holten @nholten40 @BOTBSPublicity @0neMoreChapter_ @KillerReads #BlogTour #DeadInside
It seems to have been a long time coming but at last it's my turn to review Dead Inside by Noelle Holten. It was really bizarre reading a book with so many characters whose names I recognised from the blogging world! My thanks to Sarah Hardy from Book on the Bright Side Publicity for the place on the tour and to the publishers for an e-copy of the book via Netgalley.
---
'Hugely confident … harrowing, visceral … recommended' Ian Rankin

'Kept me hooked' Angela Marsons

'An excellent read' Martina Cole

'Gritty, dark and chilling' Mel Sherratt

A dark and gripping debut crime novel – the first in a stunning series – from a huge new talent.

The killer is just getting started…

When three wife beaters are themselves found beaten to death, DC Maggie Jamieson knows she is facing her toughest case yet.

The police suspect that Probation Officer Lucy Sherwood – who is connected to all three victims – is hiding a dark secret. Then a fourth domestic abuser is brutally murdered.

And he is Lucy's husband.

Now the police are running out of time, but can Maggie really believe her friend Lucy is a cold-blooded killer?
---

Dead Inside is a debut novel and I thought it was a really good one with plenty to offer the reader.
There are two key characters: DC Maggie Jamieson and Lucy Sherwood/Quinn, a probation officer. I really liked the focus on the two jobs, the police and the probation service, and how they worked together and I thought this was a really strong and interesting aspect to this book, something that made it stand out from the police procedural crowd.
The plot centres around domestic abuse. Four abusers are murdered in a brutal way. Maggie is investigating and Lucy is linked to them all. But who is the killer?
I enjoyed the very short chapters which made this a snappy read and I thought the story overall was fast-paced and kept up my interest levels. I liked the two main characters but I absolutely loathed the awful men who perpetrated such horrible acts of violence and abuse. The characterisations are strong and I felt I could really picture the people as well as the settings.
The author was a probation officer for many years and it's clear she knows what she's talking about. It does make me wonder how on earth anyone can do a job like that, dealing with those horrid people! I'm sure there are good bits to counteract the bad ones though (I hope so, anyway).
There are a few red herrings as to the murderer and I kept thinking it was obviously so-and-so, only to change my mind a few chapters on. In the end, it wasn't anyone I thought it was going to be so that was a nice surprise. I read another review in which the reviewer guessed who it was early on – I'm not sure how but maybe they should join the police themselves!
Dead Inside is an accomplished debut, definitely one for all crime fans. Oh and I loved the way it was set up for a sequel at the end. It's a gritty and hard-hitting story which never slows down for a minute. Great stuff!
---

---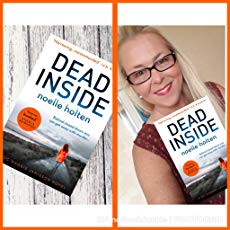 Noelle Holten is an award-winning blogger at www.crimebookjunkie.co.uk. She is the PR & Social Media Manager for Bookouture, a leading digital publisher in the UK, and a regular reviewer on the Two Crime Writers and a Microphone podcast. Noelle worked as a Senior Probation Officer for eighteen years, covering a variety of cases including those involving serious domestic abuse. She has three Hons BA's – Philosophy, Sociology (Crime & Deviance) and Community Justice – and a Masters in Criminology. Noelle's hobbies include reading, author-stalking and sharing the #booklove via her blog.
Dead Inside is her debut novel with Killer Reads/Harper Collins UK and the start of a new series featuring DC Maggie Jamieson.
Connect with Noelle on Social Media here: