Seven Day Spotlight – w/e 29/10/17 including an @OTSfestival round up
Welcome to this week's seven day spotlight round up post. This week I went to my final three Off the Shelf events, after enjoying Lee Child and Sarah Winman over the last two weeks. First up was Richard Osman, who most of you will know as being the tall one from Pointless. His book is The World Cup of Everything in which he tries to settle such contentious issues as what is the nation's favourite chocolate bar. He recreated this with the audience and the winner was Maltesers (I have to agree as I love Maltesers). The book would be absolutely perfect for Christmas Day debates with the family. Cheesy Wotsits or Quavers anyone?
I also went to the It's All A Fiction readers afternoon. This is a popular event in the Off the Shelf festival and this year we were treated to seven, yes seven, authors. First up were Lesley Downer, who featured on Short Book and Scribes here, and who talked about The Shogun's Queen, Felicia Yap who talked about her book, Yesterday, Gregory Norminton with his collection of short stories, The Ghost Who Bled, and Fran Cooper with These Dividing Walls. All four read from their books and answered questions from the host, Trisha Cooper from BBC Radio Sheffield.
The second half, after refreshments, saw Hannah Kohler, author of The Outside Lands, Lesley Glaister with her book, The Squeeze, and Stephen May with his book, Stronger Than Skin, take to the stage. Again they read from their books and answered questions. What was also nice about both sets of authors was that they asked each other questions and interacted really well with each other. It was a great afternoon and a favourite event for me in the Off the Shelf programme. Everybody who attended was treated to a free book and I chose Wolf Winter by Cecilia Ekbäck. It was also my great pleasure to meet up with lovely fellow blogger, Adele from Kraftireader.
The final event was with Stephen McGann, well known as Dr Turner in Call the Midwife. He spoke in such detail and with such enthusiasm about his book, Flesh and Blood: A History of My Family in Seven Maladies. It sounds like a fascinating read which covers the slums in Liverpool, the Irish Potato Famine, right up to Stephen's mother's lifelong distress after losing twins and his own problems with agoraphobia. After hearing him speak I was tempted into buying the book and getting it signed and I was lucky enough to have my picture taken with such a lovely, friendly man.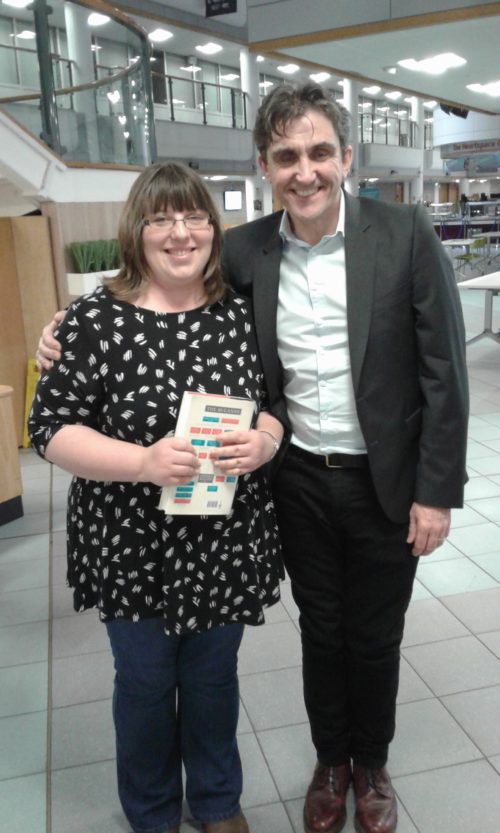 And that's my Off the Shelf over for another year. I love the festival and look forward to it every year. If you live anywhere near to Sheffield then I wholeheartedly recommend it.
---
Now to this week on my blog:
On Monday I hosted an interview with Wendy Percival, author of the Esme Quentin genealogical mysteries.
Tuesday saw me sharing Kate Hewitt's five favourite things about Christmas as part of the blog tour for The Vicarage Christmas. If you're quick you could still enter the giveaway on that post.
On Wednesday I had a guest post from Jen Waldo about her love of words as part of the promotion for Why Stuff Matters.
I also celebrated my one year blogiversary and my giveaway is still running for a couple more days if you would like to enter. I've been overwhelmed by all the lovely comments on that post.
On Thursday I reviewed the heartbreaking book, Tin Man, by Sarah Winman.
Friday saw me taking part in the blog tour for The Winter's Child by Cassandra Parkin with a review and an interview with Cassandra.
On Saturday I posted my review of The Forgotten Room by Ann Troup as part of the weekend blog blitz.
And finally today I posted my review of Lilly Bartlett's novella, Christmas at the Falling Down Guesthouse.
Phew, I think I've tired myself out this week!
---
So what have I added to my TBR pile this week then?
The Cosy Coffee Shop of Promises by Kellie Hailes – this one and the one below are the other two books in the Rabbit's Leap series. I reviewed the middle one, The Big Little Festival, last week.
Curl up in The Cosy Coffee Shop of Promises with a latte and a scone, the perfect antidote to a grey day!

Mel's dream of opening a coffee shop is finally a reality! A cosy little place turning out the best flat whites and most delicious pastries in Devon. In the picture-perfect town of Rabbit's Leap no one can stand in her way – especially local pub owner, Tony. She doesn't care how gorgeous he is, she will not let him steal her customers with his fancy new coffee machine!

There is only room in their small town for one coffee shop…but when Hurricane Val – aka her mother – is due to blow into town, Mel is in desperate need of an instant boyfriend. She can't face another hunt to 'find a man' and while Tony may be her business rival, Mel can't help but notice he'd make the perfect fake fiancé…

If they can strike a deal all they need to do is stick to it, no falling in love, no real feelings and definitely no dreams of a happy-ever-after!
Christmas at the Second Chance Chocolate Shop by Kellie Hailes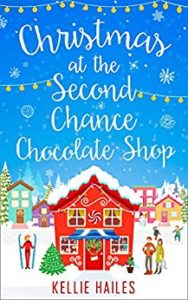 'Tis the season for second chances…

Serena Hunter loves her new life in the sleepy Devonshire countryside! It's a world away from her crazy past as the wife of American bad boy rock star, Ritchie Dangerfield.

Now she spends her days making delicious chocolate using milk from the local dairy and she finally feels that everything is back on track. That is, until her handsome ex-husband arrives in the village to win her back…

Away from the limelight, Serena gets to know Ritchie all over again and realises that maybe a second chance at love is the Christmas miracle she'd been dreaming of all along?
Tall Chimneys by Allie Cresswell – no Amazon link for this yet. I love books about stately homes.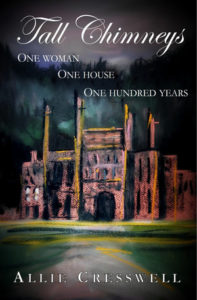 Considered a troublesome burden, Evelyn Talbot is banished by her family to their remote country house. Tall Chimneys is hidden in a damp and gloomy hollow. It is outmoded and inconvenient but Evelyn is determined to save it from the fate of so many stately homes at the time – abandonment or demolition.

Occasional echoes of tumult in the wider world reach their sequestered backwater – the strident cries of political extremists, a furore of royal scandal, rumblings of the European war machine. But their isolated spot seems largely untouched. At times life is hard – little more than survival. At times it feels enchanted, almost outside of time itself. The woman and the house shore each other up – until love comes calling, threatening to pull them asunder.

Her desertion will spell its demise, but saving Tall Chimneys could mean sacrificing her hope for happiness, even sacrificing herself.

A century later, a distant relative crosses the globe to find the house of his ancestors. What he finds in the strange depression of the moor could change the course of his life forever.
One woman, one house, one hundred years.
Yes by Anne Patterson – I saw this on Linda's Book Bag and really liked the sound of it.
Maureen McCormack wakes up in hospital after a stroke. Her memory is fragmented and she can say only one word – yes. Friends, family and lovers visit her, filling silences with secrets and learning to open up as Maureen learns to listen.

As the revelations mount, she and those around her attempt to come to terms with all that has been left unsaid and unexamined, and her view of life shifts fundamentally. When Maureen's ability to speak returns she decides to keep it a secret until she has made sense of her past and gathered the strength to shape her future.

Yes is a captivating novel about how relationships grow, disintegrate and heal, showing what happens when people really listen to each other.
Three Things About Elsie by Joanna Cannon – a highly anticipated read for me as I loved The Trouble With Goats and Sheep.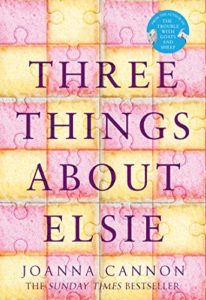 There are three things you should know about Elsie.
The first thing is that she's my best friend.
The second is that she always knows what to say to make me feel better.
And the third thing… might take a little bit more explaining.

84-year-old Florence has fallen in her flat at Cherry Tree Home for the Elderly. As she waits to be rescued, Florence wonders if a terrible secret from her past is about to come to light; and, if the charming new resident is who he claims to be, why does he look exactly a man who died sixty years ago?

From the author of THE TROUBLE WITH GOATS AND SHEEP, this book will teach you many things, but here are three of them:
1) The fine threads of humanity will connect us all forever.
2) There is so very much more to anyone than the worst thing they have ever done.
3) Even the smallest life can leave the loudest echo.
There are six homesteads on Blackasen Mountain.

A day's journey away lies the empty town. It comes to life just once, in winter, when the Church summons her people through the snows. Then, even the oldest enemies will gather.

But now it is summer, and new settlers are come.

It is their two young daughters who find the dead man, not half an hour's walk from their cottage.

The father is away. And whether stubborn, or stupid, or scared for her girls, the mother will not let it rest.

To the wife who is not concerned when her husband does not come home for three days; to the man who laughs when he hears his brother is dead; to the priest who doesn't care; she asks and asks her questions,

digging at the secrets of the mountain.

They say a wolf made those wounds. But what wild animal cuts a body so clean?
Flesh and Blood: A History of My Family in Seven Maladies by Stephen McGann
Flesh and Blood is the story of the McGann family as told through seven maladies – diseases, wounds or ailments that have afflicted Stephen's relatives over the last century and a half, and which have helped mould him into what he now perceives himself to be. It's the story of how health, or the lack of it, fuels our collective will and informs our personal narrative. Health is the motivational antagonist in the drama of our life story – circumscribing the extent of our actions, the quality of our character and the breadth of our ambition. Our maladies are the scribes that write the restless and mutating genome of our self-identity.
Flesh and Blood combines McGann's passion for genealogy with an academic interest in the social dimensions of medicine – and fuses these with a lifelong exploration of drama as a way to understand what motivates human beings to do the things they do. He looks back at scenes from his own life that were moulded by medical malady, and traces the crooked roots of each affliction through the lives of his  ancestors, whose grim maladies punctuate the public documents or military records of his family tree. In this way he asks a simple, searching question: how have these maladies helped to shape the story of the person he is today?
So that's all for this week, folks. I'd love to hear any thoughts or comments.