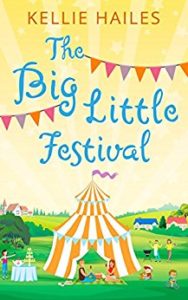 #blogblitz – The Big Little Festival by Kellie Hailes @KellieHailes @NeverlandBT @HQDigitalUK #bookreview #giveaway
I'm so pleased today to be taking part in the blog blitz for The Big Little Festival by Kellie Hailes. Thank you to the publishers for the review copy through Netgalley and to Jenny from Neverland Blog Tours for the place on the blitz. I'll be sharing my review with you but first here's what the book is about:

Love happens when you least expect it…

Jodi is panicking. It's only weeks until her little village in Devon holds its first ever festival and everything is falling apart.

Desperate to avoid disaster, she brings in notorious party planner Christian to save the day. Although she wasn't prepared for just how gorgeous he wuold be!

Men are off the cards for Jody and surely Christian is the last man she would ever date? But with tensions rising – along with the bunting and homemade scones – she's about to find out…
---
I got to the end of this book and said a big "awwwwwww". It's the kind of read where you know how it's going to end but that didn't mean it wasn't a completely satisfactory – it was.
The heart of the story is Rabbits Leap where Jody lives. It's a quaint little Devonshire village and it's where she grew up. Despite big dreams, she's been there all her life with her twin boys. For reasons that become apparent as the story progresses, Jody is helping to organise a fundraising festival for the village and hires Christian, a high-flying events manager from London to help out.
They're drawn to each other immediately but the course of true love never runs smoothly, does it (well, not in books at least)? What follows is a love story with lots of fun moments and sad ones too.
I thought The Big Little Festival was such a sweet read.  I love books where they're part of a series but each time the focus characters are different yet the setting is the same and some of the same people appear. I haven't read the first Rabbits Leap book yet but a quick glance at the first chapter tells me it features a character that appears in a small way in The Big Little Festival.
I read this book in two days and couldn't put it down once I had got over the half way point. I enjoyed the tension and desire between Jody and Christian, the coming together of the festival and the Rabbits Leap natives, especially Mrs Harper and Mrs Hunter who are those kind of people who can't stand each other one minute and the next are all sweetness and light.
Lots of fun, lots of lovely moments and just a really pleasing, easy read.
---
If you like the sound of The Big Little Festival then it's available in ebook and paperback from Amazon and also in paperback from Sainsbury's.


Or maybe you would like to win a paperback copy of the book and a ferris wheel charm.
---

At the age of five Kellie Hailes declared she was going write books when she grew up. It took a while for her to get there, with a career as a radio copywriter, freelance copywriter and web writer filling the dream-hole, until now. Kellie lives on an island-that's-not-really-an-island in New Zealand with her patient husband, funny little human and neurotic cat. When the characters in her head aren't dictating their story to her, she can be found taking short walks, eating good cheese and hankering for her next coffee fix.