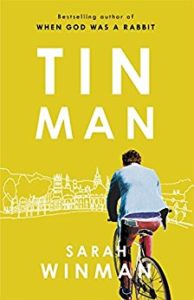 #bookreview – Tin Man by Sarah Winman @TinderPress #TinManBook
Tin Man is a book I have heard so much about and was so looking forward to reading. When I booked tickets to see Sarah Winman as part of the Off the Shelf Festival in Sheffield it seemed the perfect time to dive in.
Here's what the book is about:

It begins with a painting won in a raffle: fifteen sunflowers, hung on the wall by a woman who believes that men and boys are capable of beautiful things.

And then there are two boys, Ellis and Michael,
who are inseparable.
And the boys become men,
and then Annie walks into their lives,
and it changes nothing and everything.

Tin Man sees Sarah Winman follow the acclaimed success of When God Was A Rabbit and A Year Of Marvellous Ways with a love letter to human kindness and friendship, loss and living.
---
There's been a lot of hype around Sarah Winman's latest book, Tin Man. As usual I'm way behind the pack and have only just read it but I agree mostly that the hype is deserved.
The story is beautifully told by first Ellis, then Michael. They were childhood friends and then they were even closer until they grew apart. Ellis married Annie and somehow things were broken between Ellis and Michael and yet that invisible bond was always there.
The first section is Ellis' story. I enjoyed reading about him so much. His story moved me to tears on more than one occasion with the descriptions of his family life and his feelings for Michael and for Annie.
The second section is told by Michael and sort of fills in the gaps in Ellis' story as well as telling Michael's side of events.
For a book that is only around 200 pages it is incredibly full and so astute. The feelings of the characters are intense and are put across to the reader with the same intensity. It really is beautifully written in the style that I have come to expect from Sarah Winman.
My only quibble really is that I lost my way a little with Michael's section and found myself having to go back and read bits again. I'm not sure why it happened but I think his narrative didn't seem to flow as well as it might have done.
Nevertheless, Tin Man is a heartbreakingly memorable story of love and loss and one which I very much enjoyed reading.
With thanks to Tinder Press and Amazon Vine for the review copy. Tin Man is available now in ebook and hardcover.
---
I was thrilled to get my book signed by Sarah after the talk. She shared the billing with Tessa Hadley and they were both so interesting to listen to. My copy of Tin Man is a paperback with a plain yellow cover. Sarah was pleased to see it and said she loves the proof copies. I told her I treasure mine. I've noticed a lot of bloggers have a preference for the finished copy but, although there are a lot of proof copies around, I think the proofs are just that little bit special.
---

Sarah Winman grew up in Essex and now lives in London. She attended the Webber Douglas Academy of Dramatic Art and went on to act in theatre, film and television. She has written three novels, WHEN GOD WAS A RABBIT, A YEAR OF MARVELLOUS WAYS and TIN MAN.