It's my one year blogiversary! #giveaway
It's hard to believe that a whole year has gone by since I started my blog. I'm still a newbie compared to some of the amazing bloggers out there but I'm absolutely loving having my blog and wish I had done it sooner.
I set it up because I was already reviewing everything I read and was posting the reviews on Amazon. It seemed like a good idea to have a blog to put them all together in one place. I also wanted to be involved in the blog tours that I was seeing other bloggers take part in and I've been lucky enough to join many fantastic tours. I will admit that I also desperately wanted to get into the Book Connectors group on Facebook too and couldn't do that without a blog – sad, I know, but I have terrible FOMO (fear of missing out). It's a fab group for connecting writers with bloggers and I love being a part of it.
One of the most valuable things that having a blog has done for me is to focus my reading and make me get on with it instead of procrastinating. Ok, I still procrastinate but not nearly as much and I've read some fabulous books in the last year.
I've also found myself becoming part of a community of fantastic bloggers who look out for each other and provide so much support when it's needed. Some I already followed before I started my blog but I have discovered lots of other brilliant blogs as well. I'd like to say a big thank you to everybody who shares my posts on a daily basis – it's much appreciated.
And huge thanks to everybody who reads my posts. I do hope you enjoy them and if you're a subscriber that you look forward to them dropping into your inbox.
If you're at all interested in stats, I've posted 270 blog posts, had 22,864 views, 9,253 visitors and 5025 likes. Thank you so much!
My most viewed post over the last twelve months is a guest post from Linda MacDonald about psychological abuse. I hope that the fact it has been viewed so many times means that it has helped somebody dealing with this kind of abuse.
My most popular review posts are for The Keeper of Lost Things by Ruth Hogan and The Child by Fiona Barton, both of which were fabulous reads.
I hope to be posting about lots more brilliant books over the next year and I hope to see you along the way.
---

To say thank you for the last year I'm doing a giveaway. Here's what's up for grabs:
A red 'Go Away I'm Reading' tote bag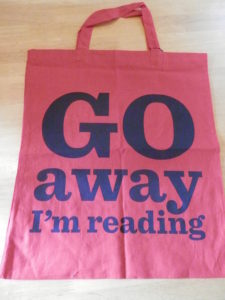 A Hot Dudes Reading calendar for 2018
A 'Yes I'm Actually Reading This' bookmark pad
Two 'Alice's Tiny Hands' soaps (which smell amazing!)
Prize 1 will be the tote bag and one soap, prize 2 the calendar and prize 3 the bookmark pad and one soap.
All you have to do to enter is leave me a comment on this post.
Thanks and 

---
Winners have been chosen using a random number generator and the numbers that came up were 14, 17 and 11 which correspond to comments made by Joanne Baird, Katherine Sunderland and Emma Mitchell. Thank you to everybody who commented.