#bookreview – The Child by Fiona Barton @figbarton @TransworldBooks @newbooksmag #suspense
I'm late to the party with Fiona Barton's first book, The Widow. In fact, I'm still stuck in traffic on the way there. But there was a lot of hype about it and lots of brilliant reviews so I jumped at the chance of reading her second book, The Child. Here's what it's all about, first of all.
When a paragraph in an evening newspaper reveals a decades-old tragedy, most readers barely give it a glance. But for three strangers it's impossible to ignore.

For one woman, it's a reminder of the worst thing that ever happened to her.

For another, it reveals the dangerous possibility that her darkest secret is about to be discovered.

And for the third, a journalist, it's the first clue in a hunt to uncover the truth.

The Child's story will be told.
My review
The Child is a story with three strands, all revolving around the discovery of a newborn baby's skeleton on a building site in Woolwich. One of the strands features journalist, Kate Waters, who I understand appeared in Fiona Barton's first novel, The Widow. I haven't read that book yet, but there was only a small mention of her back story in The Child so no problem if you haven't read The Widow yet either.
It took quite a bit of getting into the story, I think because there are these three separate strands that, although I could see they were linked, were still very separate for quite a bit of the story. The threads only really start to properly merge quite late on. Despite this, I did find myself being pulled into the stories of these three women.
Emma is a damaged individual, both by circumstances and events. Angela is forever reliving the worst thing that could have happened to her. And Kate is chasing a story but finds herself getting more involved than she should. I liked Kate as a character very much. She's strong and experienced but has a softer side. Her interaction with a trainee made me smile and illustrated how journalism has changed with the advent of online news reporting. I guess Fiona Barton is using a lot of her own experiences there.
I loved how the story was uncovered by Kate as we went along. There's a bit of a twist at the end that I only just saw coming before I read it and that was quite clever as I was constantly wondering how the stories would be connected.
The Child is an extremely well constructed novel. After that slightly slow start the pace suddenly picked up and swept me along towards the very satisfying conclusion. I know books featuring journalists aren't exactly unusual but I really enjoyed Kate's investigations and it made a change from reading about detectives.
I thought this was a really great psychological read that kept me interested throughout.
With thanks to the publishers and New Books/Nudge for the review copy. The Child is published in ebook and hardback on 29th June 2017 by Bantom Press/Transworld Digital.
---
About the Author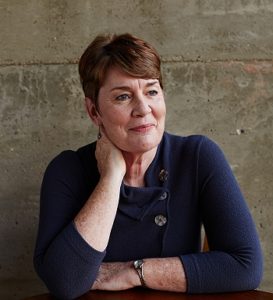 Fiona Barton's debut, The Widow, was a Sunday Times and New York Times bestseller and has been published in thirty-five countries and optioned for television. Her second novel, The Child, will be published in 2017. Born in Cambridge, Fiona currently lives in south-west France.
Previously, she was a senior writer at the Daily Mail, news editor at the Daily Telegraph, and chief reporter at the Mail on Sunday, where she won Reporter of the Year at the British Press Awards.
While working as a journalist, Fiona reported on many high-profile criminal cases and she developed a fascination with watching those involved, their body language and verbal tics. Fiona interviewed people at the heart of these crimes, from the guilty to their families, as well as those on the periphery, and found it was those just outside the spotlight who interested her most . . .
Author information extracted from Penguin.co.uk. 

Author photo taken from fionabartonauthor.com