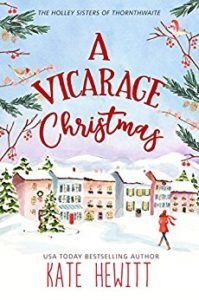 #blogtour – A Vicarage Christmas by Kate Hewitt @katehewitt1 @BrookCottageBks #GuestPost #giveaway
I'm so pleased to be taking part today in the blog tour for A Vicarage Christmas by Kate Hewitt. Thanks to Brook Cottage Books for the place on the tour. The book is book one in The Holley Sisters of Thornthwaite series and it's one I would have loved to have been able to fit in but sadly time ran out. But I do have a lovely guest post from Kate and a fabulous giveaway but first here's what the book is about:

Series: The Holley Sisters of Thornthwaite Bk 1

Genre: Women's fiction/romance

Release Date: October 18, 2017

Publisher: Tule Publishing

Welcome to Thornthwaite, a quaint village tucked up in England's beautiful but rainy Lake District… where homecomings happen and surprises are in store for the four Holley sisters…

Anna Holley, the third of four sisters, has always felt a little bit forgotten. A family tragedy when she was a child had her retreating deep into shyness, and social anxiety kept her on the fringes of the cozy, chaotic bustle of the busy vicarage.

When she finished school Anna left for Manchester and tried to avoid coming back home and the well-meaning nosiness being a Holley sister in a small village like Thornthwaite meant… but when her father says he has an important announcement to make, she's drawn back home for the happy chaos of a vicarage Christmas.

Avoiding her sisters' bossy questions, Anna heads out to the local pub one night, and meets a handsome stranger nursing a pint. Somehow, unburdened by expectations, Simon seems like the perfect person to spill all her secrets to—including a hopeless, long-held crush on her sister's boyfriend. Confident she'll never see him again, Anna returns home… only to discover the next day that Simon is actually her father's new curate!

Anna is beyond mortified, but Simon won't let her retreat into her usual shyness—and for once Anna is forced to confront the past, and all the fears and feelings she'd tried so long to hide. But with his own heartache that needs to heal, can Simon help Anna to make this the most magical Christmas either of them have known?
---

Top 5 Favourite Things about Christmas by Kate Hewitt
I love Christmas! It's such a festive time, with so many fun traditions. It's also a time to be with family, to reflect as well as to celebrate. Here are my top five favourite things about Christmas, some silly, some more serious, all of them important in their own way.
Stockings: My mother did not have a Christmas stocking growing up and always longed for one, and so stockings became a big part of our Christmas tradition. Unlike in the UK, we do not open our stockings at the end of our beds—where's the fun in opening it by yourself?! We open our stockings all at the same time downstairs, and now that we're older we do a stocking Pollyanna where we're each responsible for one other person's stocking, which makes it personal and fun. We also have a rule that stocking presents must be wrapped in white tissue paper, because they're supposed to be from Santa, and for some inexplicable reason that's what he uses!
Christmas Eve Midnight Service: I don't go to this every year, because I have small children, but there is a certain reflective stillness and beauty to the midnight carol service, when the church is candlelit and everything feels hushed and reverent. After the chaotic run-up to Christmas, it's wonderful to have a chance to sit and think, and remember what the holiday is really all about.
The Queen's Speech: I'm an American ex-pat, and I find the queen's speech quite a poignant tradition (and one I don't think would translate to the US—a president's speech on Christmas Day, anyone?!) We all stop what we're doing to watch and listen; it's a nice way to reflect on the year past as well as what is to come.
Christmas Crackers: These are not a tradition in the US, but because my parents are Canadian we've always had them. It always adds a happy, festive touch to read the jokes out and eat your Christmas dinner festooned with a paper crown.
Presents: This would be the number one favourite of all my children, but actually what I like about presents is a tradition we started when my kids were little and the whole present giving thing started to get a little crazy. We began giving each child three presents for Christmas, based on the wise men's gifts—a practical gift (usually clothes) as myrrh; a fun gift (usually a game) as frankincense; and a treasure (something they've been wanting or something sentimental) as gold. It's a nice way to keep the presents under control and also tie it back into why we give presents in the first place!
So those are my picks, but what are yours? Is there any Christmas tradition that you can't wait to celebrate or must have every year? Tell me in the comments, because I'd love to hear about them!
Happy Reading,
Kate
Thanks so much, Kate. I don't think I have any particular Christmas traditions, apart from the presents of course, but I have a small child so Christmas is rather lovely and magical at the moment.
---
So if you like the sound of A Vicarage Christmas then here are the buying links you need:

---

First Prize: Amazon gift card
Second Prize: Copy of A Cotswold Christmas (ecopy)
---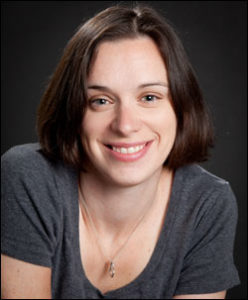 Kate Hewitt is the author of over 60 novels of women's fiction and romance. Whatever the genre, she enjoys telling an emotionally compelling story. An American ex-pat, she now lives in a small market town in Wales with her husband and five children.