Seven Day Spotlight – w/e 28/04/19
Hi, it's that time of the week again. A nice four day week, a bit cooler which pleases me, and some great reading done. Oh and some fabulous book post but more about that later.
Here's what I posted on my blog this week:
Monday was a two post day with a guest post by Elizabeth Mundy, author of A Clean Canvas: there are some crimes you can't sweep under the carpet and a spotlight post about Love and Other Things to Live For by Louise Leverett.
On Tuesday I reviewed Him by Clare Empson.
And on Wednesday I reviewed Twisted by Steve Cavanagh.
Another two post day on Thursday with an extract from Rosie and Ruby by Patricia Dixon and a guest post by Clare Rhoden, author of The Stars in the Night, about recreating historical settings. If you're quick you can still enter the giveaway on that post.
Friday's post was my review of Fallen Angel by Chris Brookmyre.
On Saturday I reviewed The Liars by Naomi Joy.
And this morning I shared an extract from A Perfect Cornish Summer by Phillipa Ashley.
---
And now to those additions to my reading pile.
Rewind by Catherine Ryan Howard
PLAY
Andrew, the manager of Shanamore Holiday Cottages, watches his only guest via a hidden camera in her room. One night the unthinkable happens: a shadowy figure emerges onscreen, kills her and destroys the camera. But who is the murderer? How did they know about the camera? And how will Andrew live with himself?

PAUSE
Natalie wishes she'd stayed at home as soon as she arrives in the wintry isolation of Shanamore. There's something creepy about the manager. She wants to leave, but she can't – not until she's found what she's looking for…

REWIND
Psycho meets Fatal Attraction in this explosive story about a murder caught on camera. You've already missed the start. To get the full picture you must rewind the tape and play it through to the end, no matter how shocking…
The House on the Edge of the Cliff by Carol Drinkwater
No one else knows what happened that summer. Or so she believes . . .

Grace first came to France a lifetime ago. Young and full of dreams of adventure, she met two very different men.

She fell under the spell of one. The other fell under hers.

Until one summer night shattered everything . . .

Now, Grace is living an idyllic life with her husband, sheltered from the world in a magnificent Provençal villa, perched atop a windswept cliff.

Every day she looks out over the sea – the only witness to that fateful night years ago.

Until a stranger arrives at the house. A stranger who knows everything, and won't leave until he gets what he wants.

The past and present spectacularly collide in this gripping story of love and betrayal echoing across the decades. 
Call Me a Liar by Colette McBeth
You could say it started with vanity. We believed we were special. But the truth is we were simply vulnerable.

Months after landing their dream job, five brilliant young minds are sent on a remote retreat.

But when one of them disappears, they're forced to question why they were brought there in the first place.

And for the first time in their lives, they realise too much knowledge can be deadly . . .

One of them is lying.
One of them is guilty.
No one is safe.
Truth or Die by Katerina Diamond
Their darkest secrets won't stay buried forever…

The butchered body of a professor is found in a private office of Exeter University. It is the first in a spate of horrific murders that shakes the city to its core.

Who would target a seemingly innocent man, and why? DS Imogen Grey and DS Adrian Miles turn to his students for answers, but their investigation turns up no leads. Someone must know more than they're letting on…

As the body count rises, the police have to look into the past to uncover the person responsible before it's too late.

But are they brave enough to face up to the truth?
Love, Unscripted by Owen Nicholls
For film projectionist Nick, love should mirror what he sees on the big screen. And when he falls for Ellie on the eve of the 2008 presidential election, it finally does.

For four blissful years, Nick loved Ellie as much as he loved his job splicing film reels together in the local cinema. Life seemed… picture-perfect.

But now it's 2012, Ellie has moved out and Nick's trying to figure out where it all went wrong.

With Ellie gone and his life far from the happy ending he imagined, Nick wonders if their romance could ever again be as perfect as the night they met.

Can love really be as it is in the movies?
Her Last Promise by Kathryn Hughes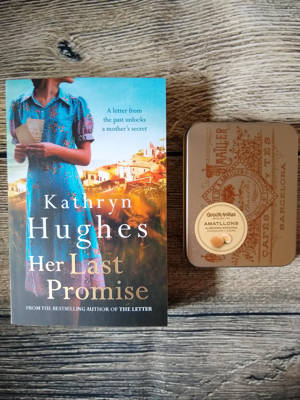 Tara Richards was just a girl when she lost her mother. Years later when Tara receives a letter from a London solicitor its contents shake her to the core. Someone has left her a key to a safe deposit box. In the box lies an object that will change everything Tara thought she knew and lead her on a journey to deepest Spain in search of the answers that have haunted her for forty years.

Violet Skye regrets her decision to travel abroad leaving her young daughter behind. As the sun dips below the mountains, she reminds herself she is doing this for their future. Tonight, 4th June 1978, will be the start of a new life for them. This night will indeed change Violet's destiny, in the most unexpected of ways…
Innocent?

When Carrie was accused of brutally murdering her husband's lover, she denied it. She denied it when they arrested her, when they put her in front of a jury, and when they sent her to prison.

Now she's three years into a fifteen-year sentence, away from the daughter she loves and the life she had built. And she is still denying that she is to blame.

Guilty?

Tess Gilroy has devoted her life to righting wrongs. Through her job for Innocence UK, a charity which takes on alleged miscarriages of justice, she works tirelessly to uncover the truth.

But when she is asked to take Carrie's case, Tess realises that if she is to help this woman, she must risk uncovering the secrets she has struggled a lifetime to hide . . .

We've all done things we're not proud of.
Our Stop by Laura Jane Williams
What if you almost missed the love of your life?

Nadia gets the 07.30 train every morning without fail. Well, except if she oversleeps or wakes up at her friend Emma's after too much wine.

Daniel really does get the 07.30 train every morning, which is easy because he hasn't been able to sleep properly since his Dad died.

One morning, Nadia's eye catches sight of a post in the daily paper:

To the cute girl with the coffee stains on her dress. I'm the guy who's always standing near the doors… Drink sometime?

So begins a not-quite-romance of near-misses, true love, and the power of the written word.
The Girls Beneath by Ross Armstrong
Tom Mondrian is the last person you want on your case. And the only one who can solve it, in this quirky psychological thriller.

Tom Mondrian is watching his life ebb away directing traffic as a PCSO, until a bullet to the brain changes everything. With a new unusual perspective, including an inability to recognise faces and absolutely no filter between what he thinks and what he says, Tom's career is suddenly shifting gear.

Tom's new condition gives him an advantage over other police officers, allowing him to notice details that they can't see. Now, with his new insight and unwavering determination, Tom is intent on saving three missing girls, before more start to disappear…
Some amazing books there and some complete loveliness dropping through my letterbox.
There's also a new books magazine on the block. I subscribed to Strong Words magazine and received my first issue along with a free back issue. I haven't read very much of them yet but I can tell you they are delightfully chunky and full of books – what more do you need?