ShortBookandScribes #BookReview – Fallen Angel by Chris Brookmyre @cbrookmyre @littlebrown #FallenAngel #BlogTour
I'm so pleased to be reviewing Fallen Angel by Chris Brookmyre today. My thanks to Caolinn Douglas and Grace Vincent from Little, Brown for the place on the tour and the review copy of the book.
---
ONE FAMILY, TWO HOLIDAYS, ONE DEVASTATING SECRET

To new nanny Amanda, the Temple family seem to have it all: the former actress; the famous professor; their three successful grown-up children. But like any family, beneath the smiles and hugs there lurks far darker emotions.

Sixteen years earlier, little Niamh Temple died while they were on holiday in Portugal. Now, as Amanda joins the family for a reunion at their seaside villa, she begins to suspect one of them might be hiding something terrible…

And suspicion is a dangerous thing.
---

Fallen Angel attracted my attention for all sorts of reasons. I love the idea of the family holiday – it could go either way, couldn't it? It could be fabulous or it could be a complete and utter nightmare. Then there's the death of Niamh Temple, little more than a baby at the time.
The family at the heart of the story are the Temple family. Faded actress, Celia and her husband, Max. He's on the up in 2002 and eclipsing her in every way, something she finds very difficult to deal with. There's also their three children: Marion, her husband, Ken and their two young children; Rory, the middle child; and Sylvie, newly single mum to Niamh. They all decamp for a holiday at the family villas in the Algarve and this is when the tragedy takes place.
Sixteen years later, Max is dead and the family come together once more at the villas. There's actually another villa in the complex which is Vince's. He's due to be there with his young wife, Kirsten, their baby and their nanny, Amanda. However, things don't exactly go to plan and Amanda finds herself becoming interested at first in the Temple family, and then delving deeper into their secrets.
This is a fascinating story of family dynamics. The Temples are completely dysfunctional and I'm extremely glad they're not my family. The action shifts chapter by chapter between 2002 and 2018, and takes in different characters' viewpoints. I thought this worked really well to keep up the tension for the reader and to see the story from all angles.
There are many revelations throughout the book. It's a slow unravelling, not only of the story but also of the Temples, and it's perfectly plotted. There's a fair amount of information about conspiracy theories because this is Max's specialist subject, and this adds an extra dimension to the story when you consider the disappearance of Niamh.
I did find that this is a book that required a bit more concentration from me, sometimes a second read of certain bits, to really take it in, but it's a very intelligent and clever story. And the ending…….well I never saw that coming!
This is my first book by Chris Brookmyre and I really enjoyed it. It kept me guessing throughout and I do like that about a novel.
---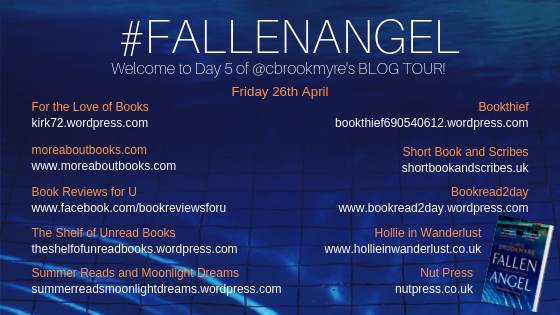 ---

Chris Brookmyre was a journalist before becoming a full-time novelist with the publication of his award-winning debut Quite Ugly One Morning, which established him as one of Britain's leading crime authors. His Jack Parlabane novels have sold more than one million copies in the UK alone, and Black Widow won both the McIlvanney Prize and the Theakston's Old Peculier Crime Novel of the Year award.