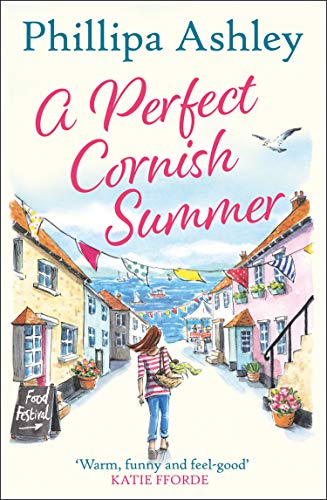 ShortBookandScribes #BlogTour #Extract from A Perfect Cornish Summer by Phillipa Ashley @PhillipaAshley @AvonBooksUK
Welcome to my stop on the blog tour for A Perfect Cornish Summer by Phillipa Ashley. I have a lovely extract to share with you today. My thanks to Sabah Khan from Avon for the place on the tour.
---

The first in a gorgeous new series from the author of Summer at the Cornish Cafe.

Summer is on the horizon, and the people of Porthmellow are eagerly awaiting the annual food festival. At least, most of them are…

For Sam Lovell, organising the summer festival in her hometown is one of the highlights of her year. It's not always smooth sailing, but she loves to see Porthmellow's harbour packed with happy visitors, and being on the committee has provided a much-needed distraction from the drama in her family life (and the distinct lack of it in her love life).

When their star guest pulls out with only a few weeks to go, everyone's delighted when a London chef who grew up locally steps in at the last minute. But Gabe Matthias is the last person Sam was expecting to see, and his return to Porthmellow will change her quiet coastal life for ever.

Curl up with this gorgeous novel and savour the world of Porthmellow Harbour.
---

Sam brushed rainwater from the laminated poster in her hand. Ten years. That was a third of her life. How could they have flown by so fast?

She still had to pinch herself at how the festival had grown since that first mad idea outside the Smuggler's Tavern.

Blinking raindrops from her eyes, she tried not to look down. She was only six feet up on the stepladder, but it was more than enough for someone who hated heights at the best of times. This was most definitely not the best of times. The rain and wind had been torrential since she'd set out from the cottage at six a.m., hoping to get the posters up before she had to get things going at Stargazey Pie. It was hard to believe it was the start of May.

Gritting her teeth, she tried to clip the cable tie around a council sign warning people not to drive off the quay. One false move and she could topple onto the cobbles or plunge through the deck of the Marisco. Now, that would go down really well with Drew: a great big Sam-shaped hole in his precious boat. Her fingers were slippery and numb with cold, but she wanted to have the posters up now spring was – allegedly – well underway. Hordes of people would start to flock to the town and hopefully flock back again at the end of June for the festival.

'Woof! Woof! Woooffffff!'

Sam gripped the ladder as deafening barks rang out across the harbour. Her foot slipped and she had to let go of the poster to hang on. It fell onto the wet cobbles and into a large oily puddle. Still holding on for dear life, Sam twisted round to see a Rottweiler jumping up and drooling as it tried to sniff – or possibly taste – her feet.

A woman in a long leather coat and a Megadeth T-shirt glared up at Sam as she struggled to hold the beast back. Sam steeled herself. 'Morning, Bryony. Mizzly out here today, isn't it?'
---

---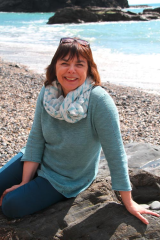 Phillipa Ashley is the author of the Amazon and Bookseller Heatseekers best-selling Cornish Cafe series. Before she became a full-time writer, she studied English at Oxford and worked as a copywriter and journalist. As Pippa Croft, Phillipa also writes as the Oxford Blue series which is published by Penguin Books.
She lives in a Staffordshire village with her husband and has a grown-up daughter. When she's not writing, she loves falling off surf boards and following Poldark around in a camper van.
Her new best-selling Little Cornish Isles series is available now and her next release is A Perfect Cornish Summer published in April 2019.
Author bio and photo taken from Amazon