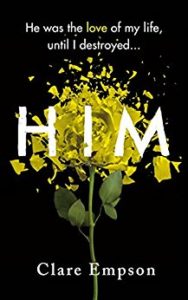 ShortBookandScribes #BookReview – Him by Clare Empson @ClareEmpson2 @orionbooks @Tr4cyF3nt0n #BlogTour #IDestroyedHim
Oh good grief, this book! Wow! I'm so pleased to be taking part in the blog tour with my review today. My thanks to Tracy Fenton of Compulsive Readers for the place on the tour and to Orion for providing me with a review copy of the book.
---
Catherine has become mute. She has witnessed something so disturbing that she simply can't speak – not to her husband, her children, or her friends. The doctors say the only way forward is to look into her past. Catherine needs to start with Him. Lucian. Catherine met the love of her life at university and was drawn into his elite circle of privileged, hedonistic friends. But one night it all falls apart and she leaves him, shattering his life forever. Still, fifteen years later, Lucian haunts every one of Catherine's quiet moments, and when they are unexpectedly reunited, their love reignites with explosive force. But they can't move on from what happened all those years ago. In fact, uncovering the truth will cause their lives to implode once again. This time, with disastrous consequences.
---

This is a book that I have had for far too long. You know how it is, you mean to read a book and then another one comes along and pushes it out of the way. Well, I wish that hadn't happened with Him as it's absolutely wonderful. Still, I got there in the end.
First of all, Him is not in a million years what I was expecting. I thought I was in for a dark, psychological thriller, one of mind games and revenge. In fact, it's actually a love story, albeit one with some distressing undertones.
This is the story of Catherine, told in three time segments, all interspersed with each other. We have 15 years ago, four months ago, and now. We also hear from Lucian from four months ago. Why four months? Well, this is when Catherine became an elective mute – she simply stopped talking. What happened to bring this on? We have to go back to the beginning to find out.
Catherine and Lucian met at university and their love for each other was immediate, passionate and intense. They were made for each other. So why did Catherine suddenly end it, with no explanation and what, for Lucian, seemed like no good reason?
Catherine married Sam and had two children and got on with her life. Lucian had his group of close friends, a clique that was almost impenetrable. But they never got over each other. Fast forward to four months ago and a chance meeting amidst problems at home for Catherine, and Lucian is suddenly back in her life.
I don't want to say more about the plot, but I just want you to know how beautiful this book is. The writing is perfection itself. When I started reading I knew it was going to be a heartbreaker and the lump in my throat made regular appearances. There was a distinct feeling that this was not a story that was going to end well and I did cry at the conclusion.
Him is full of three-dimensional characters that leap off the pages. I found I could imagine each one of them so well, the settings, the relationships, the friendships. I thought the difference between Lucian's and Catherine's backgrounds was very well drawn – the modern day Brideshead vs a normal, suburban upbringing provided such a contrast and also added an extra dimension to the story.
This is a story of entitlement, shame, jealousy and intense longing and it left me with quite a book hangover. It's exactly the sort of story I love, one of love against the odds. It is quite an intense story. I couldn't rush it, in fact I had to keep putting it down at the beginning until the point when I simply couldn't put it down because I had to know how it ended. And even though I kind of already knew, it didn't stop me feeling utterly bereft.
I really can't wait to read Empson's next book, Mine. Him is a remarkable debut by a very talented writer.
---

---

Clare Empson is a journalist with a background in national newspapers and has worked as a small business editor, finance correspondent and fashion at the Mail on Sunday and the Daily Express. Clare freelances for The Sunday Telegraph, The Sunday Times, the Evening Standard and Tatler amongst others. She currently works as editor/founder of experiential lifestyle website www.countrycalling.co.uk. Him is her debut novel. Her second novel Mine is an exploration of the fraught relationship between a birth mother and her adopted son set against a backdrop of a passionate love affair in the 70s. Mine will be available August 2019.
Author bio and photo taken from Amazon