Seven Day Spotlight – w/e 05/08/18
Welcome to this week's Seven Day Spotlight post. Here's what I posted this week on my blog:
On Monday, I shared my review of the fabulous Open Your Eyes by Paula Daly.
Tuesday was a two post day. I shared a guest post by Emily Gunnis, author of The Girl in the Letter, about her writing day and also took part in the promo and giveaway for Reflected Destinies by Florence Keeling.
On Wednesday, I posted my review of The Cheesemaker's House by Jane Cable, a book which I loved.
Thursday's post was an extract from Five Unforgivable Things by Vivien Brown.
Friday was another two post day. I shared my review of Four by Andy Jones which I thought was a clever and intelligent read, and also an extract from A Vicarage Wedding by Kate Hewitt.
Finally, on Saturday I posted my review of the heart-warming Telegrams and Teacakes by Amy Miller.
---
Only four books added to my TBR pile this week:
A Life of Crime by Harry Ognall
A frank and witty memoir of life at the Bar and on the Bench, from former High Court Judge The Hon. Sir Harry Ognall.

For many years, Harry Ognall enjoyed a formidable reputation as an advocate at the criminal Bar. As counsel, and later as judge, he was involved in numerous high-profile trials, both in Britain and abroad.

Among many cases as a QC, he prosecuted Peter Sutcliffe, the so-called 'Yorkshire Ripper'. He successfully defended six officers of the Air Force of Zimbabwe at their trial in Harare, where they faced a charge of treasonable sabotage.
As a judge, he presided over the trial of Colin Stagg (the alleged 'Wimbledon Common murderer'), the trial arising from the Lyme Bay canoe tragedy and the trial for the first time in the United Kingdom of a doctor's alleged involvement in euthanasia.

Thoughtful and provocative, Sir Harry has advice for the aspiring young advocate, and invests this penetrating memoir with warmth, humour and understanding. His frank portrait of a lifetime in the criminal law offers unique perspectives on some of the most notorious cases of the twentieth century, as well as fascinating insights into a colourful professional life and the burdens and responsibilities that come with the privilege of high judicial office.
The Liar's Room by Simon Lelic
ONE ROOM. TWO LIARS. NO WAY OUT…

Susanna Fenton has a secret. Fourteen years ago she left her identity behind, reinventing herself as a counsellor and starting a new life. It was the only way to keep her daughter safe.

But everything changes when Adam Geraghty walks into her office. She's never met this young man before – so why does she feel like she knows him?

Then Adam starts to tell her about a girl. A girl he wants to hurt.

And Susanna realises she was wrong. 
She doesn't know him. 
BUT HE KNOWS HER.
AND THE GIRL HE PLANS TO HURT IS HER DAUGHTER…
We Must Be Brave by Frances Liardet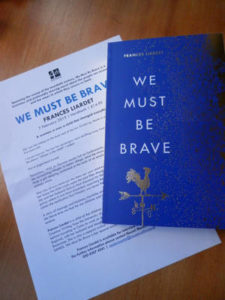 A woman; a war; a child that changed everything.

Spanning the sweep of the twentieth century, We Must Be Brave is a luminous and profoundly moving novel about the people we rescue and the ways in which they rescue us back.

She was fast asleep on the back seat of the bus. Curled up, thumb in mouth. Four, maybe five years old.

I turned around. The last few passengers were shuffling away from me down the aisle to the doors. 'Whose is this child?' I called.

Not a single head turned.

December, 1940. As German bombs fall on Southampton, the city's residents flee to the surrounding villages. In Upton village, amid the chaos, newly-married Ellen Parr finds a girl sleeping, unclaimed at the back of an empty bus. Little Pamela, it seems, is entirely alone.

Ellen has always believed she does not want children, but when she takes Pamela into her home the child cracks open the past Ellen thought she had escaped and the future she and her husband Selwyn had dreamed for themselves. As the war rages on, love grows where it was least expected, surprising them all. But with the end of the fighting comes the realization that Pamela was never theirs to keep…

A story of courage and kindness, hardship and friendship, We Must be Brave explores the fierce love we feel for our children and the astonishing power of that love to endure.
The Other Sister by Elle Croft
How far would you go…

Gina Mills is desperate to be a newsreader, but her boss – the director of the struggling Channel Eight, won't help.

Walking home one night, Gina stumbles upon a dead body, and after calling the police, she makes the split-second decision to report the murder live.

When questioned by the police, Gina can't remember specific details about her discovery, but these memory gaps are explained away as shock.

…to uncover your family's deadly secret?

But when Gina finds a second body, it's clear she's being targeted. But why?

And how is this connected to the death of Gina's younger sister so many years ago?