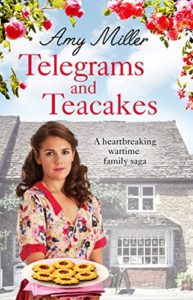 ShortBookandScribes #BookReview – Telegrams and Teacakes by Amy Miller @AmyBratley1 @Bookouture #BlogBlitz
I'm so pleased to be taking part in the blog blitz for this absolutely lovely book today. I've so enjoyed this trilogy and am really sorry it's coming to an end. Here are links to my reviews of the previous two books:
Heartaches and Christmas Cakes
Wartime Brides and Wedding Cakes
My thanks to Kim Nash from Bookouture for the place on the tour and the review copy via Netgalley.
---

Telegrams and Teacakes is a romantic World War Two saga full of heartbreak and hope, perfect for fans of Diney Costeloe, Nadine Dorries and Sheila Newberry. 

'There was no denying it, being cheerful was a challenge. You just had to be grateful for small mercies: a sunny day, a night without an air raid, an extra rasher of bacon from the butcher.'

England, 1942: 23-year-old Betty runs away from Bristol to make a new life for herself. Betrayed by her husband, Betty flees to the seaside town of Bournemouth, where she has fond memories of childhood holidays. There, she finds a small family bakery, in desperate need of a new shop girl…

At the Barton Bakery, Betty finds a sanctuary with shopkeeper Audrey Barton, but Audrey is fighting battles of her own. Her husband is at war and in grave danger, she is heavily pregnant, and her customers are horrified by the demands imposed by rationing.

Audrey's stepsister Lily receives a letter from a man she once loved very much, a man she thought was lost to her forever. He offers her a new future with him, but one that will mean sacrificing so many of her hopes and dreams…

As Winston Churchill tells the country to 'never give in', the women of the Barton Bakery struggle on to keep their families, homes and loved ones safe in a time of turmoil.
Buy Links:
---
Oh, I so love these books by Amy Miller. They're so heart-warming and just a joy from start to finish. Although they're dealing with the conflicts and sadness that comes with war, they're also incredibly uplifting. Telegrams and Teacakes is book three, following on from Heartaches and Christmas Cakes and Wartime Brides and Wedding Cakes. Sadly, I believe it's a trilogy and I'm bereft that I won't get to meet up with Audrey Barton and her extended family again.
In this third instalment, Audrey is heavily pregnant but showing no signs of slowing down. In fact, she takes in Betty, a woman who has run away from Bristol and turns up in Bournemouth looking for a job. As it happens, Audrey needs another pair of hands in the bakery and Betty gets the position. Audrey is as warm-hearted as always when Betty's problems catch up with her.
Alongside all this is Audrey's brother, William and his wife, Elsie. William is suffering the after-effects of his war experiences and his story plays a fairly large part in the book. But this is an ensemble piece and we follow all of Audrey's 'waifs and strays' throughout 1942.
The characters are all ones that I cared out. I wanted so much for a happy ending for everyone. Despite rationing being in full force, the horrible National Loaf and the whole make do and mend thing going on, I felt like I wanted to insert myself around Audrey's kitchen table and spend some time with the wonderful characters I had got so involved with.
The book ended on a perfect note and if it really does all have to end then I'm happy that it ended in that way. But Ms Miller, could you not please be tempted to return to Barton's Bakery? Telegrams and Teacakes completely captured my heart.
---

---

Amy Miller lives in Dorset with her husband and two children. New to saga, she has previously written women's fiction under a different name.