Seven Day Spotlight – w/e 03/12/17
It's a bit of a late Seven Day Spotlight today. We've been putting our Christmas tree up! No picture can do it justice of course as the lights don't show up but here it is.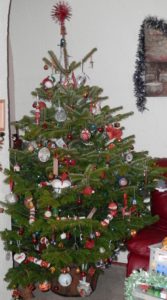 And getting the decorations out means getting out my lovely prize from Ann Troup. She's the author of various books, including The Forgotten Room which I reviewed a couple of months ago. But she also has another talent, she makes book sculptures. I won one of my choice a while back through a competition that Joanne at Portobello Book Blog ran and I chose a Narnia one.
And she ran another competition to win a Christmas sculpture and would you believe I won again? Anyway, it's impossible to photograph well, especially in a house full of toys, but here it is – a wonderful winter stag scene.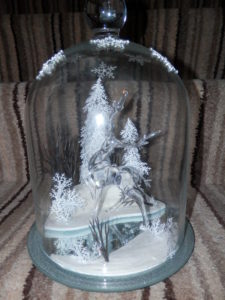 Have you got your tree and decorations up yet?
---
It's been another busy week at Short Book and Scribes. Here's what's been happening on my blog:
On Monday I reviewed the rather lovely Lucy's Book Club for the Lost and Found by Emma Davies. Since Monday it's actually had a makeover and is now called Lucy's Little Village Book Club.
Tuesday saw me reviewing a book for parents and children to share in the run up to Christmas – The Twelve Days of Elfin by Melanie Chambers.
Wednesday was a three post day! I posted a guest post from Helen Carey as part of the blog tour for The Other Side of the Street, a review of The Last Post by BK Duncan and a guest post from Helen J Rolfe as part of the blog blitz for Christmas at the Little Knitting Box.
On Thursday I reviewed Anne John-Ligali's short story, The Big Event.
On Friday I reviewed Mary Wood's lovely book, Brighter Days Ahead, and also shared an extract.
Saturday was a day of extracts with one from Beginnings by Helen J. Christmas and one from His Guilty Secret by Helene Fermont.
And today was a day of Q&As with one with Alex Kane as part of the blog tour for Chasing the Traveller and one with Alice Graysharp, author of The Keeping of Secrets, as part of 12 Days of Clink Street.
---
Here's what I have added to the TBR mountain this week:
Maud Drennan – underpaid carer and unintentional psychic – is the latest in a long line of dogsbodies for the ancient, belligerent Cathal Flood. Yet despite her best efforts, Maud is becoming drawn into the mysteries concealed in his filthy, once-grand home. She realises that something is changing: Cathal, and the junk-filled rooms, are opening up to her.

With only her agoraphobic landlady and a troop of sarcastic ghostly saints to help, Maud must uncover what lies beneath Cathal's decades-old hostility, and the strange activities of the house itself. And if someone has hidden a secret there, how far will they go to ensure it remains buried?
The Girl I Used to Know by Faith Hogan
Amanda King and Tess Cuffe are strangers who share the same Georgian house, but their lives couldn't be more different.

Amanda seems to have it all, absolute perfection. She projects all the accoutrements of a lady who lunches. Sadly, the reality is a soulless home, an unfaithful husband and a very lonely heart.

By comparison, in the basement flat, unwanted tenant Tess has spent a lifetime hiding and shutting her heart to love.

It takes a bossy doctor, a handsome gardener, a pushy teenager and an abandoned cat to show these two women that sometimes letting go is the first step to moving forward and new friendships can come from the most unlikely situations.
The Man I Think I Know by Mike Gayle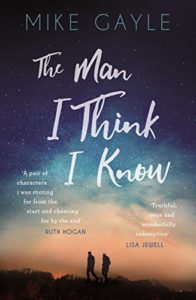 Ever since The Incident, James DeWitt has stayed on the safe side.

He likes to know what happens next.

Danny Allen is not on the safe side. He is more past the point of no return.

But it's funny the way life is sometimes. Just when you think you know how everything is, it surprises you.

And redemption can come in the most unlikely forms . . .

Warm, witty and wise, Mike Gayle's new novel is a powerful story of male friendship and what we mean by success, reminding us of the simple courage at the heart of every human life.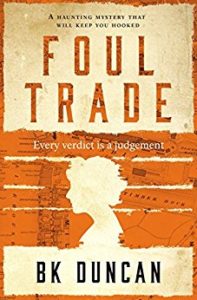 Looking for a compelling new mystery which will have you hooked?

It is March 1920. May Keaps, the Poplar Coroner's Officer, has never failed to provide a jury with sufficient evidence to arrive at a just verdict.

The poverty, drunken fights between visiting sailors, drug trafficking, and criminal gangs, haunting the shadows of the busiest docks in the world, mean that the Coroner sees more than its fair share of sudden and unnatural deaths.

May relishes the responsibility placed upon her but there are many who believe it's an unsuitable job for a woman. Even May begins to wonder if that is the case when the discovery of a young man's body, in a Limehouse alley, plunges her into an underworld of opium dens, gambling, turf wars, protection rackets and murder.

As her investigations draw her into danger, it becomes increasingly clear that whoever is responsible intends to avoid the hangman's noose by arranging to have May laid out on one of her own mortuary slabs.
This is Going to Hurt by Adam Kay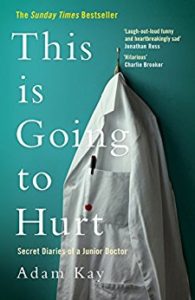 Welcome to 97-hour weeks. Welcome to life and death decisions. Welcome to a constant tsunami of bodily fluids. Welcome to earning less than the hospital parking meter. Wave goodbye to your friends and relationships . . .

Welcome to the life of a junior doctor.

Scribbled in secret after endless days, sleepless nights and missed weekends, comedian and former junior doctor Adam Kay's This Is Going to Hurt provides a no-holds-barred account of his time on the NHS front line. Hilarious, horrifying and heartbreaking by turns, these diaries are everything you wanted to know – and more than a few things you didn't – about life on and off the hospital ward. And yes, it may leave a scar.
The Mother's Secret by Clare Swatman
The Mother's Secret is a powerful story about family, secrets and devastating lies

Love keeps us together

Sisters Kate and Georgie have always shared a close bond. While Kate enjoyed the freedoms of youth, Georgie remained at home. But now Georgie is grown up, it's time she started exploring.

Love can tear us apart

Their mother Jan loves her daughters with all her heart. So what if she kept them out of sight when they were young? She just cared for them so much. She wanted to protect them.

What if your life was based on a lie?

Maybe there was another reason for Jan's protective behaviour? If they ventured too far afield, it might destroy the facade of their childhood. This family's about to discover that while lies can cause pain, the truth could destroy them all.
My Little Eye by Stephanie Marland
Can a group of true crime addicts take on the police to catch a serial killer?

KISS THE GIRLS AND MAKE THEM DIE…

A young woman is found dead in her bedroom surrounded by rose petals – the latest victim of 'The Lover'. Struggling under the weight of an internal investigation, DI Dominic Bell is no closer to discovering the identity of the killer and time is running out.

As the murders escalate, Clementine Starke joins an online true crime group determined to take justice in their own hands – to catch the killer before the police. Hiding a dark secret, she takes greater risks to find new evidence and infiltrate the group.

As Starke and Bell get closer to cracking the case neither of them realise they're being watched. The killer is closer to them than they think, and he has his next victim – Clementine – firmly in his sights.
Headline Murder by Peter Bartram
It's August 1962, and Colin Crampton, the Brighton Evening Chronicle's crime reporter, is desperate for a front-page story. But it's the silly season for news – and the only tip-off Crampton has is about the disappearance of the seafront's crazy-golf proprietor, Arnold Trumper. Crampton thinks the story is about as useful as a set of concrete water-wings. But when he learns that Trumper's vanishing act is linked to an unsolved murder, he scents a front-page scoop. Powerful people are determined Crampton must not discover the truth. But he is quite prepared to use every newspaper scam in the book to land his exclusive. The trouble is it's his girlfriend, feisty Australian Shirley, who too often ends up on the wrong end when a scam goes wrong. Crampton has to overcome dangers they never mentioned at journalism school before he writes his story. Headline Murder will keep you guessing – and smiling – right to the last page.
The Woman at 72 Derry Lane by Carmel Harrington
On a leafy suburban street in Dublin, beautiful, poised Stella Greene lives with her successful husband, Matt. The perfect couple in every way, Stella appears to have it all. Next door, at number 72 however, lives Rea Brady. Gruff, bad-tempered and rarely seen besides the twitching of her net curtains, rumour has it she's lost it all…including her marbles if you believe the neighbourhood gossip.

But appearances can be deceiving and when Stella and Rea's worlds collide they realise they have much in common. Both are trapped in a prison of their own making.

Has help been next door without them realising it?
Have you read any of these yet or would you like to? I'd love to hear from you.