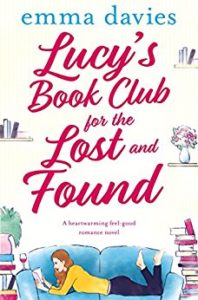 #blogblitz – Lucy's Book Club for the Lost and Found by Emma Davies @EmDaviesAuthor @bookouture #bookreview
Welcome to my stop on the blog blitz for Lucy's Book Club for the Lost and Found by Emma Davies. Many thanks to Kim Nash from Bookouture for the review copy through Netgalley and the place on the tour. I've read a couple of Emma Davies' novellas but despite my best intentions this is the first of her full length books I have read. And it was a really lovely read! Here's what it's all about:

Sometimes you've got to run away to find yourself…

Twenty-four-year-old Lucy needs a fresh start. Forever single and frustrated with her studies she gives up everything to run a little library in the leafy village of Tilley Moreton.

Lucy loves reading almost as much as she loves fixing other people's problems, so starting a book club seems like the perfect opportunity to do both. As she meets her new members, it's clear she's going to have her work cut out for her. Handsome but silent Callum is the biggest puzzle of them all… 

But Lucy's meddling begins to cause more problems than it solves, and no one is more surprised than Lucy when Callum steps in to help. Could there be more to him than people think?

As Callum and Lucy start working together to fix the broken hearts of the library's most loyal customers, the first sparks of romance begin to fly.

Can they right all the trouble Lucy has created, and might there be a chance for a happy ending of their own?
---
Well, this book is the very definition of heart-warming. It seems to fit really well with this time of year. It's not a Christmas book but it makes you feel all warm and fluffy and is perfect for curling up in front of the fire of an evening (not me, I'm always too warm to have the fire on but you get the general impression).
Lucy, as you might expect, is the main character but actually it's very much an ensemble piece. Lucy works as a librarian and inevitably comes into contact with people who may be lonely or struggling with life, seeking companionship at the library. She runs this little book club consisting of herself, Lia, Callum, Oscar and new member, Hattie. Each of them has their own little story going on and for whatever reason their home lives are not that easy.
Each character is really likeable. Perhaps my favourite might be one that I haven't mentioned – Jasper. He is part of Lia's story and I really liked his personality. But I liked everybody and was rooting for them all to get what they wanted out of their lives, including Lucy, who wants to be a writer. The ending was rather clever, I thought, as Lucy's ambition becomes a real part of the story.
I didn't know this book had dug so far into my soul until something happened that caused unexpected tears from me and I realised that the characters had become like friends. It's such a sweet, gentle story and one that I think cannot fail to charm the reader.
---
Lucy's Book Club for the Lost and Found is available now from Amazon UK and Amazon US.
And please do have a look at the other blogs taking part in the two day blitz.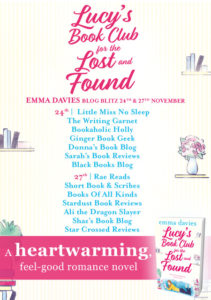 ---

After a varied career, Emma Davies once worked for a design studio where she was asked to provide a fun and humorous (and not necessarily true) anecdote for their website. She wrote the following: 'I am a bestselling novelist currently masquerading as a thirty something mother of three.' Well the job in the design studio didn't work out but she's now a forty something mother of three and is happy to report the rest of her dream came true.
After many years as a finance manager she now writes full time, and is far happier playing with words than numbers. She lives with her husband, three children, and two guinea pigs in rural Shropshire where she writes in all the gaps in between real life. It's a county she adores, her love of its beautiful people and landscapes providing endless inspiration for her books, and in fact the only thing that would make Shropshire more idyllic is if it were by the sea.
Pop over to her website www.emmadaviesauthor.com where, amongst other things, you can read about her passion for Pringles and singing loudly in the car. You can also wave to her on twitter @EmDaviesAuthor or find her on Facebook (a little too often than is good for her).