#blogblitz – Beginnings by Helen J. Christmas @SFDPBeginnings @rararesources #extract
Welcome to my post for the blog blitz for Beginnings by Helen J. Christmas. Thank you to Rachel Gilbey from Rachel's Random Resources for the place on the blitz. I have an extract to share with you but first here's what the book is about:

Beginnings is a romantic thriller set in the criminal underworld of 1970s London. Eleanor Chapman is 16. She has no idea her father is employed in a world of organised crime until the day he is forced to go on the run, leaving her at the mercy of dangerous people.

Her life is spiralling out of control yet on the night she plans to escape, she stumbles across a mysterious prisoner. His name is Jake, a rock musician from Holland and he has a contract on his life.

Their daring escape across London eventually draws them into a place of hiding before Jake's chilling story begins to unfold. He was the one vital witness to a sinister scene leading up to the death of a British MP and now those responsible want him silenced. As two young people, thrown together by fate they develop intense feelings for each other. It does not take long for Eleanor to realise that she will do anything possible to keep Jake alive.

Their tender love bond keeps you turning the pages as they live on a knife edge, desperate to escape London. Will they outrun the deadly enemies who stalk them? Or are the people at the top more powerful than they think?
If you like the sound of Beginnings then you can buy it from Amazon.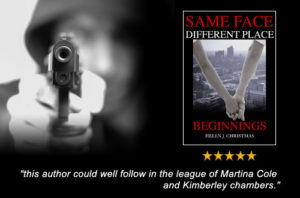 ---

ELEANOR IS IN DANGER Extract from Chapter 1

Toby drove. A frosty silence hung between them, just as before. Eleanor sat perched in the back where an atmosphere of tension strained between them like a tightrope. There was something very sudden about their decision and she had only just realised it. On the one hand, she was relieved to be leaving but on the other… everything was happening too fast again. Eleanor recalled the same apprehension as she had on the day of her arrival.

The streets as well as the surrounding buildings had become so familiar by now. Any moment, Toby would turn right, towards a busy main road which led to the club in the heart of the East End. Eleanor braced herself. Except Toby turned left, heading in completely the wrong direction…

"Where are we going?" Eleanor piped up. "Club's back that way."

Pauline glanced around. Peering up from below her eyebrows, her eyes seemed even colder.

"Time to call in on my brother," she said. "Little bit of business… shouldn't take long."

Eleanor fell silent. Couldn't they have at least dropped her off at the club first? Robbed of all speech, she glanced from side to side, drinking in her environment. The streets were less crowded, in fact, the whole area possessed an air of neglect; roads hemmed in by high, brick buildings. They passed under a railway bridge. Piles of bricks, broken walls and plaster lay crumbling beyond a chicken wire fence, a sign that demolition work was taking place on a larger scale here. A couple of women tottered along a dingy, litter strewn pavement, in short skirts and very high heels. A man lounged in the doorway of a scruffy pub, smoking a cigarette, his eyes following them.

Toby turned into a narrow side street which led to a very different neighbourhood.

Eleanor held her breath. He paused on the corner of two roads, glancing towards a tall, detached house bordered by a high wall. Finally, she observed the house; a very large house, three storeys high, lined with windows. The curtains were drawn. Stranger still, was the pinkish glow that seemed to emanate from behind them.

The Mallorys slid out of the car. Without warning, Pauline wrenched the back door open where Eleanor remained frozen. She experienced a wave of fear – especially when the woman seized her arm and hauled her off the back seat.

"What are you doing?" she squeaked. Her voice sounded hollow, drained of strength.

In the next instant, she was shocked to feel the iron grip of Toby's hand close around her other arm. Together, they yanked her towards the house.

The front door swung wide open, sending a river of crimson light spilling across the driveway. A tall blonde man stood in its frame, hands on hips, glaring at them. Yet he was flanked by two other men, both black…

"Move!" Toby snarled, thrusting her roughly forwards.

Eleanor struggled in terror but the adults were too strong.

The blonde man smiled down at her, stepping aside as the Mallorys forced her into the house. The next thing she heard was the crash of the front door as it closed behind her.

Her world was turning black; all hopes of seeing Terry or returning to the club fluttering away like ashes. Stepping shakily into a large lounge, Eleanor absorbed her surroundings.

The pinkish light came from the lamps positioned around the room; with drooping shades hung with beads, it was the painted bulbs that emitted that rosy glow.

The furniture appeared elegant; gold chairs with spidery legs, a velvet chaise longue and a deep settee, piled with cushions. It seemed unnaturally luxurious, given the neighbourhood, from the white fur rugs to a multitude of little tables, cloaked in cloths for drinks and ashtrays.

A thin veil of smoke hung suspended in the air where two heavily made-up girls stood in the corner, chatting. Their eyes flickered over her. Yet some signal from the blonde man compelled them to leave. Eleanor felt a horror tear her senses; she had already guessed the type of place this was. She looked at her former 'guardians' in shock. Toby looked a little sheepish; Pauline on the other hand, was smirking.

"What the hell is going on?" she whispered.

Pauline embraced the blonde man. "Hello again, Mickey." She turned back to Eleanor, her hard grey eyes finally emitting the malice that had been hidden there all along. "Meet Mickey Clark, my brother!" she announced. "But you can call him Clark, everyone else does. You're working for him now, sweetheart, he's gonna be your pimp."

"What?" Eleanor shouted. "No! No, he isn't! You bastards! This was what you had planned all along wasn't it? You never intended to keep your word to Sammie!"

"Maxwell's finished," Toby intervened. "He's already lost this battle and I'm betting yer old man won't be coming back either, so we can do what we like. Sorry, kid, but you ain't got no choice."

"The deal's done," Pauline jeered. She beamed at her husband. "You wanted to get onto a career path, well this is it. Get used to it."
---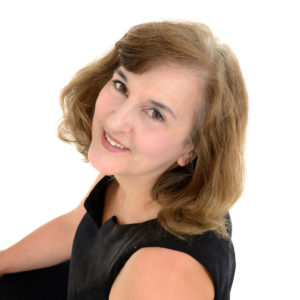 Helen J. Christmas lives on the south coast of Sussex with her husband. With a love of writing since childhood, she started her decade spanning thriller series 'Same Face Different Place' in 2011. Her first book 'Beginnings,' set in 1970s London, combines romantic suspense with a hard-hitting conspiracy thriller. Writing is something she juggles around family and social life. Helen is self employed and enjoys running the web design company, she and her husband set up from home. They have no children but enjoy the company of a faithful border collie and a fluffy white cat. Helen confesses to have got most of her ideas for writing, whilst walking Barney along the beach.