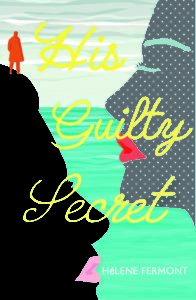 #blogtour – #HisGuiltySecret by Helene Fermont @helenefermont @BookPublicistUK #extract
Welcome to my stop on the blog tour for His Guilty Secret by Helene Fermont. I'd like to thank Natalie Connors, the Book Publicist, for the place on the tour. I have an extract to share with you but first let's have a look at what the book is about:

Secrets & Lies Are Dangerous.

When Jacques's body is discovered in a hotel room his wife, Patricia, suspects he has been hiding something from her.

Why was he found naked and who is the woman that visited his grave on the day of the funeral? Significantly, who is the unnamed beneficiary Jacques left a large sum of money to in his will and what is the reason her best friend, also Jacques's sister, Coco, refuses to tell her what he confided to her?

Struggling to find out the truth, Patricia visits Malmö where her twin sister Jasmine lives and is married to her ex boyfriend. But the sisters relationship is toxic and when a family member dies shortly after, an old secret is revealed that shines a light on an event that took place on their tenth birthday.

As one revelation after another is revealed, Patricia is yet to discover her husband's biggest secret and what ultimately cost him his life.

His Guilty Secret is an unafraid examination of the tangled bonds between siblings, the lengths we go to in protecting our wrongdoings, and the enduring psychological effects this has on the innocent…and the not so innocent.

Hélene Fermont is the author of three books. Because of You and We Never Said Goodbye are also available on Kindle and in print from Amazon.
His Guilty Secret is available now in ebook and paperback.
---

Listening to him, Patricia wanted to scream. She was sick and tired of strangers telling her how sorry they were. They knew nothing of her husband and never would. Clemency put her hand on her friend's arm and asked if she wanted to be on her own for a while.

"No…I want to leave now." Taking a final look at the man with whom she'd hoped to conceive a child, Patricia asked, "Will someone transport the body to the chapel where he and his sister

used to pray for their deceased parents? I've got to call her and plan the funeral."

"Yes, your husband's body will be transported there in the morning. We've received instructions from his sister, who was informed of what happened yesterday afternoon.Nevertheless, as his

widow, your instructions are what matter the most."

"I've no objections; please follow my sister-in-law's instructions. Did she come here as well?" Patricia asked sadly, thinking how upsetting it must be for Coco to lose the only family she had left after their parents died. Jacques and Coco were always so close, unlike herself and her twin sister.

"No, she said she couldn't face it," the doctor replied in a low voice, only too familiar with people's reactions after they'd lost someone close to them.

"I understand." Turning away from him and what remained of her husband, Patricia ran outside into the corridor where she collapsed in a heap on the floor, crying out his name. "Jacques! You

promised you would return to me. What will I do now? How will I ever cope without you?" She was beyond despair, knowing life would never be the same again.
---
I hope you will check out the other blogs taking part in the tour.
---

Born into an Anglo-Swedish family, Hélene Fermont grew up in Malmö in Sweden.  Surrounded by an idlyllic landscape, she started writing at eight years old.
Spending a brief time in the music industry performing on Swedish TV and radio, she decided to pursue a career as a therapist, focusing on children with learning difficulties. In the mid-90s Hélene moved away from Sweden to move to London, the city has been her home now for over 20 years. Despite her love of London, she frequently travels back to her native city of Malmö to get back to the landscape of her childhood which first inspired her writing.
Hélene's other books include: Because of You and We Never Said Goodbye.