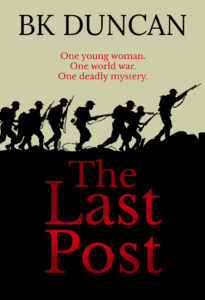 #blogblitz – The Last Post by BK Duncan @BKDuncanwriter @Bloodhoundbook #bookreview
Welcome to my stop on the blog blitz for The Last Post by BK Duncan. Thank you to Sarah Hardy and Bloodhound Books for the review copy and the place on the blitz. It's a short story featuring May Keaps and I really enjoyed it. You can read my review further down this post but first here's what the book is about:

It is April 1918. May Keaps is a twenty-year-old ambulance driver stationed at The Front. As if transporting hideously wounded soldiers, sleep deprivation and constant shell bombardment weren't enough, she becomes unwittingly entangled in the untimely death of a young captain, Tobias Fairfax.

Newly-arrived in Northern France he was found with a discharged pistol by his side; rumours on the battlefield were that it wasn't an accident and he had taken the coward's way out, committing suicide.

Whatever the explanation, Tobias left a dangerous legacy that puts May in the line of fire. But she is not the only one with a reason to want to uncover the truth. And in a world where life can be extinguished in the blink of an eye, May might regret her search for answers…

The Last Post is the haunting introduction to the May Keaps series.
---
This is a lovely little short story and a nice introduction to May Keaps, the heroine of the piece.
May is an ambulance driver towards the end of the First World War. She's stationed at the front right in the thick of it all and seeing some horrendous sights for a 20 year old, as you can imagine. She finds herself embroiled in a potentially dangerous situation and the story really works well and has a nice bit of intrigue for such a short read.
I spent a pleasurable half an hour or so reading this story. I liked May and can see great potential for her in future books, including the upcoming Foul Trade. I think she'll be just as feisty and brave in that book as she was in this story.
---
The Last Post is available as an ebook and is free to download so go on, get yourself off to Amazon and give it a go. You won't be disappointed.
And do please have a look at the other blogs taking part in the blitz.
---

BK Duncan is the pen name Ruth Wade has adopted for the May Keaps series of historical crime novels.
Born on a steam railway and brought up on the South Coast of England, such beginnings were destined to leave BK Duncan with a love of vintage transport, crashing seas, and Art Deco architecture.
Following a career encompassing developmental learning and change-management consultancy she now combines producing her own work with lecturing part-time in creative writing in colleges and academies in Cambridge and Oxford. Her two great passions are longbow archery and the Argentine Tango. Sadly, she is not nearly as accomplished at either as she'd like.
BK Duncan also writes historical crime novels as Ruth Wade.
BK Duncan pages on Ruth Wade website