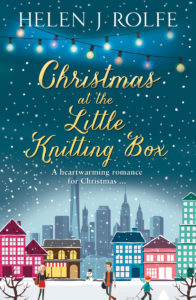 #blogblitz – Christmas at the Little Knitting Box by Helen J Rolfe @HJRolfe @rararesources #GuestPost #giveaway
I'm so pleased to be on the blog blitz today for Christmas at the Little Knitting Box by Helen J Rolfe. Thank you to Rachel Gilbey from Rachel's Random Resources for the spot on the blitz. I have a lovely guest post from Helen about what she loves about her own Christmas and a giveaway too but before that let's see what the book is about:

Christmas is coming and New York is in full swing for the snowy season. But at The Little Knitting Box in the West Village, things are about to change …

The Little Knitting Box has been in Cleo's family for nearly four decades, and since she arrived fresh off the plane from the Cotswolds four years ago, Cleo has been doing a stellar job of running the store. But instead of an early Christmas card in the mail this year, she gets a letter that tips her world on its axis.

Dylan has had a tumultuous few years. His marriage broke down, his mother passed away and he's been trying to pick up the pieces as a stay-at-home dad. All he wants this Christmas is to give his kids the home and stability they need. But when he meets Cleo at a party one night, he begins to see it's not always so easy to move on and pick up the pieces, especially when his ex seems determined to win him back.

When the snow starts to fall in New York City, both Cleo and Dylan realise life is rarely so black and white and both of them have choices to make. Will Dylan follow his heart or his head? And will Cleo ever allow herself to be a part of another family when her own fell apart at the seams?

Full of snow, love and the true meaning of Christmas, this novel will have you hooked until the final page.
This is a book that I wish I could have fitted in a read of but sadly I couldn't. It sounds so lovely though and if you think so too then here are the links you need to purchase a copy:
---

My own Christmas and what I love about it by Helen J Rolfe
I have always loved Christmas at home, wherever that home may be.
From 2000 to 2014 I lived in Australia so I had a hot Christmas, but there aren't too many differences between how I celebrated then and how I celebrate now.
In early December, back in Australia, we would always visit a Christmas tree farm and choose our own tree. The kids (and us) loved it. The way it works there is you choose a tree, tag it, and then arrange to have it delivered to your door on a certain day. Despite all the worry about the heat, the trees always lasted right through Christmas to New Year and I love the smell of them. I still have a real one every year and now we order online and have it delivered. I think the tree is a huge part of my own celebrations and I adore the smell, I love decorating it, and it's amazing to see every morning when you get up. I often read my kindle near the tree so only the twinkly lights are on! This, and a glass of mulled wine, is somewhat of a tradition.
In early December I like to go and see Christmas lights in surrounding neighbourhoods. In Australia we had to wait until around 9pm for it to get dark, but we don't need to do that here! I think some of the light displays are amazing…it must take forever to do, but they really get everyone in the Christmas spirit. I usually go into London at least once to see the lights on Oxford Street too.
Christmas Eve is my favourite day of all. I think it's because all the excitement and anticipation is there. It was particularly exciting, and exhausting, when the kids were young enough to still believe in Santa, but I still love the evening now.  Usually we watch a family movie in the afternoon and have a nice meal. Then when the kids are in bed my husband and I watch Love Actually. It's one of my favourite movies.
On Christmas morning the kids drag their Santa sacks and stockings into our room and open all their presents. It's mayhem with paper everywhere but so lovely they want to share it with us. We leave the other presents under the tree and don't open them until after lunch so I then spend the morning making the Christmas dinner with a glass of champagne at the ready. We all sit down together, all clear up and then it's onto the last lot of presents.
What I really love about Christmas is just being all together. I love playing board games if we get a chance, watching a good old Christmas movie – Home Alone, Christmas with the Kranks – and of course I love the food.
Sounds lovely, Helen. Thank you so much for sharing it with us.
---

a Rafflecopter giveaway

---
HOT OFF THE PRESS!
I'm pleased to be able to share with you details of Helen's next book which will be book two in the New York Ever After series. Christmas at the Little Knitting Box is book one.
Snowflakes and Mistletoe at the Inglenook Inn (New York Ever After, Book 2)
It's the most wonderful time of the year…but is it the time to fall in love? 

As the flames on the log fire flicker and the snowflakes swirl above the New York streets, maybe this Christmas could be the one that changes everything…

When Darcy returns to Manhattan, she's put in charge of the Inglenook Inn, a cosy boutique hotel in the heart of Greenwich Village. The Inn needs a boost in bookings if it's to survive the competition, so Darcy is convinced that hosting Christmas this year is the answer. What she doesn't expect is to meet a face from the past, which can only spell trouble.

Myles left England behind and took a job in New York. It's a step forwards in his career, and has the added bonus of being nowhere near his family. He's also hoping to avoid Christmas, the worst time of the year. But when his company puts him up at the Inglenook Inn and he recognises Darcy, it isn't long before they clash.

When disaster strikes, can Myles and Darcy put their differences aside to make Christmas at the Inglenook Inn a success?

Publication Date – 12th December 2017

Pre-order Now!
---

Helen J Rolfe writes contemporary women's fiction with an emphasis on relationships and love. She enjoys weaving stories about family, friendship, secrets, and characters who face challenges and fight to overcome them. Helen enjoys creating strong female lead characters and although her stories often deal with serious issues, they always have a happy ending.
Location is a big part of the adventure in Helen's books and she enjoys setting stories in different cities and countries around the world. So far, locations have included Melbourne, Sydney, New York, Connecticut, Bath and the Cotswolds.
Born and raised in the UK, Helen graduated from University with a business degree and began working in I.T. This job took her over to Australia and it was there that she studied writing and journalism and began writing for women's health and fitness magazines. She also volunteered with the PR department of a children's hospital where she wrote articles and media releases. Helen began writing fiction in 2011 and hasn't missed the I.T. world one little bit, although the I.T. skills have come in handy of course, especially when it comes to creating and maintaining a website.
After fourteen years of living in Australia, Helen returned to the UK and now lives in Hertfordshire with her husband and their children.