Seven Day Spotlight – w/e 03/02/19
Welcome to this week's Seven Day Spotlight post. Do you know, the week has passed in a flash and I don't think I have anything to tell you that doesn't relate to books so I'll just get on with it.
Here's what I posted on my blog this week – lots of two post days:
On Monday, I posted a guest post by Isabella Muir, author of The Forgotten Children and revealed the cover of Death Will Find Me by Vanessa Robertson.
On Tuesday, I reviewed Louis and Louise by Julie Cohen and revealed the blurb of Caroline England's next book, Betray Her.
On Wednesday, I reviewed Mr Doubler Begins Again by Seni Glaister and posted a guest post by Miranda Gold, author of A Small Dark Quiet.
On Thursday, I reviewed The Manor on the Moors by Liz Taylorson and shared an extract from She Saw What He Did by Lynda Renham.
On Friday, I revealed the cover of Hetty's Secret War by Rosie Clarke and sharing an extract from Mummy's Favourite by Sarah Flint.
Saturday's post was my review of The Six Loves of Billy Binns by Richard Lumsden.
And finally, this morning I posted a guest post by Alison Baillie, author of A Fractured Winter.
---
Here are the books that have made their way onto my reading pile this week:
The Taking of Annie Thorne by C.J. Tudor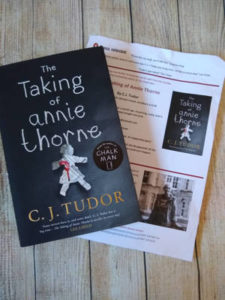 One night, Annie went missing.

Disappeared from her own bed. There were searches, appeals. Everyone thought the worst.

And then, after 48 hours, she came back.

But she couldn't, or wouldn't, say what had happened to her.

Something happened to my sister. I can't explain what.

I just know that when she came back, she wasn't the same.

She wasn't my Annie.

I didn't want to admit, even to myself, that sometimes I was scared to death of my own little sister.
The Pull of the River by Matt Gaw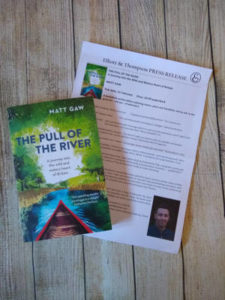 Tales of escape and adventure on Britain's waterways

In The Pull of the River two foolhardy explorers do what we would all love to do: they turn their world upside down and seek adventure on their very own doorstep.

In a handsome, homemade canoe, painted a joyous nautical red the colour of Mae West's lips, Matt and his friend James delve into a watery landscape that invites us to see the world through new eyes.

Over chalk, gravel, clay and mud; through fields, woodland, villages, towns and cities, they reveal many places that otherwise go unnoticed and perhaps unloved, finding delight in the Waveney, Stour, Alde/Ore, upper and lower Thames, Lark, Great Ouse, Granta and Cam, Wye, Otter, Colne, Severn and the Great Glen Trail.

Showing that it is still possible to get lost while knowing exactly where you are, The Pull of the River is a beautifully written exploration of nature, place and friendship, and an ode to the great art – and joy – of adventure.
Picture of Innocence by T J Stimson
You love your family. You'd never let anything happen to them… would you?

With three children under ten, Maddie is struggling. On the outside, she's a happy young mother, running a charity as well as a household. But inside, she's exhausted. She knows she's lucky to have to have a support network around her. Not just her loving husband, but her family and friends too.

But is Maddie putting her trust in the right people? Because when tragedy strikes, she is certain someone has hurt her child – and everyone is a suspect, including Maddie herself…

The characters in this book are about to discover that looks can be deceiving… because anyone is capable of terrible things. Even the most innocent, even you.
Blackberry and Wild Rose by Sonia Velton
WHEN ESTHER THOREL, the wife of a Huguenot silk-weaver, rescues Sara Kemp from a brothel she thinks she is doing God's will. Sara is not convinced being a maid is better than being a whore, but the chance to escape her grasping 'madam' is too good to refuse.

INSIDE THE THORELS' tall house in Spitalfields, where the strange cadence of the looms fills the attic, the two women forge an uneasy relationship. The physical intimacies of washing and dressing belie the reality: Sara despises her mistress's blindness to the hypocrisy of her household, while Esther is too wrapped up in her own secrets to see Sara as anything more than another charitable cause.

IT IS SILK that has Esther so distracted. For years she has painted her own designs, dreaming that one day her husband will weave them into reality. When he laughs at her ambition, she unwittingly sets in motion events that will change the fate of the whole Thorel household and set the scene for a devastating day of reckoning between her and Sara.

THE PRICE OF a piece of silk may prove more than either is able to pay.
After the End by Clare Mackintosh
Max and Pip are the strongest couple you know. Only now they're facing the most important decision of their lives – and they don't agree.

As the consequences of an impossible choice threaten to devastate them both, nothing will ever be the same again.

But anything can happen after the end . . .
The Shadow Writer by Eliza Maxwell
Every writer has a story. Some are deadlier than others.

Aspiring author Graye Templeton will do anything to escape the horrific childhood crime that haunts her. After a life lived in shadows, she's accepted a new job as protégé to Laura West, influential book blogger and wife of an acclaimed novelist. Laura's connections could make Graye's publishing dreams a reality. But there's more to Laura than meets the eye.

Behind the veneer of a charmed life, Laura's marriage is collapsing. Her once-lauded husband is descending into alcoholism and ruin and bringing Laura nearer to the edge.

As the two women form a bond that seems meant to be, long-buried secrets claw their way into the present, and the line between friendship and obsession begins to blur, forcing each to decide where her loyalties lie. Running from the past is a dangerous game, and the loser could end up dead.
A Perfect Explanation by Eleanor Anstruther (pre-order)
Exploring themes of ownership and abandonment, Eleanor Anstruther's debut is a fictionalised account of the true story of Enid Campbell (1892–1964), granddaughter of the 8th Duke of Argyll.

Interweaving one significant day in 1964 with a decade during the interwar period, A Perfect Explanation gets to the heart of what it is to be bound by gender, heritage and tradition, to fight, to lose, to fight again. In a world of privilege, truth remains the same; there are no heroes and villains, only people misunderstood. Here, in the pages of this extraordinary book where the unspoken is conveyed with vivid simplicity, lies a story that will leave you reeling.
The Strawberry Thief by Joanne Harris – a beautiful proof with red edges, signed for me and it came with a specially blended scent which I have to spray at a certain point in the book.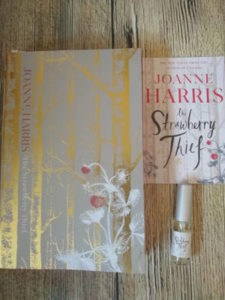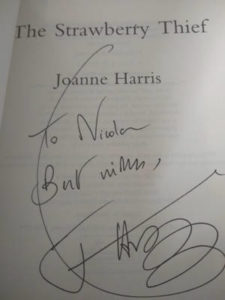 Vianne Rocher has settled down. Lansquenet-sous-Tannes, the place that once rejected her, has finally become her home. With Rosette, her 'special' child, she runs her chocolate shop in the square, talks to her friends on the river, is part of the community. Even Reynaud, the priest, has become a friend.

But when old Narcisse, the florist, dies, leaving a parcel of land to Rosette and a written confession to Reynaud, the life of the sleepy village is once more thrown into disarray. The arrival of Narcisse's relatives, the departure of an old friend and the opening of a mysterious new shop in the place of the florist's across the square – one that mirrors the chocolaterie, and has a strange appeal of its own – all seem to herald some kind of change: a confrontation, a turbulence – even, perhaps, a murder…
The Bridal Party by J G Murray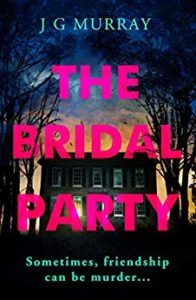 Sometimes friendship can be murder…

It's the weekend of Clarisse's bridal party, a trip the girls have all been looking forward to. Then, on the day of their flight, Tamsyn, the maid of honour, suddenly backs out. Upset and confused, they try to make the most of the stunning, isolated seaside house they find themselves in.

But, there is a surprise in store – Tamsyn has organised a murder mystery, a sinister game in which they must discover a killer in their midst. As tensions quickly boil over, it becomes clear to them all that there are some secrets that won't stay buried…
Sleep by C.L. Taylor complete with coffee and tea
All Anna wants is to be able to sleep. But crushing insomnia, terrifying night terrors and memories of that terrible night are making it impossible. If only she didn't feel so guilty…

To escape her past, Anna takes a job at a hotel on the remote Scottish island of Rum, but when seven guests join her, what started as a retreat from the world turns into a deadly nightmare.

Each of the guests have a secret, but one of them is lying – about who they are and why they're on the island. There's a murderer staying in the Bay View hotel. And they've set their sights on Anna.

Seven strangers. Seven secrets. One deadly lie.

Someone's going to sleep and never wake up…
Leo and the Lightning Dragons by Gill White and Gilli B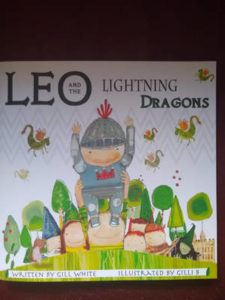 Everybody in the kingdom is supporting the brave knight Leo in his battle against his fearsome dragons. They try lots of different things to help him defeat them but eventually Leo realises that the most important thing to do is to believe in himself. This beautifully illustrated book with a poignant and uplifting rhyming story encourages children to persevere and find strength in the face of adversity, even when it seems that nothing is working. Written by Gill White for her son Leo who suffers from Ohtahara Syndrome, an extremely rare form of epilepsy, and beautifully illustrated by Fife artist Gilli B, this story has been positively received by parents of children with complex needs, by care workers and medical staff and by parents of healthy young children who love the book simply as an adventure story. All royalties from the sale of this book will go to CHAS (Children's Hospices across Scotland).