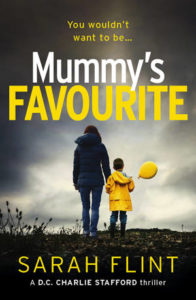 ShortBookandScribes #BlogTour #Extract from Mummy's Favourite by Sarah Flint @SarahFlint19 @Aria_Fiction
Welcome to my stop on the blog tour for Mummy's Favourite by Sarah Flint. I have a great extract to share with you today. My thanks to Vicky Joss from Aria for the place on the tour.

He's watching… He's waiting… Who's next?

Buried in a woodland grave are a mother and her child. One is alive. One is dead. DC 'Charlie' Stafford is assigned by her boss, DI Geoffrey Hunter to assist with the missing person investigation, where mothers and children are being snatched in broad daylight.

As more pairs go missing, the pressure mounts. Leads are going cold. Suspects are identified but have they got the right person? Can Charlie stop the sadistic killer whose only wish is to punish those deemed to have committed a wrong? Or will she herself unwittingly become a victim.

A gripping, heart stopping serial killer read not for the faint hearted.. Perfect for the fans of Karin Slaughter.

What people are saying about MUMMY'S FAVOURITE: 'This book hooked me in from the start' 'This is fast paced crime writing at its best' 'If you like stories that keep you on the edge of your seat then this is for you' 'Kept me guessing right up to the end'
Buy links for the paperback:
Or get the eBook from:
---

It was cold under the floorboards. Cold, sticky and wet. And so very dark. Pitch-black almost. Only the tiniest chink of light. Not enough to give her a clue as to where she was.

Julie Hubbard tried to speak but the thick cloth around her mouth prevented any movement of her dry, cracked lips. Only a thin whimper in the blackness could escape briefly before the sound died in the tiny cavity in which she lay. She moved her tongue and felt the cold liquid fill her mouth. Water. Cool, thirst-quenching, life-prolonging. She gulped it down, moving her tongue again to cover the small tube sticking through the cloth, knowing instinctively that this was her only hope of survival. She didn't dare drink the water too quickly. It had to be rationed, eked out slowly. She didn't know how long she was going to be there.  She didn't know anything in fact.

She tried to shift herself carefully. Every muscle hurt. A wad of bedding underneath her body took away some of the cold and discomfort, but her body felt stiff and achy from lying in the same position. Her head pounded in time with her breath, each temple following the same rhythmic pulse. She could barely move her limbs; they were bound together with cord, wrapped around and around and around her wrists and ankles. She could just wriggle her fingers and toes to keep them from getting numb, but that was all. Her fingernails scraped the dirt from the backs of the floor-boards but there was little room to squirm, never mind to bang against the wooden planks. She didn't know where she was but she knew it was remote, away from civilization, away from help. She was on her own. Or was she?

Every sense was heightened now as the muzziness wore off. The air around her was dank, claustrophobic, sweet smelling. It was earthy, musty, but with occasional wafts of cooler, fresher fragrances that slipped in through the gaps. The darkness too was slightly less black and cloying at these tiny spaces. She pushed her body up against the chinks but the boards refused to move, the gaps disappearing into her clothing, a sense of panic overwhelming her at the loss of even these tiny symbols of escape.

She tried to move sideways but the hardness of the impacted earth stopped any further movement. She shifted the other way and her body met something softer. Squirming towards it she managed to twist herself slightly so that her hands touched the softness. She could feel clothing, a belt buckle, flesh. She pulled herself up as close as she could so that she was half facing the form. Her hair slipped across her face into the wetness she had felt earlier. It was sticky and smelt strangely sweet. She wanted to taste it but she daren't. A familiar smell wafted into her nostrils. A smell that she recognized from home, the scent of grown-up children, the scent of boy to man aftershave.
---

---

With a Metropolitan Police career spanning 35 years Sarah has spent her adulthood surrounded by victims, criminals and police officers. She continues to work and lives in London with her partner and has three older daughters.
Follow Sarah: 
Follow Aria