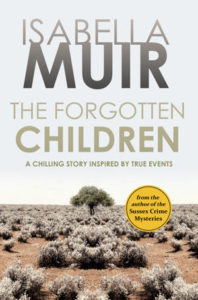 ShortBookandScribes #BlogTour #GuestPost by Isabella Muir, Author of The Forgotten Children @SussexMysteries @rararesources #Giveaway
I'm so pleased to be taking part in the blog tour for The Forgotten Children by Isabella Muir today. I have a fantastic guest post by Isabella to share with you today, along with a giveaway to win a signed copy of the book. My thanks to Rachel Gilbey from Rachel's Random Resources for the place on the tour.
---
A woman's search to find her son uncovers the shocking truth about one of Britain's darkest periods

Struggling with the demons of her past, Emily is a children's author with a dark secret, and a guilt that threatens to consume her.  For twenty years she has lived in Brighton, England, trying to forget the day they took her baby from her, just hours after he was born.  But now, in the summer of 1987, she decides to begin the search for her son.

Emily takes refuge in a small town on the Isle of Anglesey to plan the search, where she meets Walter, a gentle stranger, who helps her with his words of wisdom and kindness.  But it is when she decides to return home to Hastings, that she really has to face her demons.

Estranged from her parents when she was just sixteen, Emily is shocked by what her mother has to tell her about events that occurred before Emily was even born.

Beside her, throughout her search, is Emily's beautiful Irish friend, Geraldine, recovering from her own sad experiences.  Together they uncover a truth that shocks them all.

The Forgotten Children draws the reader into lives affected by narrow-minded beliefs and blinkered thinking at the highest level. Children who weren't allowed to be born, children who were abandoned, and children who were taken, forced to lead a life thousands of miles away from everyone and everything they knew – leaving scars that may never heal.

At its heart, The Forgotten Children is a story of survival, but the journey that Emily has to take is painful.  Even more so because she knows it was allowed to happen by individuals, religions and governments, who should have known better.
Purchase Links:
---
THE FORGOTTEN CHILDREN by Isabella Muir
The first time I learned about the British policy of sending children to far-flung Commonwealth countries, I could hardly believe it.  It seemed like a tale of fiction.  Discovering that those in authority could ever have thought it acceptable to remove children from care homes, some as young as four or five years old, was sadly a painful reality.  Margaret Humphreys, is the Nottinghamshire social worker who brought the facts to light and it was in her book, Empty Cradles, where I learned the truth about what happened to more than 130,000 children.
Britain's child migration policy dates back to the 1600s.  The first transportation involved around a hundred children who were sent from London to Virginia, USA.  The practice continued up until 1970, when the last group of children were sent to Australia. Child migration moved children from the United Kingdom to Canada, New Zealand, Zimbabwe (formerly Rhodesia) and Australia.
In the post-war era, approximately 3,300 children were shipped to Australia, while New Zealand, Rhodesia and Canada received a combined total of about 1,000 children. Governments lack precise figures about the numbers of children sent by the United Kingdom.
It seems that successive governments could see an opportunity to save the costs of caring for children in England, at the same time as Commonwealth countries had space they wanted filled.
The Forgotten Children focuses on the children who were sent to Australia, a country that has been populated, in the main, by migrants.  British prisoners were sent out there in the 1700s and 1800s and then later the Gold Rush brought people from all over Europe, as well as North America and China. The 'ten pound poms' Assisted Migration Scheme was popular, so popular in fact that over a million British people took up the offer between 1945 and 1972.  Here was a country that is some thirty times larger than the UK and it needed to be populated.  But it was only Britain who felt it appropriate to send children.
Here is a quote from His Grace the Archbishop of Perth, as he welcomed British child migrants shipped to Australia in August 1938, that will chill you to the bone…
"When empty cradles are contributing woefully to empty spaces, it is necessary to look for external sources of supply. If we do not supply from our own stock, we are leaving ourselves all the more exposed to the menace of the teeming millions of our neighbouring Asiatic races."
It seems that Britain felt it acceptable to take children from all that they knew and send them over to fill these 'empty cradles'.  Making the decision to send them was bad enough, but this was compounded by lies and deceit, resulting in many children being told their parents were dead, when this was not the case.  Parents returned to care homes to retrieve their child once they had managed to resolve whatever crisis they had experienced that made the decision to let them go inevitable, only to be told that their child had been placed in a loving home in England.  Instead the truth of it was that they had been sent thousands of miles away to Australia, New Zealand or Canada.  Birth certificates were falsified, names were changed and brothers and sisters were separated.
For those children who arrived in Australia worse was yet to come.  Many suffered dreadful physical and sexual abuse at the hands of those who purported to 'care' for them.
The work that Margaret Humphreys has done by setting up the Child Migrants Trust has meant that many families have been reunited.  But many more have not. In 2018 the Independent Inquiry into Child Sexual Abuse published their report, highlighting the experiences of the child migrants.  Before that in 2017, former Prime Minister Gordon Brown, stated the British child migration policy could be "the worst national sex abuse scandal in numbers, length of time unchecked and geographical scope". He went on to say that migrant children who suffered horrific attacks before and after being sent to Australia and other Commonwealth countries should be compensated before they die. As I write this blog post the Child Migrants Trust reports that twenty-seven child migrants have died without receiving the justice they deserve.
I wrote The Forgotten Children to help raise awareness – if everyone who reads my book goes on to read Empty Cradles and to find out more about the wonderful work of the Child Migrants Trust, then I hope it will help to shine a little more light on this dark, dark tragedy.
Such a fascinating and sad post, Isabella. Thank you. I can't imagine the devastation for those parents who returned for their children only to find they were no longer there.
---

 Giveaway – Win a signed copy of The Forgotten Children (UK Only)
*Terms and Conditions –UK entries welcome. Please enter using the Rafflecopter box below. The winner will be selected at random via Rafflecopter from all valid entries and will be notified by Twitter and/or email. If no response is received within 7 days then Rachel's Random Resources reserves the right to select an alternative winner. Open to all entrants aged 18 or over. Any personal data given as part of the competition entry is used for this purpose only and will not be shared with third parties, with the exception of the winners' information. This will passed to the giveaway organiser and used only for fulfilment of the prize, after which time Rachel's Random Resources will delete the data. I am not responsible for despatch or delivery of the prize.
---

---

Isabella Muir has been surrounded by books her whole life and – after working for twenty years as a technical editor and having successfully completed her MA in Professional Writing – she was inspired to focus on fiction writing.
As well as her newest title, The Forgotten Children, Isabella is the author of the Sussex Crime Mystery series.  These Agatha Christie style stories are set in the sixties and seventies and feature a young librarian and amateur sleuth, Janie Juke, who has a passion for Agatha Christie. All that Janie has learned from her hero, Hercule Poirot, she is able to put into action as she sets off to solve a series of crimes and mysteries.
Aside from books, Isabella has a love of all things caravan-like. She has spent many winters caravanning in Europe and now, together with her husband, she runs a small caravan site in Sussex. They are ably assisted by their much-loved Scottie, Hamish.