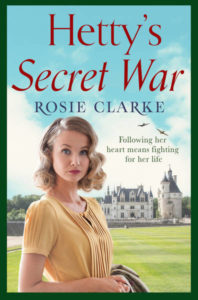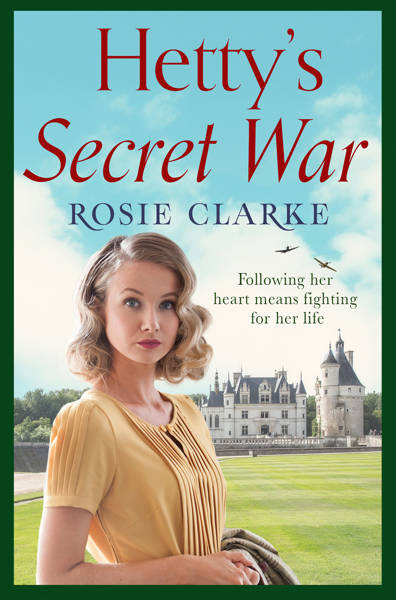 ShortBookandScribes #CoverReveal – Hetty's Secret War by Rosie Clarke @AnneHerries @Aria_Fiction
Today I'm delighted to be helping with the cover reveal for Hetty's Secret War by Rosie Clarke, the third in the Women at War series. My thanks to Vicky Joss from Aria for asking me to take part.

In 1939, with the world on the brink of war, one women faces a future more uncertain than she had ever imagined…

Living in Paris, with the threat of war becoming all the more imminent, Hetty knows if she wants to stay safe, she must make her way home immediately. So she makes her way to the ports, hoping to secure one of the last places on the boats headed for England. But on her way she finds newly orphaned little girl who needs her help, and care.

And so Hetty, with little Kristina, finds herself sheltering at Chateau de Faubourg, where they are both welcomed by Countess de Faubourg and her dashing son Pierre… But the gilded walls of the Chateau hide secret war work of the most dangerous kind – but Hetty knows she owes it to the gami Beth – orphaned as a child, Beth is coming of age and determined to do her bit for the war effort.

Caught up in a whirlwind romance, she marries only to become a war widow….and one expecting a baby who will never know his brave father. Can she find happiness again?

Hetty – desperately trying to make her way back from Paris to her beloved family in England, a fateful and tragic encounter brings Hetty to Chateau de Faubourg where she joins the resistance and risks both her heart and her life fighting for charismatic resistance leader Stefan Lefarge…

However dark the times, courage, determination and the power of friendship can overcome the hardships of war.
Buy links:
---

Rosie is happily married and lives in a quiet village in East Anglia. Writing books is a passion for Rosie, she also likes to read, watch good films and enjoys holidays in the sunshine. She loves shoes and adores animals, especially squirrels and dogs.
---
Here's another look at that lovely cover. It looks like the perfect read for those saga and wartime story lovers amongst us (including me!).