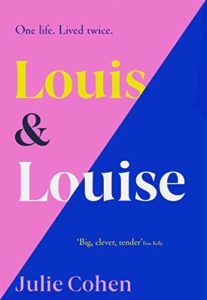 ShortBookandScribes #BookReview – Louis and Louise by Julie Cohen @julie_cohen @orionbooks #BlogTour
I'm absolutely thrilled to be reviewing Louis and Louise by Julie Cohen today as part of the blog tour. I've read several of Julie's books and loved them all so I couldn't wait to read this one. My thanks to Tracy Fenton of Compulsive Readers for the place on the tour and Orion Books for the review copy.
---
ONE LIFE. LIVED TWICE.

Louis and Louise are the same person born in two different lives. They are separated only by the sex announced by the doctor and a final 'e'.

They have the same best friends, the same red hair, the same dream of being a writer, the same excellent whistle. They both suffer one catastrophic night, with life-changing consequences.

Thirteen years later, they are both coming home.

A tender, insightful and timely novel about the things that bring us together – and those which separate us, from the author of Richard & Judy recommended book Together
Or support your high street with Hive.
---

I'm a big fan of Julie Cohen's work. She's a beautiful writer and Louis and Louise is no exception to that.
The story begins with Peggy and Irving, about to have their first, and only, child. But in one reality they have a boy named Louis and in the other they have a girl named Louise. I must admit that I was expecting something quite obviously gender specific about each story, as in I thought that Louis would have all sorts of opportunities that Louise didn't have. And I suppose that he does, but ultimately the difference between them is down to something else, something that happens to them on their graduation night (a different something for each of them) and really I think it is only Louise's story that is particularly about the difference gender makes.
After many years away Louis/Louise returns to their small home town of Casablanca, Maine. Whilst some aspects of their lives have followed a certain pattern, others have diverged according to which protagonist's story we are reading.
I think I've made it sound rather complicated but rest assured, this is a book that never confused me. I never had to flick back to see whether it was a Louis or Louise chapter. The writing is clear and I was well able to see where their lives were similar and where they were not. I thought Julie Cohen did a great job at showing us the direction both lives went in and how the two Lou's dealt with coming home to a town where something momentous happened to them, the kind of town where everybody knows who you are and where everything revolves around a paper mill.
What I particularly enjoyed were the crossover sections relating to their friend, Allie, and I found this storyline rather moving as old feelings returned. Actually, I found the whole book moving and emotional, a beautiful study of a life. I've honestly never thought about if my life would have been different if I had been born a boy but this book does make me wonder. It's not as though I would have been completely different or even have achieved more, but more that I wonder if society's views would have shaped my life differently. Who knows, but if it's something that has got you thinking then I can highly recommend this gorgeous novel.
---

---

Julie Cohen grew up in the western mountains of Maine. Her house was just up the hill from the library and she spent many hours walking back and forth, her nose in a book. She studied English Literature at Brown University and Cambridge University and is a popular speaker and teacher of creative writing, including classes for The Guardian and Literature Wales. Her books have been translated into fifteen languages and have sold nearly a million copies; DEAR THING was a Richard and Judy Book Club pick. Julie lives in Berkshire with her husband, son and a terrier of dubious origin.
Author bio and photo taken from Amazon