Seven Day Spotlight – w/e 02/12/18
Here we are again with another Seven Day Spotlight post and another week gone. We're now officially into Advent. Our son has an array of Advent calendars and we're also making an Advent craft together every day from Adventivity. Well, so far we've made one but you get the idea. My mum reminded me this week that when I was a kid we only ever had Advent calendars with pictures behind each door, never chocolates. Our son doesn't appreciate how we had to suffer back then! 😉 Mind you, I'm rather pleased that somebody decided to put some chocolate in them.
Here's what I posted on my blog this week:
Monday's post was a guest post by Steven Neil, author of The Merest Loss. He talked about his writing journey.
On Tuesday, I posted my review of Mavis and Dot by Angela Petch, a book full of warmth, which made me giggle and made me think too.
Wednesday's post was my review of The Diary by Vikki Patis, a tense and twisty psychological thriller.
Thursday was a two post day. First of all, I posted my review of The Shape of Us by Drew Davies, a lovely and heartfelt look at everyday life in London. And I also shared an extract from The Bloomsbury Affair by Anita Davison.
On Friday, I shared Vincent Pluchet's favourite things about three of the characters from his book, Brexit XXL.
On Saturday, I posted my review of Christmas at Emmerdale by Pamela Bell. I loved this saga about the villagers of Beckindale at the start of WW1. I also shared a guest post from K.J. McGillick, author of Facing a Twisted Judgment, about how she develops her characters.
And finally, this morning I shared a guest post about Choices by Mary Gibson, author of A Sister's Struggle.
---
Here are this week's additions to my TBR pile:
Framed. Imprisoned. Pregnant.

Jenna thought she had the perfect life: a loving fiancé, a great job, a beautiful home. Then she finds her stepdaughter murdered; her partner missing.

And the police think she did it…

Locked up to await trial, surrounded by prisoners who'd hurt her if they knew what she's accused of, certain someone close to her has framed her, Jenna knows what she needs to do:

Clear her name
Save her baby
Find the killer

But can she do it in time?
If Only I Could Tell You by Hannah Beckerman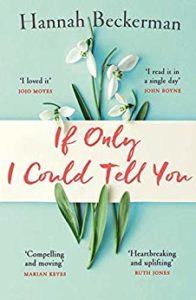 Audrey's family has fallen apart. Her two grown-up daughters, Jess and Lily, are estranged, and her two teenage granddaughters have never been allowed to meet. A secret that echoes back thirty years has splintered the family in two, but is also the one thing keeping them connected.

As tensions reach breaking point, the irrevocable choice that one of them made all those years ago is about to surface. After years of secrets and silence, how can one broken family find their way back to each other?
A Woman of War by Mandy Robotham
Germany, 1944. Taken from the camps to serve the Fuhrer himself, Anke Hoff has been assigned as midwife to one of Hitler's inner circle. If she refuses, her family will die.

Torn between her duty as a caregiver and her hatred for the regime she's now a part of, Anke is quickly swept into a life unlike anything she's ever known – and she discovers that many of those at the Berghof are just as trapped as she is. Soon, she's falling for a man who will make her world more complicated still.

Before long, the couple is faced with an impossible choice – for which the consequences could be deadly. Can their forbidden love survive the horrors of war – and, more importantly, will they?
Queenie by Candice Carty-Williams
Queenie Jenkins can't cut a break. Well, apart from one from her long term boyfriend, Tom. That's definitely just a break though. Definitely not a break up. Stuck between a boss who doesn't seem to see her, a family who don't seem to listen (if it's not Jesus or water rates, they're not interested), and trying to fit in two worlds that don't really understand her, it's no wonder she's struggling.

She was named to be queen of everything. So why is she finding it so hard to rule her own life?

A darkly comic and bitingly subversive take on modern life, QUEENIE will have you nodding in recognition, crying in solidarity, and rooting for this unforgettable character every step of the way.
The Christmas Stocking and other stories by Katie Fforde (a win from the lovely Jaffa Reads Too blog)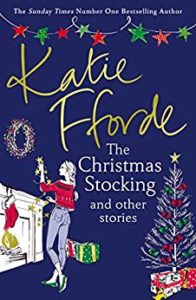 THE CHRISTMAS STOCKING: Romy is all set to join her boyfriend and his family in France for Christmas, though truth be told she isn't looking forward to it very much. And then she meets Felix – and her plans for the big day suddenly become a lot more interesting.

CANDLELIGHT AT CHRISTMAS: It was meant to be the perfect Christmas – surrounded by friends and family in their beautiful home in the country. But then the lights go out, and Fenella knows she will have to work very hard to keep everyone happy …

THE CHRISTMAS FAIRY: It's Christmas Eve in Crinan, and a young man is on his own with only his nephew and niece for company. Then Ella arrives. Dressed as a fairy, she is determined to wave her wand and give them all the best Christmas ever.

And many more!

Guaranteed to make this your happiest Christmas ever!
My Sister is Missing by Julia Barrett
I'm not the wife you think I am

Jess's sister Stephanie loves being a new mum, and is besotted with her baby daughter Natalie. She's tired and a bit anxious, but that's natural, isn't it?

However, one night Stephanie disappears, taking Natalie with her. Jess tries to convince herself that there's a perfectly reasonable explanation but as time goes on and CCTV images appear of a young woman with a baby, jumping in front of a high-speed train, Jess fears the worst. But was it Stephanie? And if not, where has she gone? And what does husband Adam have to hide?

In turmoil Jess goes in search of answers, but she isn't prepared for what she uncovers… or for what happens next.

My Sister is Missing is an intense, twisted, psychological thriller that will make you question what is real, and whether you really can trust those you love.
The Other Woman by Sandie Jones
When Emily meets Adam she knows he is the One.

That together they can deal with anything that is thrown at them.

But lurking in the shadows is another woman, Pammie.

Emily chose Adam, but she didn't choose his mother.

There's nothing a mother wouldn't do for her son, and now Emily is about to find out just how far Pammie will go to get what she wants . . .
I Know You by Annabel Kantaria
You trust me.

You shouldn't.

That picture you just posted on Instagram? I've seen it.
The location you tagged? I've been there.

You haven't been careful enough, have you?
Because I know all about you.

But when I meet you, I won't tell you that.
I'll pretend. Just like you do.

You'll like me though. You'll trust me enough to let me into your life.

And then I'll destroy it.
Call Me Star Girl by Louise Beech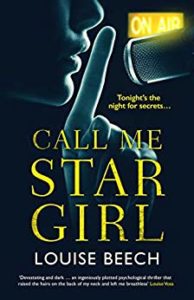 Pregnant Victoria Valbon was brutally murdered in an alley three weeks ago – and her killer hasn't been caught.
Tonight is Stella McKeever's final radio show. The theme is secrets. You tell her yours, and she'll share some of hers.
Stella might tell you about Tom, a boyfriend who likes to play games, about the mother who abandoned her, now back after fourteen years. She might tell you about the perfume bottle with the star-shaped stopper, or about her father …
What Stella really wants to know is more about the mysterious man calling the station … who says he knows who killed Victoria, and has proof.
Tonight is the night for secrets, and Stella wants to know everything…
With echoes of the Play Misty for Me, Call Me Star Girl is a taut, emotive and all-consuming psychological thriller that plays on our deepest fears, providing a stark reminder that stirring up dark secrets from the past can be deadly…