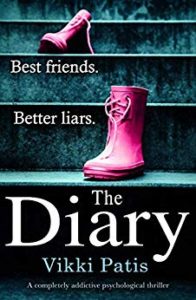 ShortBookandScribes #BookReview – The Diary by Vikki Patis @PatisVikki @Bookouture #BlogTour
I'm so pleased to be reviewing The Diary by Vikki Patis today, as part of the blog tour. My thanks to Noelle Holten from Bookouture for the place on the tour and the review copy via Netgalley.
'I know all your secrets, Lauren.'

Lauren has spent years running away from her home town, her childhood and the memories of her best friend, Hannah.

Until the tenth anniversary of Hannah's death forces her to return home and to the group of friends she abandoned there. It should be a quick visit, just so Lauren can pay her respects.

At home, Lauren finds Hannah's old diary. A diary full of secrets. The terrible things Lauren did, the lies she's told, the reason she ran away. And she receives a message:

'I don't know why you're back, but I know why you left.' 

But no-one else has seen the diary, and Hannah's dead, isn't she?

A suspenseful psychological thriller full of twists and turns – you won't be able to stop turning the pages of The Diary. Perfect for fans of The Sister, The Girl on the Train and We Were Liars.
Buy Links:     
---

Who can resist a book about a diary? Not me!
Lauren is a 25 year old young woman, living in Cornwall. She fled years ago after her best friend (they called each other sisters), Hannah, died. But now there is to be a memorial for Hannah, ten years after her death, and Lauren feels compelled to return to her old hometown. It's one of those towns where just walking down the street finds you bumping into several people that you know.
Lauren ends up seeing lots of her old friends and they all, including Lauren, seem to be getting sinister messages on their phones. On top of that, Lauren finds Hannah's old diary which contains secrets that nobody wants to get out.
This is a twisty book, full of revelations. I couldn't help but like the 25 year old Lauren as she's grounded, more confident and likeable. The 15 year old Lauren was a little less likeable but that's teenagers for you, isn't it? The story is set 'now' with some 'then' chapters to show us what happened with all the characters ten years ago. I preferred the 'now' sections as I enjoyed following Lauren and her old pals as they tried to work out who was sending them messages, but the 'then' sections were crucial for me to understand what had led to Hannah's death.
I raced through the first half of The Diary and couldn't put it down, although I did find that once I picked it up again it was that little bit harder to get back into. I think it's a book that works well if you keep up the pace and stay within the action.
I thought the dynamics between the friends, both in the past and the present, was fascinating, no more so than between Lauren and Hannah, who had a turbulent relationship at times. I also really liked Lauren's rapport with her dad.
Overall, this is a tense psychological thriller, well-written and I thought it was well plotted which kept me interested. I did guess who was sending the messages but this didn't in any way spoil it for me. It's a great, twisty story.
---

---

Vikki Patis is an author and blogger, as well as an avid reader and book reviewer. When she isn't working as a Regulatory Affairs Manager, she can usually be found drinking tea, baking cakes, or taking walks in the Hertfordshire countryside. She lives with her partner and two cats.
Social Media Links: