ShortBookandScribes #BookReview – Mavis and Dot by Angela Petch @Angela_Petch @rararesources #BlogTour

I'm delighted to be sharing my review of Mavis and Dot by Angela Petch today, as part of the blog tour. My thanks to Rachel Gilbey from Rachel's Random Resources for the place on the tour.
A warm slice of life, funny, feel-good, yet poignant. Introducing two eccentric ladies who form an unlikely friendship.Meet Mavis and Dot – two colourful, retired ladies who live in Worthington-on-Sea, where there are charity shops galore. Apart from bargain hunting, they manage to tangle themselves in escapades involving illegal immigrants, night clubs, nude modelling, errant toupees and more. And then there's Mal, the lovable dog who nobody else wants. A gently humorous, often side-splitting, heart-warming snapshot of two memorable characters with past secrets and passions. Escape for a couple of hours into this snapshot of a faded, British seaside town. You'll laugh and cry but probably laugh more."This book is quirky and individual, and has great pathos…[it] will resonate with a lot of readers." Gill Kaye – Editor of Ingenu(e). Written with a light touch in memory of a dear friend who passed away from ovarian cancer, Angela Petch's seaside tale is a departure from her successful Tuscan novels.

All profits from the sale of the books will go towards research into the cure for cancer.
Purchase Links
---

Mavis and Dot are unlikely friends. Mavis is jolly, larger than life and a glass half full sort of person. Dot is a bit more buttoned up, but feisty all the same. Right at the beginning of this book, they meet for the first time and, encouraged by the fact they are both relatively new to Worthington-on-Sea, they form an alliance. There when needed but still with their own separate lives, they are great together.
I thought this was a really lovely, feel-good story. I suspect Mavis is many readers' favourite, but I have a soft spot for Dot. I loved her ex-colonial background and how she had retained her love of Africa every since. I really enjoyed the little snippets dropped into the story about what her life there had been like. That's not to say I didn't love Mavis too, because I did. She's great fun and has no inhibitions, which made for a lot of fun as I read.
There are many other likeable characters too, friends and neighbours, people they meet along the way. And there's Malaika, Dot's dog, who is a sweetheart.
There's lots of fun in this story. The two ladies go on an eventful Italian holiday and Mavis finds herself in some, well let's say, interesting situations back at home. But there's also some serious storylines and some sadness too. Both aspects are perfectly balanced so that just when I was feeling a bit sad, along would come something much more happy. That's what life is like, though, isn't it?
Whilst not a Christmas book, there is a lovely bit that takes place during the festive season and so, if you fancy a story of friendship for this time of the year then you could do no better than to choose Mavis and Dot.
It's a book full of warmth, which made me giggle but also made me stop and think. You can't ask for much more in a book, can you?
---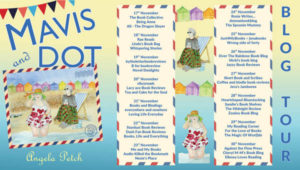 ---

A prize-winning author, Angela Petch lives half the year in West Sussex and the summer months in a remote valley in the Tuscan Apennines. She recently signed a two-book deal with Bookouture for her Tuscan novels and "Mavis and Dot" is a temporary departure from her usual genre. She has travelled all her life: born in Germany, she spent six years as a child living in Rome, worked in Amsterdam after finishing her degree in Italian, moved to Italy for her job, then to Tanzania for three years. Her head is full of stories and she always carries a pen and note-book to capture more ideas.
In May 2017, Angela Petch won PRIMA'S monthly short story competition and recently had a dozen stories published by The People's Friend magazine.
"Mavis and Dot" was written in memory of a dear friend who lost her battle with ovarian cancer. All profits from sales of the book will go towards research into a cure for cancer.
LINKS
TUSCAN NOVELS
"Tuscan Roots" (to be reissued by Bookouture in 2019)
MAVIS AND DOT