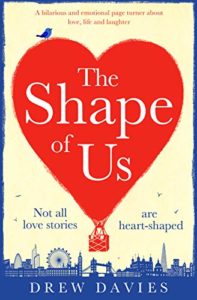 ShortBookandScribes #BookReview – The Shape of Us by Drew Davies @drew_davies @Bookouture #BlogTour
Welcome to my stop on the blog tour for The Shape of Us by Drew Davies, which I will be reviewing today. My thanks to Kim Nash from Bookouture for the place on the tour and the review copy via Netgalley.
If you read one book this year, make it this hilarious and emotional novel about love, loss and second chances. Fans of Eleanor Oliphant is Completely Fine, The Note and Jojo Moyes will be utterly charmed by this unique love story.

One day in London…

Daisy is rushing to work when a stranger on a bicycle almost knocks her over – and then asks for her number.

Dylan, a teenage boy, lives with an illness which means he can't leave his bedroom – but which hasn't stopped him from falling hopelessly in love.

JoJo, a wife in her sixties, is trying desperately to win her beloved husband back from his mistress.

Adam has recently lost his job and lies to his housemate about where he goes every day.

These four total strangers – whose paths cross in the charming city of London – have one thing in common. They are all lonely souls looking for love. But what are the chances of them actually finding it?

An absolutely unputdownable, uplifting and unforgettable book-club read for anyone who has ever made a mistake, been broken-hearted, or waited by their phone for it to ring.
---

As soon as I heard about this book I knew it was one I would have to read. There are inevitable comparisons to be made with Love Actually. We have a number of characters, who don't seem to be linked to the other characters, until all of a sudden Drew Davies dropped a little nugget into the story that made me think, "oh!". It has that kind of clever plot that I enjoy.
Then there's the fact that it's set almost entirely in London. The author himself says it's a love letter to London and it's certainly that.
I really enjoyed the characterisations in this book. I particularly liked Daisy and Chris, two people who seem destined to be together but have quite a few hurdles to overcome before that. And I loved JoJo, a woman whose husband is playing away. She doesn't want to lose him and her way of dealing with that is brilliant. She's also incredibly straight-talking which I thought was great.
Dylan is a lovely lad, a teenager dealing with a debilitating illness. And then there's Adam, whose motivations I didn't quite understand but whom I couldn't help but like just the same.
I really enjoyed the story, the interconnecting threads worked so well and I liked zipping back and forth between them, slowly bringing all those threads together.
I found this book to be amusing and I smiled quite a lot when I was reading it. But it's also got its serious side, after all, this is a book about relationships, family, love, loss and other such important life issues.
The Shape of Us is a lovely, heartfelt look at everyday life in London, reminding us that there's so much strength in each of us. It's a story that is funny and moving in equal measures and I really enjoyed reading it. I shall look forward to seeing what the author comes up with next.
---

---

Drew Davies was born in London and grew up in New Zealand. He attended the Unitec School of Performing Arts in Auckland and won a Playmarket New Zealand Young Playwright of the Year award in 2000. After a brief stint on a kiwi soap, he has worked in Search for the past 15 years. Drew's other claim to fame is that Stephen Fry once called him droll. Either that, or he got his name wrong. He now lives in Wanstead, London. The Shape of Us is his first romantic comedy.
Twitter @drew_davies.
Instagram @drewdavieswriter.